Discover more from Afrobeats Intelligence
Afrobeats Intelligence is a weekly newsletter on African music curated by multi-award winning journalist, Joey Akan. It is published every Monday.
Over 25,000 subscribers
2baba: How To 'Legend' The Right Way
For over 2 decades, Innocent Idibia has kept his hold on the pulse of African pop music. How has he competed at the top through generations of change and artistic evolution?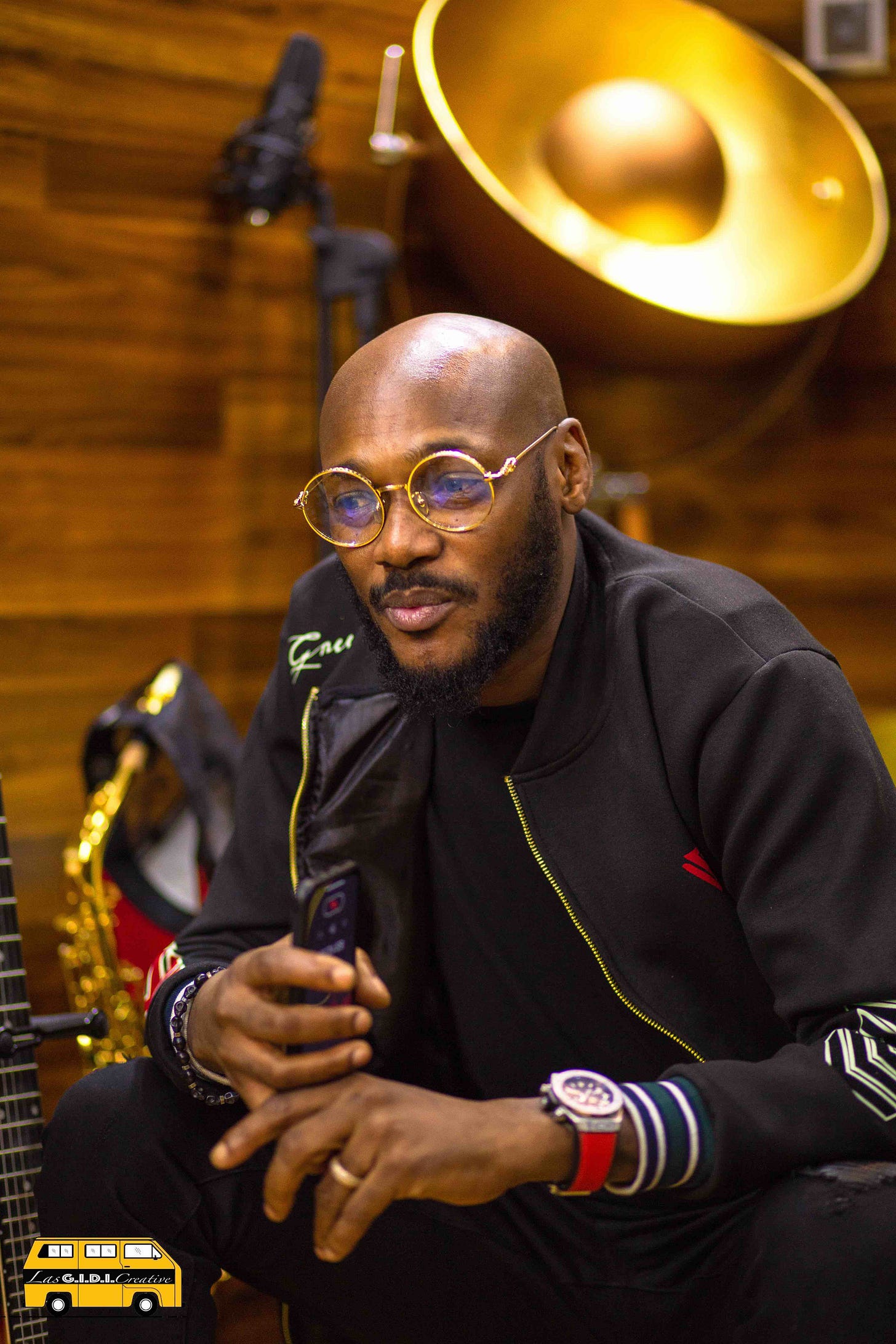 "Make I bring D'usse and Heineken?" Larry Gaaga asks, smiling through his thick salt-and pepper beard. Ever the stellar host. He beckons to an assistant, who leaves the studio with a new directive. Once you walk through those doors as his guest in Lagos, he offers you D'usse Cognac to "soak body small," chased by an energy drink or coke. You also get a plate of rice and turkey, ordered from a neighbourhood restaurant. In my 3-year friendship with Larry Gaaga, he's never missed this ritual. 
"Baba dey come. You know say him busy, you for don tell am earlier," Gaaga explains. A long-time friend and collaborator with 2baba, he's concerned about how long I have waited for 2baba. So, he reassures me that 2baba is close, before calling in a producer to play some of his unreleased records. As I give feedback, he nods, asking questions about potential guest appearances. In one corner of the room, renowned disc jockey, DJ Neptune sits staring at a MacBook laptop. He's occasionally contributing to our conversation about life in the music industry and COVID-19. Neptune is happy with the performance of his hit single, 'Nobody', which features Nigerian musicians Mr Eazi, and Joeboy. "Na God give e that one," he says, opening his palms up to the heavens in appreciation.
We're in Larry Gaaga's Lekki studio on Lagos Island. A large frame mounted on the wall holds a photo of 2baba. It is fitting because this is the artist's favourite stomping and recording ground. This space has blessed him. After hitting the limelight in 2000 as a member of local group Plantashun Boiz, 2baba would come out of a bitter split with a solo career. Since then, he's built immeasurable success and left a legacy of artistic excellence. With 7 albums in his golden discography, audiences have enjoyed endless gems. It has traveled across the continent with a lifetime of evergreen hits. For two decades, Innocent Idibia has stood tall as an example of sustainable success in Africa. Now, in the latter part of his incredible career, much of his current success is tied to his ongoing collaborations with music entrepreneur and executive, Larry Gaaga. Brothers in life. Siblings in sound. Friends for ages. In 2017, 2baba recorded his smash hit record, 'Gaaga Shuffle' in this room. Engineered by Larry Gaaga's A&R skills, the duo would strike gold again when they dug further for 'Amaka', featuring singer Peruzzi. An instant hit, it continued a competitive run for the musical chameleon. 2baba has managed to stay successful, adapt to different tastes and sounds across generations and eras, while remarkably remaining himself. 
"Don't worry, 2baba don almost reach," Larry Gaaga tries to placate me. "Him go get time for you. Una go talk." When 2baba arrived, he was in a hurry. The 44-year old took long strides in his sunglasses and Gucci Oversize denim jacket, waving his greeting with "How far now?" he's ushered into the studio, where he greets Neptunes and Gaaga. A retinue of handlers and technicians were on his heels, scurrying through with equipment. The singer had committed to an event with Google. He was scheduled to have a mock zoom presentation, and everyone had to leave the studio. "It won't take time," I was assured by Tayo, his media manager.
We sit outside, Larry Gaaga is still playing a ton of unreleased music featuring stars from around the continent. Fresh off his 'Best Soundtrack' win at the 2020 Africa Magic Viewers Choice Awards (AMVCA) for 'Tene', Gaaga's in high spirits.  That win has resulted in a new opportunity for him. Gaaga's been commissioned to produce a film soundtrack for another major big-budget Nollywood production. While working on the project, we get into a debate about preferred female candidates and music direction. After settling on two female artists, he grabs his phone, and proceeds to send messages. "Make I DM, the both of them," he says.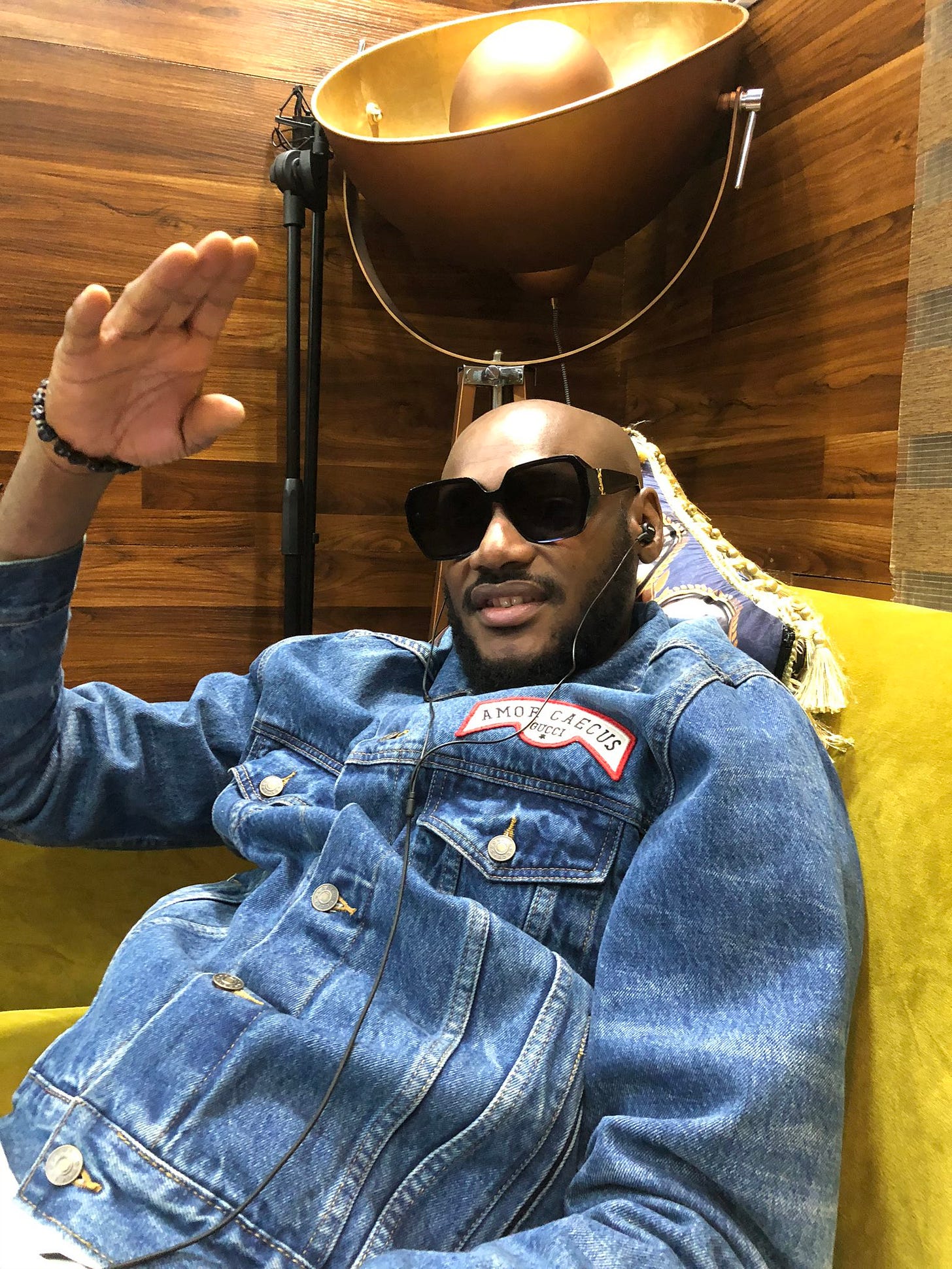 Thursday is an encore of my previous visit. Larry Gaaga sleepily drops Heineken and D'usse on a table, while apologizing for waking up late. He'd had an all-night recording session. 2baba then enters the studio. Technicians, and all. The Campari bottle and oversized glass make their hallowed entrance while we all committed to staying silent.
To put things in context, when 2baba dropped the smash hit record, African Queen in 2004, Facebook was just being born. Twitter didn't exist, and for Nigerians, video calling only happened in Hollywood movies. One of the most successful records of all time, 'African Queen' rose to become his magnum opus. The record made a killing in licensing across film and television, while becoming a cultural phenomenon, as well as a staple of African romance. Ownership of such a record is a blessing that came with its share of downsides. His ex-bandmate, Blackface Naija, claims he co-written the record during their time together as members of Plantashun Boiz. He's spent the last decade calling 2baba out in the media and filing court papers for intellectual property theft. It's an allegation 2baba has settled legally. 
"Most times, I try to say 'hey guy how far na? If I get problems with you, you think say na the best way to get my attention be this? Or you think say na the best way for us to solve this thing be this?' But at the end of the day if he still persists, we'd solve it amicably. Or if it's not going to be amicable, then we get it legal. If you dey talk something about me, or you dey accuse me of something, the only way to go is legal," he says.
2baba's other controversies have been personal. With 7 kids from his wife and two other past relationships, his love life has been the subject of public scrutiny, and the source of endless jokes and memes about masculine virility and celebrity indulgence. It's a reality he's embraced. Taking care of his large family is one of his greatest joys. Being a family man has defined his existence for good. 
An hour later, I'm back with him, sitting side-by-side in the studio. The folks from Google are satisfied. The sense of urgency was out the window. This time, he's smiling. This time, he's graciously offered to hold my recording device. This time, Cobhams Asuquo isn't on his way. "I don do plenty things today, he says. I don first go somewhere, wear native, another place I wear my cap. This one na the third outfit wey I don wear today," he explains. 
2baba is meek, gentle even. If you ask around the music industry in Lagos, you're always met with character testimonies about creators and professionals. For 2baba, the dominant narrative is always "2face no get one single wahala."  His life and how he's conducted business attests to this. His fatherly handling of a complex family setup, leaves nothing to be desired. And when he inevitably ends up on the controversy mill, there's always a measure of grace in his navigation. Close up, it hits you immediately. He holds your gazes, taps your shoulders, takes  little walks. There's an air of simplicity about his mannerisms. He's always laughing too. Deep laughter that punctuates each clever turn of phrase. Flowing between the English Language and its pidgin equivalent, there's always an answer to everything. 
We spend an hour together, talking about the past and how it all leds to the future. What it means to be an elder statesman. What retirement looks for him. How has he worn the crown that life has placed on his head? "I still want to go back to school," he says. "E get plenty things wey I wan learn, and plenty businesses wey I wan start."
At this stage of your career, is there anything you feel like you haven't achieved?
Yeah man. There are plenty things that I know that I haven't achieved. As you know, I started from a different era. I started from the era of cassettes. We scaled through cassettes, we entered CD. We have scaled through CD, now we're in the digital era, you know. I think I have achieved a whole lot from the cassette era, being part of a group that was one of the biggest groups in the continent at that time. And then to my solo movements, from the early days which was a CD market. I think I broke records in that time: highest numbers of CDs sold, awards and all that stuff. 
Now we are in the digital era. And as you're well aware, many of the young cats are amazing. Their numbers are staggering. Their numbers are ground breaking. And I think I caught up late on that digital movement. You know how these things are, it's the next generation that always takes it to the next level. And I think it's no exception with me and these new guys that are coming up. They've taken it to the next level, and that was the dream. So for me, I'm not going to say I want to achieve...I definitely want to achieve those numbers as well. But I want to achieve it being me. I want to achieve it in my own genre, in my own terms, without necessarily being in any competition with anybody. 
So definitely I'd like to up my numbers in terms of digital acceptance and digital awareness. I'd definitely like to up my numbers, one one side. There's still a whole lot of markets that I haven't really penetrated, so to speak. I definitely want to eventually get to penetrate these markets. In terms of business and other things, there are so many things that I'm trying to piece together and grow and make happen. Because it has always been about creativity for me. Now, I think it's time to upgrade my business skills and upgrade my businesses. All that, is part of things that I know that I still have to achieve, I want to achieve. And hopefully we are working towards it. I still want to go back to school and study something. I want to study entertainment law. Not necessarily to go to court or do anything like that. Not necessarily to be called to the bar. But to be able to draft contracts, to be able to read contracts, to be able to know all the legal nitty gritty of entertainment law. 
To better protect your business?
To better protect everything, intellectual property. Intellectual property law so to speak. I really want to do that as a professional course. But like I said, I don't want to be called to the bar. But there's a way that you can do it and you can legally draft a contract. You can legally do all those stuff I want to do. And then a little bit of business studies as well. 
You've had hits in every generation since you've started.
Gbagam. (laughs)
Even this year you've had two hits. And a lot of people would say you got some magic formula. Do you have any magic formula?
Wow. I don't think I'd call it a magic formula. As much as I try to do music that is not necessarily of the times, I still try to keep myself in the loop. I still try to be like: anything I do, any era, they would still feel it. And apart from that, even if that pattern end, you go still dey enjoy that my own particular music. E make sense abi the thing wey I talk?
E make sense.
So naso I want make the song sef make sense, anytime wey anybody hear am. For me, I just try to always refresh. Reinvent, refresh, stay in the loop. That kind thing wey dem say old soldier never die. Ehen, na that kind thing. 
But when you refresh, what's the one thing you look out for when you want to transition your music?
I look out for young producers. I like to know the lamba of the streets at that point in time. If e no dey, we go form our own, all those kind thing. Because we sef, we dey create lamba dey give the young guys too. Because many lamba wey dem dey use sef, na lamba wey don dey for ground wey we start. Wey somehow, the young people dey catch up with am now. And sometimes they create their own lamba as well. And you cannot speak with them in a lamba they don't understand. So you have to give them their lamba as well. But being that musically, I have that ability to blend all this lamba together and go with the flow. But I look out for all the young producers and the lamba of the era. I try to just keep it fresh. That's what I meant by 'keep it fresh.'  But overall, I just try to do good music. Music that is not for any particular time. Music that anytime you hear it, it would still make sense to you. That's what I try to do. 
Do you think you're a legend?
(Laughs) Hmmm... For myself, like I said about things, I think I still want to achieve a lot of those things before I would actually call myself a legend. So when people call me that, I think it's because I've been for a while in the game. I mean, I've achieved a whole lot, you know. But for me to have legendary status, I think it's more than just being popular. I think it has a whole lot more to do with general, overall everything. Me I dey think say I never enter that, because the title heavy well well o. That legend title, these days if you just get one hit you don be legend. People play with that word. I mean, the word is dead. The meaning is deep. It's bigger than the way people just talk about it these days. These days, everybody na legend. But I dont think it's like that. Legendary status na something else. When people call me a legend, it's a huge compliment and I take it with great humility. It comes with a great responsibility as well. For me, na heavy challenge. I'm working towards becoming an actual legend. Let's hope that I achieve all these things I'm saying. Then that time. I go come claim am myself say 'yes.' Hit my chest say 'ehen the legend has arrived.
When you started, how far did you see?
That time ehn, you have your dreams and aspirations but you don't really see it because many things change along the line. Sometimes it happens faster than you even thought. Sometimes it happens slower.There are so many factors that come in play when you start actually living some of the things that you dreamt about. When I started, I had this dream to become popular, to be able to make a living out of this thing that I love. For me, it seemed slow 'cause there were so many struggles, trials and tribulations from the beginning. And those things wey dey make pesin mind jump from those early days. But as time went on, once the thing came, it was like gbooo! And sometimes when it happens, you don't even realise that it has happened. For me when it started happening, I was still hungry. I still wanted to go and keep doing more stuff. Just like what I told you earlier, there are so many things wey I feel say I wan still package. So far, I'm grateful for all the things that have happened so far. So far, it's close to what I dreamt about but I never finally reach the place wey I dream about yet. 
There are many times along the journey where you failed to win. How do you change the situation that is negative to a positive one?
I think it's the race man. Many times back in the days I used to tell people that e be like say God dey do partial for my side. I think it's the grace. And for me, there's no film trick about my life, I'm an open book. I just try to live my life. I never try to run anybody down, bring anybody down. I never tried to take what's not mine. I never tried to sabotage anybody's movement in order for me to get ahead. I never tried to do any of that kind of stuff. I just try to do my thing and just be in my lane. Many times, I think I don't really see that somebody is trying to bring me down. I think it keeps me focused and it keeps me going. Because sometimes e be like say na when you dey try to do somebody harm, you go con even lose sight of your own vision. And it derails you, and sometimes karma makes it bad for you. For me, I think I just like to mind my business a lot, encourage whenever I can encourage, help whoever I can help. I can't do pass myself. I've always tried to live like that. I've always tried to live within my budget, within my means, within my level. I never try to paint a picture that I'm not. I never try to be a gangster that I'm not. I never try to be a saint that I'm not. I never try to show off more than I have, I never try to do stuff that is bigger than what I have. I just try to keep myself in the very realistic picture at all times. And I think that is the only thing that I can say that has kept me going. I no dey give myself high jump for any reason. I no be saint o, but I just try to be a cool dude as much as possible. 
One of your most famous qualities is humility...
Humbility, o boy!
What does humility mean to you and why does it come natural to you?
For me I think...o boi, how pesin wan take describe humility na? I am me. And then when people say that, I'm like okay, if that's what being humble is, then so be it then. I take it as a compliment and we move on.
But where does it come from?
It's just me. That's how I am, that's who I am. I think it's from my upbringing, the way my parents trained me. I think it's just from those humble beginnings. You know, the way my parents brought me up. I think it's basically all that, and the people that I was fortunate to hang with growing up. I think it's all those things combined together is what has shaped who I am. And there's no other way that I can be other than this. And if that's being humble, then we thank the Lord.
You've had a number of projects all through your career. Which of these projects would you say did the most work for you in your career and why?
Well I'd say it's the first project "Plantashun Boiz". Because once that album became very successful and people knew who we were, it was all over. I mean, the first major thing is to break that ice. To actually come out for people to know you. I mean in every corner of Nigeria, "Plantashun Boiz" became a household name. And I think that was the breaking of the ice. That's where it all started from and that is what brought the level. And I think that's the level I've been riding with till now. I mean, it can only get bigger. Ups and downs like you've said earlier. But the name was already established from that first successful album. So I think it's from there. 
And your personal projects?
My personal project as well. I mean it only took it from Nigeria to the rest of the world.  And it's just been growing.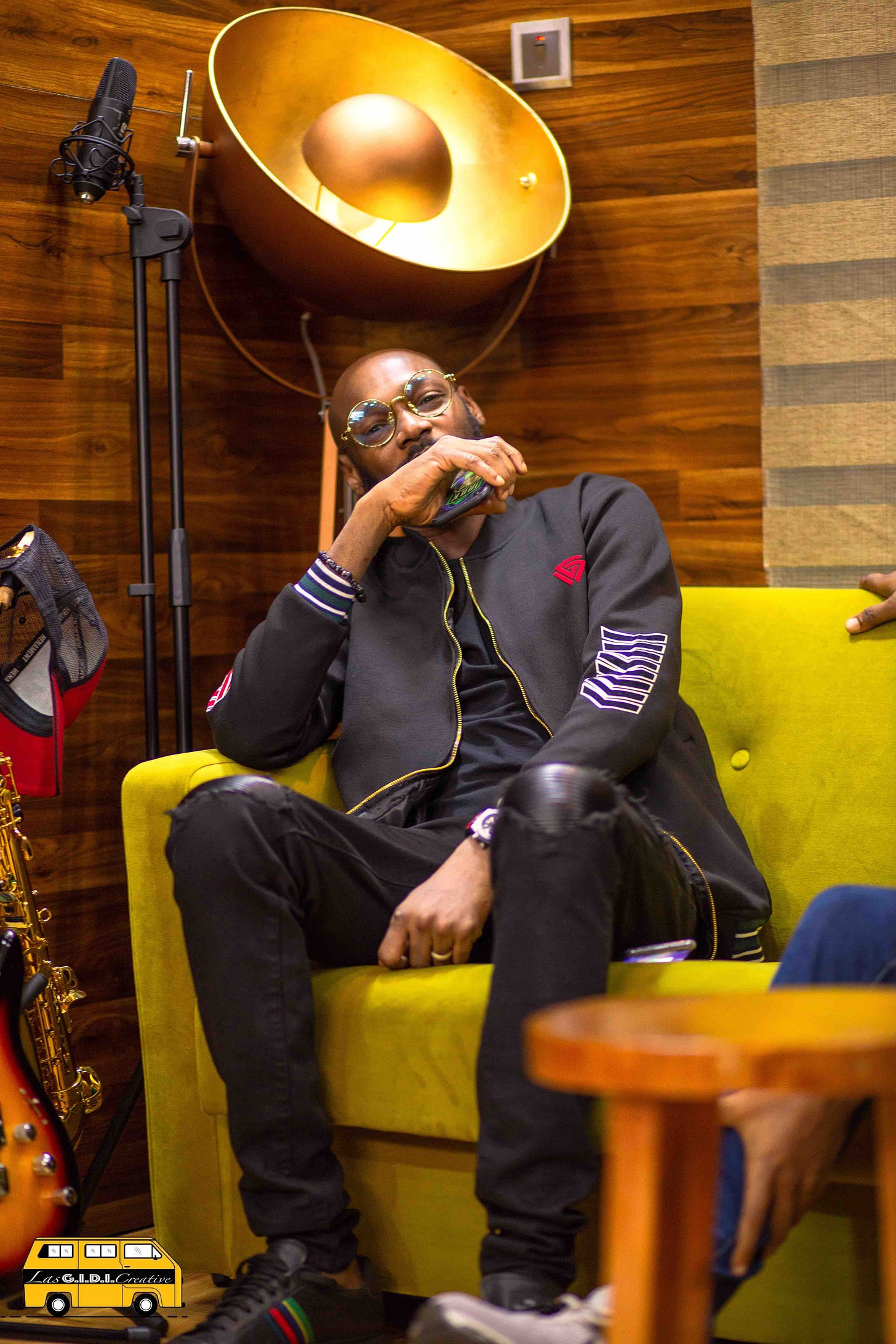 You were the 'first' to do a lot of things in African music. Does that bring a sort of responsibility to you?
Of course. That explosion. The decisions that I made then helped to shape many things that are happening now, not even just me, but to many of the artists that have come after me. The way I handled myself when I was outside the shores of Nigeria made many people accessible to the markets. lf any other Nigerian person come. It opened Nigeria to them so to speak. Because I was cool, the music was cool, work ethic was nice. So anytime they hear Nigeria, their experience and perception is already a good one. But if I was an asshole, them go say 'those Nigerian people abeg free dem'. For me, those 'firsts, I think it was because of all those things they came about. The first award was clean clear, there was no ojoro inside. Other people sef, na me dem dey point straight say na this guy win am, there's no need. It was unanimous. 
I mean we had our challenges then. That time there was no social media. For me to have people in South Africa know me, to have people in all parts of Africa know me, and even other parts of the world. That was massive. After a long time in Africa, you couldn't have an artist that was known all over the continent. Apart from those days that you had the big record companies in Africa. You had all these major record companies in Africa. But apart from that time, there was this slope where everything was regional. That was a very huge barrier to break. Where there was no Twitter, no Instagram, there was none of that. And I was all over the continent. Every country. It was mad, it was massive. Stadium gigs, shutting down. You know those types of shutdowns we dey hear those days, But everybody dey with camera these days, so you go see the shut down in real time. Back then, you only had your camera and maybe some of these programs that would show it. Of which no be everybody get TV for house wey fit watch am, or cable wey fit watch am. A select few people actually saw these things in real time. But now, it's easier to have people see these things in real time. But not to say they don't have their own challenges now. They have many challenges now. Being the first to headline this, first to win this award, it comes with a whole lot of responsibilities and challenges. I'm really proud of those moments because I really deserved them and I really deserved all those firsts, you know. And there was no film trick about it. It was real so I'm happy. I feel blessed, I feel privileged, I feel honoured to  have gotten so many firsts. But I mean, people keep breaking records, so let's hope that it all comes to Nigeria. Let's hope that all the firsts would be Nigerian artists.
At this point now, how does it feel to own a song like 'African Queen'?
I mean, sometimes it's a curse but most times it's definitely a gift. But sometimes there are so many things that come along with it you know. For me it's a gift and a curse. It's a gift in the sense that the song is forever green. It's massive. But something is, if you just mention 2face anywhere in the world, that's the first song that comes to their head. "Oh! 'African Queen'." And I've had so many other songs that have been huge songs. But that one na hin be the first ringer. Some artists are artists that their first songs didn't really make it. For some artists, it's maybe after their fifth album before they have a hit song that now exploded everything. There are some artists now that it is this their new song that everybody knows. But for me, it's the beginning one na hin everybody sabi. And it's crazy because it overshadows everything that you do. 
Sometimes, some people would hear my song and they love it. And they're dancing to it and they even request it. But them go request am with 2baba, them go con forget say na the same guy be 2face. So I have that small problem going on right now. So most people want to search for my stuff now, they search, only 2baba comes up. Sometimes they search only 2face and..so it's divided. I'm still figuring how, because my numbers have slashed. Something wey suppose be 100 million now don turn to 30 million, if you search this particular one. I'm having that challenge now because I didn't think of that before the name change.
But why did you change your name?
I just changed the name because na growth now. When I became 40, I just said I don turn to baba, so make I just change am. And then, people dey call me baba already for the streets. so I just said 'okay.' And you know that '2baba,' e be like title. So I just say make I claim am officially, and then make the name just sound Nigerian more.
Does it come with any responsibility?
If you be baba, you get to dey behave like baba now. Na the responsibility be that. Baba in the game.
You've been in controversies in your personal life and business. Also, accusations from your ex-colleagues too. How do you manage your celebrity?
There are so many things that have come out. Some have been true and most have been complete lies and complete attempts to ruin my image so to speak. The true ones, I never deny them. I say it straight. I mean I no dey hide anything wey be true sef. It's out there for everybody. And the one wey be lie I go actually say na lie. 'This thing na lie, e no happen like this.' So far, nobody has proven otherwise. I've sued a couple of people, They've withdrawn their statement, they've apologised. But the time wey dem dey apologise, na me still even just free them. But they put it in official terms. Some of them even published it. But I didn't make a big deal out of it. But if them wan talk, I always make references to those publications, those apologies. It's out there for everybody to see. 
But I don't kill the person. I just do it so that you'd shut up. Some people have actually compensated, had to pay some amount of money in order not to take it to court. All these are legal documents out there. In case anybody wan talk otherwise, I go bring am out. It's out there. The embarrassment wey I save you, if you still wan misbehave I go kuku do the embarrassment. There are so many people that I've had  run-ins with them and we've legally settled stuff. If you lie about me, I'm definitely going to defend myself and stand for myself. Those era of 'slap you, turn your right cheek', that one na different story book that one dey inside (laughs). Reality of life be say, sometimes you have to let the world know the truth. 
And in terms of my colleague, many times I wonder where those things are coming from. Most times, I try to say 'hey guy how far na? If I get problems with you, you think say na the best way to get my attention be this? Or you think say na the best way for us to solve this thing be this?' But at the end of the day if he still persists, we'd solve it amicably. Or if it's not going to be amicable, then we get it legal. If you dey talk something about me, or you dey accuse me of something, the only way to go is legal. And I think we've sorted all that. I think that everything that has been on that level. I've sorted all that legally and all those records are also there. I've always tried to stand by the truth, I've always tried to say the truth, and I've always tried to settle legally. 
I like to say that because some people would try to tarnish your image. Because they know that you're not going to wound them. So they keep chipping things out there. Some people do stuff to create that benefit of doubt. They don't actually have anything against you. But once that seed of doubt has been planted, that's what they want. And that's what some people do and it's not nice. It's very unfair when people do that. Once you do that, we go legally. I always do that because if not they keep hunting. 'There must be an element of truth in this thing'. There's no element of truth in anything. Na lie this person dey talk. And I always try to make sure that that is squashed. So for me I wish everybody well. And if you wish me well, I'm happy. If you don't, that means you're drinking poison for somebody else to die. Hate is poison. It destroys the person that is doing the hating.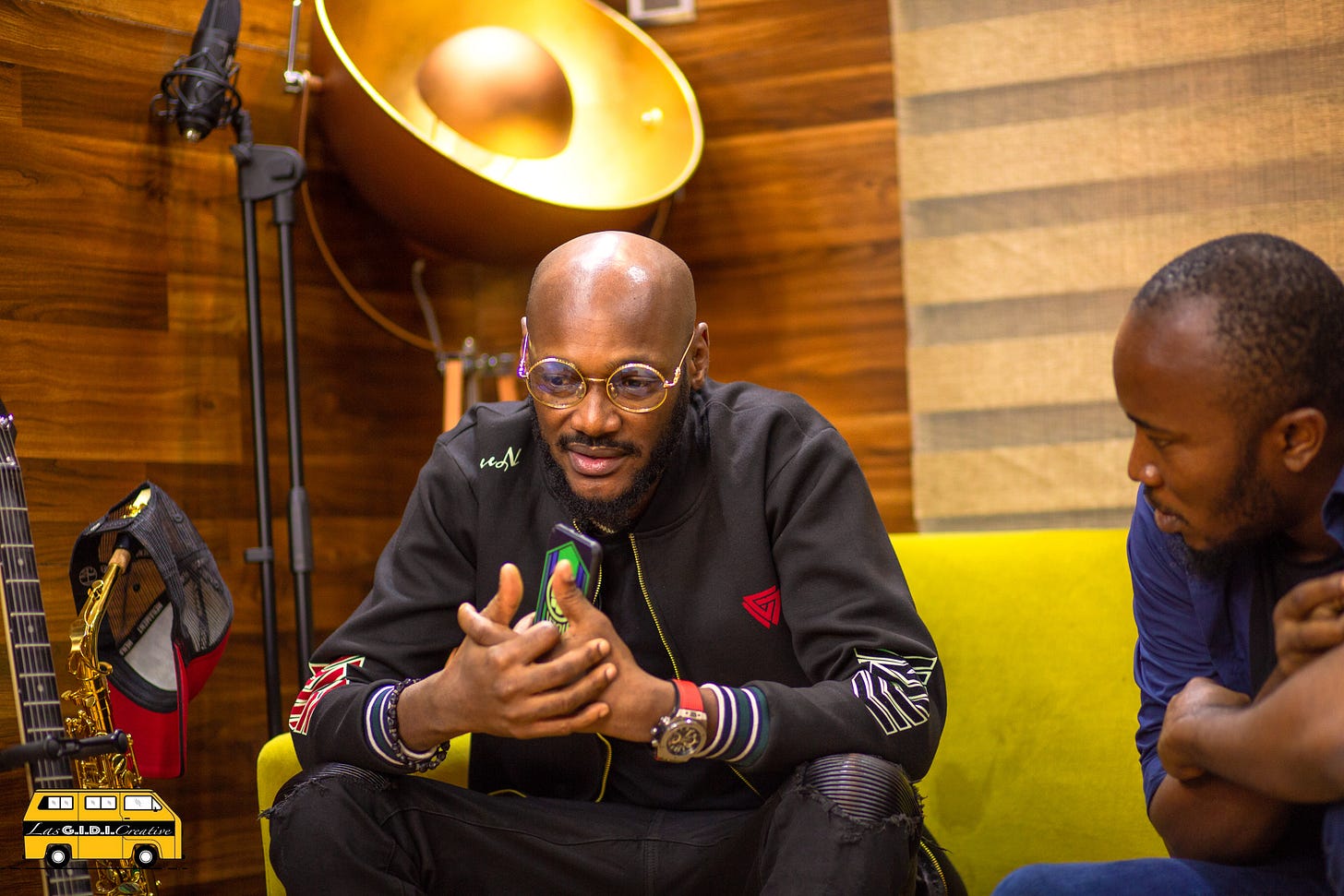 Do you think social media brought good things to the game, or it did something bad?
Yeah, man. It has mixed results. Some very negative. It's supposed to be something that benefits mankind. And benefits everybody in terms of marketing of oneself. But unfortunately, it has come with a whole lot of problems especially psychological problems, mental problems. Social media has made many people so insecure, it has made many people so fake. It has  made many people to be bullied and has turned many people into faceless bullies. It has helped to promote many people and it has helped to bring down many people. So it has a whole lot of good sides and has a whole lot of evil and monstrous sides. 
There are some people that are out there that are generally very genuine people, very contented people. People that would have gone to school, studied their books peacefully, done their normal living. But they have become so insecure, they've lost their self esteem, shrinked themselves because some people would have bullied them. Some people have said hurtful things to them. Some people have painted a wrong picture of themselves and used it to rub their face. And therefore making them think that they are not achieving nothing. It has destroyed so many people's self esteem. It has made so many people lose confidence in themselves. It has made many people sad and suicidal and mentally depressed. It has caused a whole lot of depression.
At the same time, it has made some people believe the fakeness they are living. Some people dey wake up everyday, dey look the car wey park somewhere. So them go just park beside am. Because them don already dey form say them dey always hang with correct ride. So them go just dey waka dey go for where car park just to snap with the car. Them don put themselves for that high jump. Them don create that image and them suppose protect that image. Some people dey enter boutique just to test cloth dey snap. Snap like 100 different picture. Them go cmot for that shop, na only one socks dem go buy. But them do snap with 10 Gucci shirts. So some people don line up 100 pictures for 100 days in a year. Wey be say, everyday them dey release one. Now them no fit go anywhere make person catch them live. Because all their life na that fakeness wey dey social media. 
Some people are so twisted in their head. Some people hate themselves too much, them just wan hurt another person emotions. Their own na to just dey talk the meanest things for this world. And this person wey be say if you see am for real life eh, na person wey hate himself, wey hate him life. And you have to pity those kinds of people. Na those people wey be say if them actually con get money eh, them go be animals. Them go be devil, because them go dey do anyhow. It has created a twisted set of mindsets. The ones wey fake, the ones wey hate anything good. It is just a twisted space. You have to be mentally strong to be able to play in that space. 
Same social media, some people are using it to become stars, their creativity is on point. People are always going to their page because they want to laugh. Normally, them fit no get any platform to do that kind thing. But now they have it at the tip of their fingers. They are able to create something, an image. Many celebrities today, na through here dem turn celebrity, and they are doing well outside of this space. Now their pages and everything has turn to business. They are making a good living out of this thing. Meanwhile for some people na to just gossip and to dey debate who get moni pass. Who no get moni pass. Account wey you never see before, you dey talk the amount wey dey inside. 
Some people have decided to waste their own time on this space, meanwhile some people have decided to make a living on this space. It is left for these young people to understand. Normally before, if to say the government never allow these things to creep into our public domain. I think it's something that should have been regulated. because we were not ripe for it as a society, before accepting it.  I think social media is a two-headed monster man. One is good, one is evil.
But you've also spoken for these same people that have wronged you. You and your activism.
Well, I'd like to correct that impression, I'm not an activist. I've never been an activist. I never want to be an activist. I mean, politics affects everything that I do, therefore my interest in politics. And I've always been somebody that I always want to speak what I see. I always want to talk about what I speak, what I see. Especially the ills of government. I just think that as a people, we deserve a very level playing field. Based on what we have on ground, we deserve a government that would create an environment. Whereby anybody that is a government person in Africa or Nigeria, should be people that are worshipped like gods. If they do the right thing. 
Africa is the continent that has fed the world for centuries. And I say this with very serious conviction. Everywhere wey don develop for this world now, Africa contribute to am immensely. Now if Africa contribute to everywhere immensely, even on human resources and natural resources, how come the Africa be as e be so? That means na we suppose be the baddest place for this world and we still stand. The resources still full, the manpower still full. Intellectual power still yapa. So imagine say Africa organise. All African government suppose organise. It's just a simple thing. Make we organise. 
Everybody has achieved stuff by killing us, deceiving us, stealing from us. Name which country wey never rape us, wey never thief from us, wey never subdue us. All these things wey dem do for Africa, them still dey do am from today till tomorrow. Many of the people that were assassinated in the past, na people wey dey organise stuff for Africa, around the whole black world. Many of the people wey don try to organise the black world are people that have either been assassinated. Just name it. A blackman would be fighting for freedom in his own country and he'd be called a terrorist. Meanwhile, the person wey come there wey enslave him people na saviour. Person wey dey kill him people na him be liberator. 
You see how twisted the whole thing is. We need an Africa that is able to stand for itself, organise, and not take any bullshit. Because we can't have this Africa of our dreams without sacrifices. Without standing strong. We have to stand strong. If pesin dey come kill us, we have to stand and defend ourselves. Because na with violence them dey use obtain everything from us. We have to be able to stand strong. That's what Africa needs. We have to stand strong, organise ourselves and move. Until that happens, we'd keep talking. And we fit enter activism, them go con start to dey call us terrorist. The question sef, I don deviate from the question sef. Because I dey vex too much. 
I understand. But then, should art reflect society?
Definitely, art is the highest reflector of society. I'd give you an example: the America that we talk about today, that everybody wants to go. Everybody wey wan go never go there before. Na from music video, from film na him we take know America. E get some streets from New York wey I know, but I never ever go there before. But for that movie wey dem shoot for New York, wey them say 54th Street. I know Times Square, I know all those places. Meanwhile, I never go America. I know about hip-hop, I know about Boyz N The Hood. All these things na cultural marketing. Na him dey attract people go somewhere pass any other thing. America was sold through Hollywood and music and sports. Entertainment, generally. That's how America was sold to the world. The image of America is always being portrayed in a way that you would want to go there. 
That's why all of us wan go Dubai today too. Because the image wey Dubai people dey sell, it's beautiful. I know place for Dubai, wey be say na just sand full everywhere. Wey be like my village. The same thing with New York. Art is supposed to reflect culture. It's supposed to be that thing that attracts people.  And I think we're doing a pretty good job so far in terms of Nigerian entertainment, from the movies to our music. But I think our music is the highest seller of our culture so far. Because some of our movies is always portraying us as ritualists and jazzmen. And pesin wey dey suffer for village, when him con reach Lagos go sacrifice somebody, just hammer (laughs). But I think our music is doing it more for now. Across the Afrocan continent now, outside Nigeria sef, many people wan dey speak pidgin English now. Pidgin English is something that people enjoy to hear now. I have a couple of friends. White boys in London and in Yankee wey be say when them just see me, " o boi, how far na?' Some of them speak it awkwardly, some of them actually get the tone. And they're enjoying it. You know the way we started liking Jamaican patois? Ehen, that's how pidgin is right now. And it's a good thing. Art definitely reflects, the music especially.
This Afrobeats to the world thing. What do you think? 
I think it's the latest revolution in music. And I think there's no going back anymore. The music world is going to change because of Afrobeats. It has been accepted and for me, I think that we should just stick to it. Let's just call it Afrobeats. 
But these international labels coming back and all, what will you advise?
All the international labels coming now; they have the structure, they have the money. Now they are coming to reap where they did not sow, so to speak. Because na we sow the sowing. I think African record labels should really...I think our government and our banks should really have a concession for African record labels and record companies. I think all our financial institutions and the federal government should have palliatives, grants, access to loans, to facilities. So that we can position ourselves and make Afrobeats money by ourselves. Because these guys have come and all they are bringing is money. And now, they are going to be making more money from this thing that was cultivated from here. And the danger at the same time, is that they are going to dilute it. They are going to mess it up. 
Now na hype, so you won't even have the real talents benefitting from it. You go just see somebody wey just get connection, them go just carry am. Because they don't know any better. They don't know. If they just hear anything wey sound like Africa, them go just take am like that. But we wey dey here, we know. We know the correct ones, we know the authentic thing. We know the sauce. But them, they go just carry anybody, just hype am. The guy don turn to the main thing be that. So that's the danger in letting them dictate who is going to be the next Afrobeats level. You understand where I'm coming from. And at the same time, it limits the ability for many of the very talented Afrobeats artists to actually see the light of day. We really need good incentives for record labels, record companies, the music business in general. Intellectual property protection in general. We need government and private to really step up and make it easy for us to do business. For us to sell this thing to them. Instead of them to come, carry our thing, con sell am back to us. We have to change that narrative. That's my own take in all these foreign companies coming out here.
For all that you've done for Nigerian music, do you think you've been rewarded as a person?
I think I have collected so many awards of which I'm grateful for every one of them. Because every time I collect an award, I think it's a testament to the fact that people have recognised my efforts in one way or another. And that's what those awards represent for me. In terms of reward now. (Sardonic laughter.) Because there's a difference between award and reward. Na reward na him I need now. We no need too many awards now. Na reward we really need now. In terms of reward, I think you earn what you work for. I cannot claim reward for work wey I no do. 
If I suppose go one place, and the previous night, I know say I suppose go there. But instead, I con go party. Con go rock. I con go tire, I no con wake up quick. Then I no con fit go that place. So I con miss that money. But another person con go. I no get right to complain say 'why them go give that person the money? Because now, I no con work for that thing. So reward is always a reward. You must get up and work. Except if them wan dash me money somewhere, ehen. 
But in terms of all that, so far I've been doing pretty well. So far I've been working and I've been doing pretty well. I can't complain. I mean, we go like to buy the kind yacht wey dem Dangote and Otedola package. But we go dey work towards am. I just try to earn my living as simple and as plain as possible. Like I said before, I never try to take what's not mine. So for me in terms of reward, if anybody thinks I deserve something, 'you don try, take this one', fine. I mean dem no dey run from gift. But for me, I'm going to work for what I get and I'm going to keep doing that. I'm going to keep working to be able to put my kids through school. To provide a good house for them, to provide all the basic things. And to be able to help as many people as possible. I'm just going to keep working and getting my juice. So my reward go be as a result of the work wey I work. So far, so good, I'm grateful.
Would your work in music ever be concluded?
I think that would be in a couple of years man. I want to stop active work. If by the grace of God, I live up to 60 years old. I mean, now I've already reduced the amount of shows that I'm going to go to. Music is never going to stop for me. I'd definitely keep recording music till thy kingdom come. I'd definitely keep writing, keep recording. That one is never going to stop for me because it's something that I love to do. I've written songs for people. I'm going to keep writing, keep creating music and I'm going to keep putting out music. But in terms of active stage touring and all that, like right now I've really really reduced it. And I'm going to keep reducing it like that. 
There would be a time maybe in a whole year, e go be only once them go see me for stage somewhere. I go just decide anytime this year, it's only twice. And it's at this place you would see me and that's it. That's how it's going to be for me. But in terms of working, you no fit stop totally. You need your blood to dey flow. You need your bodi to dey move in order. Not just siddon for one place. I want to stop any active work, I want to stop all that before I get to sixty years old. 
Before sixty I wan shutdown totally. Like just sit down peacefully, wake up for morning. If by the grace of God, I live reach that time. By the grace of God, if I get grandchildren. So many dreams, so many wishes. We can only dream and wish and work towards it. I'm going to keep working towards it. I'm going to try keep myself healthy as possible, then I'd leave the rest in the hands of God. Na the kind plan wey I dey think be that. Anything wey happen otherwise is life. And na one love to everybody.
All photos are courtesy of Lasgidi Creatives.
Want more? Follow me on Twitter and Instagram, and LinkedIn.