Discover more from Afrobeats Intelligence
Afrobeats Intelligence is a weekly newsletter on African music curated by multi-award winning journalist, Joey Akan. It is published every Monday.
Over 25,000 subscribers
Burna Boy – 'Twice As Tall' review: Africa's giant takes a longer stride
How does Pan-Africanism intersect with redeeming 'Black love'? The Nigerian hero's latest LP holds the answer.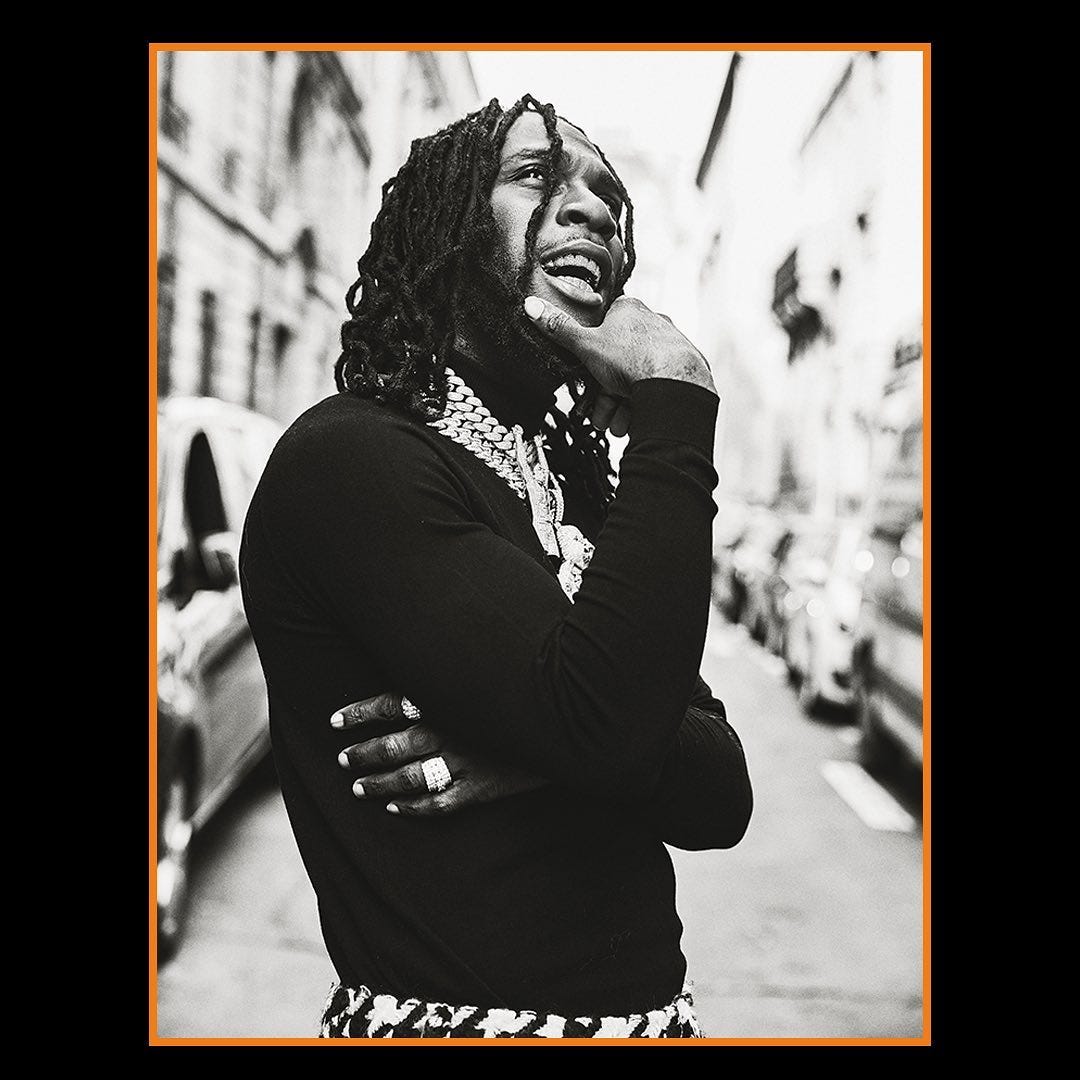 In January when the Grammys handed out plaques to elite musicians from around the world, Burna Boy went home without one. But there was a general sense from his home base that he wasn't far off the mark. The Nigerian superstar had pulled off a sublime year, delivering the dominant African Giant album, and advancing his crossover journey with brilliant numbers to show for it. The Grammys ought to have been a crowning touch for Burna, and for African pop music enthusiasts hoping to consolidate the movement's nascent global relevance. 
That highlight might have been delayed, but Damini Ogulu's brilliant march to global penetration continues unabated. As one of Nigeria's homegrown talents leading the vanguard to entrench Afrobeats in Western pop spaces, Burna Boy wields the significance of his music journey and cultural roots as extra fuel for his ship. Africa's giant entertainer is hell-bent on extending Afrobeats run on the global stage, with help from Atlantic Records who have backed him through 'Outside (2018) and African Giant (2019).
On 'Twice As Tall,' his third album in as many years, the singer's self-acclaimed leadership toga moves to the centre. Picking up from where 2019's radiant 'African Giant' left off, he expands his theme, moving beyond Africa with a defiant gospel for global Black advancement and collaboration. It's a complex affair, as Africa's emancipation and unity make an appearance alongside calls for global Black integration, love and unity. 
American music executive, Diddy is credited as executive producer, a move that has polarized enthusiasts. According to the Bad Boy boss, working on 'Twice As Tall' had divine orchestration, and satisfied his 'soulful spiritual' longing to connect to Africa, the increasingly accomodating 'Motherland.' His involvement extends the current trend of African-American entertainers and music executives collaborating with African creatives since Afrobeats slipped into global consciousness. Look a little further down that road, and Beyonce's 'Lion King: The Gift,' album sits enthroned as the toast of Black collaborative excellence. 
Diddy's invitation appears to be strategic marketing co-sign, with his presence sprinkled around pre-release communication for effect. The pervading wisdom here is that if Diddy, the accomplished vet loves and works with Burna Boy's project, it's expected that a lot more people will pay attention. With Burna's Hip-hop aesthetic (ASTROWORLD anyone?), legacy media campaigns, and talk about 'Black love,' the US mainstream is a projected endgame for this material. 
Kicking things off with Senegalese legend Youssou N'Dour on 'Level up', Burna revisits darker days as an inspirational lesson for his early failed attempts to soar. ("I remember when I couldn't level up/'Cause the Grammys had me feeling sick as fuck/Throwing up and shit/Asking questions like, "Why it wasn't us?"). It's rousing, chest-thumping stuff, desiring more chemistry than what was on offer. But the self-adulating theme runs throughout the project. 
Burna Boy is at his best when he's all about himself, declaring his greatness, and wagging a finger at perceived haters. He's imperious on 'Alarm clock', slipping in and out of saxophone support, to affirm that "I must be a special type of broda, some type of Oga.." The malleability of Afrobeats is offered on the experimentalist 'Way too big,' -- a track where braggadocio meets slinking violin, meets standout delivery, meet more of that self-posturing chest stuff. 
Things even out in the middle, as Burna's lust for life gets the better of him. The  freedom and hedonism of 'Bebo,' 'Onyeka (Baby)', and 'Comma' balance out Twice As Tall's hypermasculinity and innate symbolism of the conscious marketing. 'Naughty By Nature's surprising eponymous guests presents a nostalgic bent, and has Diddy's efforts on the production. It's a better use of Diddy's talents, towering above his buzzword-heavy vocals which corrupt early tracks with 'motherland', 'tribe' and 'black love'.
The core message of 'Twice As Tall' lines up the final lap. Featuring help from Coldplay frontman Chris Martin, 'Monsters you made' is full of pain, anger and plenty of defiances. It's the sonic euphoria of 'Time Flies' that sees Burna at his most artistic, blending East African influences from Kenyan group Sauti Sol, transforming at every turn into a rapture of chants, and emphatic hand-drums. Burna's mother doesn't fail to find her spot-- reprising her familiar role as the custodian of edifying Black wisdom. 
With Twice As Tall, Burna Boy delivers handsomely on the promise of great music for his crossover ambitions. It's the strongest part of his offering, one that gives him the necessary tools to hit the crossover bullseye. The weakness here lies far from his studio efforts. It's in the coherence of his message. As the world is further offered a chance to benefit from Afrobeats rich cultural spectrum, there's a growing transcontinental Black-bridge deployed in the marketing of African art. Burna Boy is dipping his narrative in the noble rhetoric of black leadership via marrying African-American idealisms with Pan-African euphoria. He's Africa's giant after all, and that pedestal comes with a demand for leadership. How does African pride become 'Black love'? The intersectionality of that message is unclear through Burna's self-proffered testimonials of personal greatness and the strut for Pan-African advancement. Either way, you get a sense of melanated positivity as the overarching thrust of Twice As Tall'.