Discover more from Afrobeats Intelligence
Afrobeats Intelligence is a weekly newsletter on African music curated by multi-award winning journalist, Joey Akan. It is published every Monday.
Over 25,000 subscribers
Cuppy: Rich, Flourishing, Florence
Florence Otedola has spent over 10 years hustling to self-actualize in the music industry. Being a billionaire heiress makes things easy, but can the world see beyond her privilege?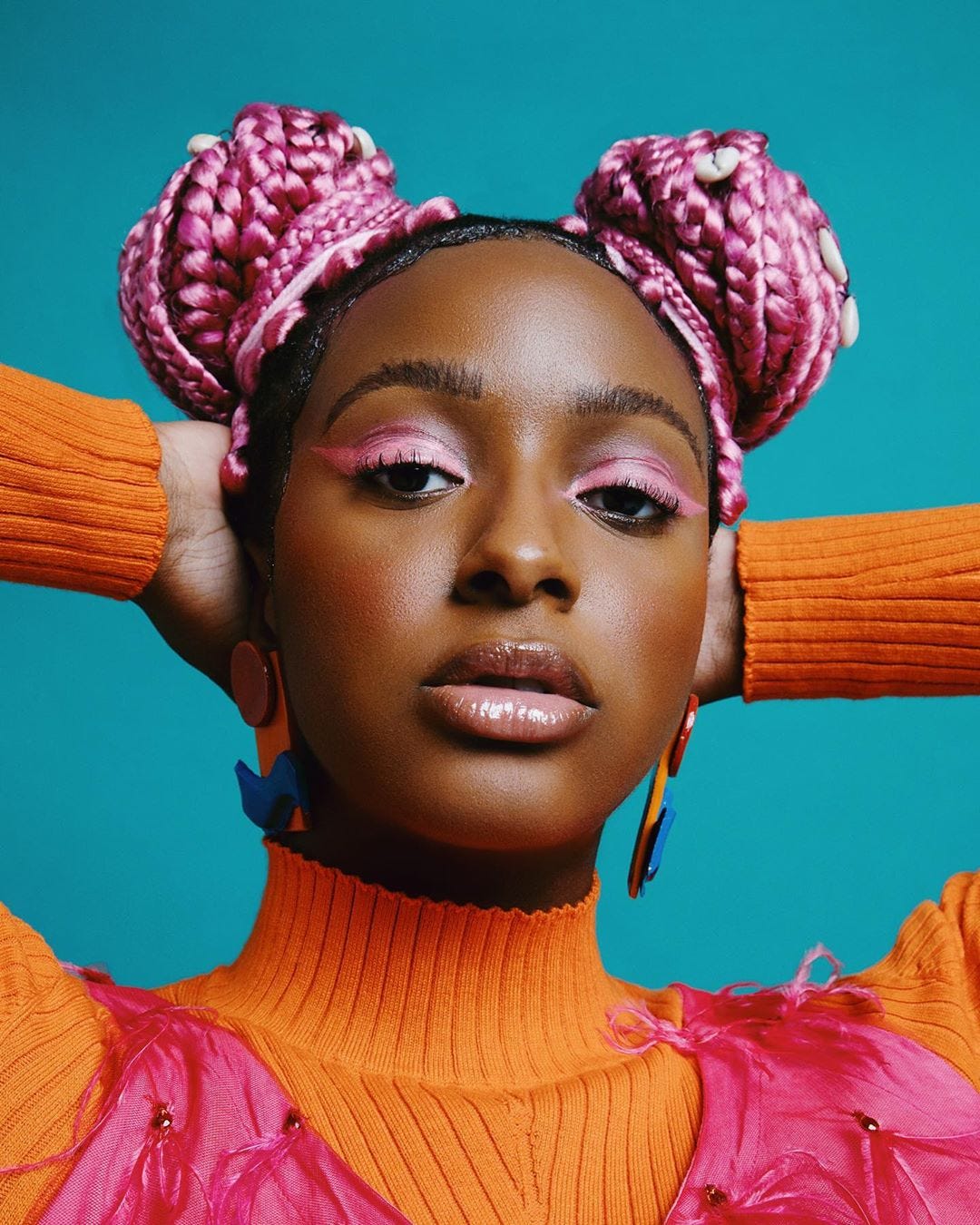 "Vegan oat milk. So I recently became a vegan, Joey," Cuppy says, burying half her face into a blue mug, taking a sip of her healthy beverage, and beaming as she explains her new lifestyle choices. She's spent the past few hours in her apartment in London, taking phone calls, navigating a hail of meetings, recordings and marketing conversations for her debut album scheduled for a release in a month. Just like her decision to pursue plant-based nutrition, the 27-year-old is experimenting with her career again, pushing a debut album defined by ambitious duets with renowned musicians. Her pink wig occasionally gets a touch from her left hand, her manager Elizabeth Sobowale lurks in the background, as Cuppy peers into her screen. 
Inside her apartment—where she's spent much of the pandemic lockdowns, living with her billionaire father as her guest—she's been hard at work on delivering her debut album and restructuring her life. Cuppy, born Florence Otedola, is a dogged and excited customer today. She's excitedly reeling off the names of her new collaborators: The producers who ensured that her sounds can compete in the market. The artists who grace her project with their gifts, and all the times when she felt like this was never going to be a reality. "I was able to hire some staff," she tells me, smiling. She's always smiling, hyperactive and cooking up a joke. The memory of Wyclef makes her giggle, the spectre of attacking the African market with a song about the luxurious consumption of 'Jollof rice,' moves her, and when she recalls how she's been able to achieve personal milestones in a pandemic, she nods her head to congratulate herself. "I was able to fire some staff. I was able to basically do all the things I wanted to do. Have conversations with people, fall in love, fall out of love. It's just been a wholesome experience. I was able to also obviously become vegan. More importantly, I was able to start my radio show with Apple Music." 
Cuppy, by many definitions, is one of the most popular and successful DJs in Nigeria right now. She has over 6 million Instagram followers. 2.3 million more adore her on Twitter. A Manchester United FC jersey deal with Adidas. Induction into the 2020 Forbes 30 Under 30 List. Multiple tours under her belt. A bumper, yet-to-be-announced sports betting deal. The first Apple Music Show by an African. A critically-embraced debut album this year. And even with projects from singers like Fireboy, or pop stars like Tiwa Savage to contend with, it's still ranked as top-tier. A string of hits. And much more.
Cuppy has spent over a decade in music, living many lives, taking up roles and extending herself in the art. In 2009, she first made an appearance in the space as a music producer in London, who also organized concerts and shows. A number of top stars reveal that they once auditioned to be a part of a Cuppy show in the UK. To earn a chance at making the bill, they took turns performing for her and her siblings right in her living room in London. As a producer, she credited with making records for DRB Lasgidi and other acts in their early days, and working at becoming a DJ.
In 2014, when she returned to Lagos, after bagging a degree in business and economics from London's Kings' College, she was a DJ pushing a mixtape — 'House Of Cuppy 1. Cuppy never experienced space and privacy to grow and refine her art. Her status as the daughter of one of Nigeria's wealthiest men—oil mogul, Femi Otedola—inducts her into higher levels of scrutiny and hypervisibility. And to her credit, she's handled the pressure with grace and shown growth at every turn. "I've made music even I don't want to listen to. No one can be a bigger fan than yourself," she admits. A second EP, House of Cuppy II' followed in 2015, as she celebrated a master's degree in music business from New York University, and wrapped up an internship at JAY-Z's ROC Nation. 
Femi Otedola, aka 'Papa Cups,' as she calls him, is Cuppy's number one influence. They are near-inseparable, documenting their joint adventures and expression of familial love on social media. On one of their shared moments, during a trip to Italy, that they stumbled on the inspiration for a new record, 'Gelato.' The resultant song featuring Nigerian rapper, Zlatan Ibile, polarized fans and ushered in another wave of criticism. "I went to Italy with my dad, we had gelato and I made a song out of it. That's literally it. And I did it with Zlatan. It was how I was feeling at the time. It was an experience that happened in real life and that's what artists do. Telling stories through music. That's literally it," she says.
Beyond music, Femi and Florence Otedola are twins. According to Cuppy, their closeness has been referenced by her Dad's peers, as a great example of "how close fathers and daughters ought to be."
"I think that my Dad being who he is has helped me in so many ways," she tells me. "I think that I would be lying if I said that my Dad didn't help. He's instilled this confidence in me that, 'Look, if I can build an empire, so can you.' He's shown me what hard work is. He's shown me how you build nothing into something, and he's shown how hard it is to continue to have something."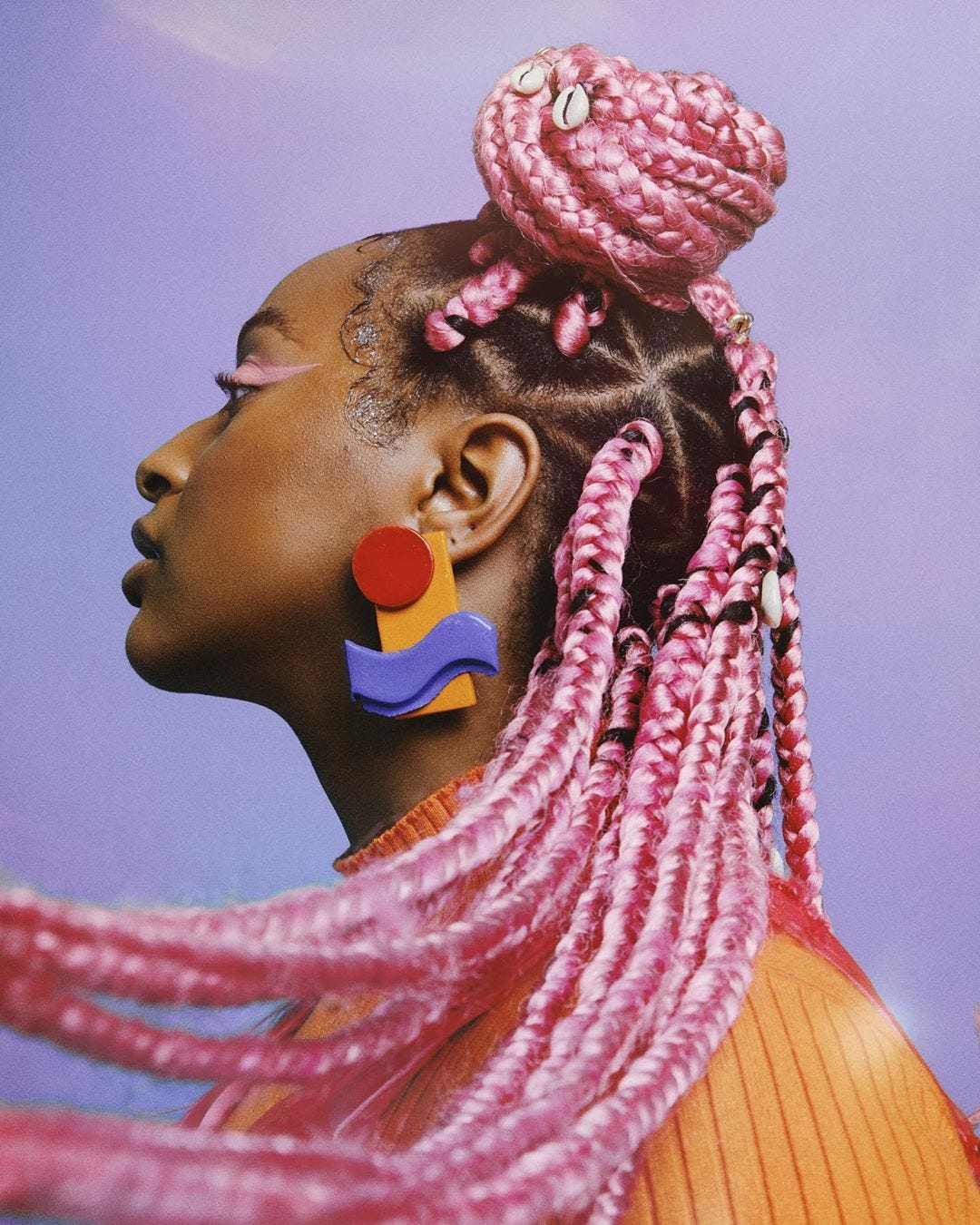 Cuppy's debut album, Original Copy' is part-victory lap, part-silver bullet to kill her targeted sustained criticism. Released on August 24, 2020, the 12-track LP houses guest features from Wyclef Jean, Julian Marley, Fireboy DML, Stonebwoy, Teni, Sir Shina Peters and more. At her virtual press conference organized over Zoom on the eve of her album release, Cuppy showed up in her usual high-octane energy, talking her guests through the album's long winding road to completion. According to her, assembling the project proved herculean. First, she signed up for singing lessons. Cuppy worked with a coach over several months to improve her vocals and get her studio-ready. Next up was getting her collaborators to work with her. 
"Wyclef was one of the first verses I got. I was thinking, 'you know what, if I can get Wyclef on my song, why can't I get other people? I call him OluwaWyclef," she says. Cuppy had to repeatedly call Olamide for Fireboy's collaboration, which eventually showed up only because her Apple Music show delayed the album release. To get UK singer Darkoo on it, Cuppy hounded her team through the process, crowning the song as "one of the most problematic songs on the album." Teni's inclusion happened because her sister, Niniola, wasn't feeling Cuppy's original beat. Undeterred, Cuppy went crying to the more agreeable Apata sibling and got the job done. Similarly to Wyclef, Julian Marley was approached via Instagram DMs for some international work. Femi Otedola played hero again, filling in as an A&R when he called up his legendary friend, Sir Shina Peters, to establish a connection for his daughter. But to seal the collaboration, Cuppy's manager Elizabeth had to represent her in phone conversations, due to Cuppy's scanty fluency in speaking the Yoruba language. "Hopefully, I don't meet him in person soon, and he expects me to speak all of that," she giggles. Nonso Amadi was genuinely shocked to hear Cuppy's singing skills, but that didn't rub her wrong. "I'm not angry when people have misconceptions about me being a bad musician. I don't get angry because when the bar is so low, you always over-deliver."
Music entrepreneur, Asa Asika also got a surprising public shoutout at the album listening event. A former lover and longtime friend, he did leave more than a broken heart in his exit. Cuppy credits him as a supporter, thanking him for his contributions to her career. "He gave me my first gig," she recalls. "So how am I now not going to put out an album and not acknowledge that he exists? If Asa doesn't want to tweet about me, that's fine. But to be fair, I called him out. I was like 'you haven't congratulated me on my album' and he said he really likes it. I think him and OBO are busy cooking something in the studio," she says.
We conclude our interview on two occasions. Once, on the road to her debut album, where she appears in high spirits, projecting positivity, and affirming the magic that she's created in the studio. "Remember to tell them how much I made you laugh," she says, her humour and hope shining through. Our second conversation happens weeks later, after the release of Original Copy. All of her expectations had come to pass. The world is no longer in denial of her musical ability. And guess what? She's finally getting the respect that she believes has been long due to her. It's been a long winding road to self-actualization for Florence Otedola. But she's done it. And she's done with via sheer will, grace and a healthy amount of laughter.
Joey Akan - Did you ever envision all of this greatness around you?
Cuppy - Honestly speaking, I've always felt like I was destined for greatness. I just didn't know what form that would take and I didn't know what specific lane of music it would be in. It would obviously end up being DJing and curation but I never knew where I would end up, but I always knew I would do great things. 
What were the signs?
Most people that I've met in my life that are successful including my father, they always tell you there is an intuition you have that just tells you that you were put in this world for a purpose greater than you. And it's almost like a spiritual feeling where you're like aware, and when you think that you're not good enough, you're hard on yourself...Literally from like 6 years old, I was always pushing the envelope, always wanting to do better than everyone else. I was always trying to balance everything. I was trying to be the best person in class, the best daughter, I was always trying to do the most and that was an early sign I think. 
You've always bet on yourself. 
A hundred per cent. I bet on myself and I've always been in competition with nobody but myself. 
And so when you showed up back then in Nigeria, even without anything, was it this belief that was driving you?
It was honestly all me, because it was hard for me, especially as Femi Otedola's daughter. And it's still hard. Everyone is not taking me seriously. They are saying what am I doing? Even my Dad himself. I could have just focused on school but I just wanted to live two different lives because I couldn't pick one. I couldn't pick between the life that was made for me and the life that I wanted. 
You finally chose the one you wanted?
I think so. And now the one I wanted is merging with the one that was chosen for me.  That's because a lot of people have realised that I can still be this responsible, young Nigerian woman, who is making my family proud and inspiring people. But just not maybe in the traditional way. In the Cuppy way.
What is the Cuppy way?
The Cuppy way is my way. It's a way that has never been done before. It's me literally making decisions. It's me being strategic with my cause. It's me dropping all this tradition, and saying: 'fuck it', I'm going to do it my way, and I'm going to do it successfully, and I'm going to do it properly. I'm not going to be put in a box because of who my father is, because of my gender, because of my race. I'm not going to follow tradition.  If I want to make this type of music, I'm going to make it. If I want to look this way, I'm going to look it. If I want to say this, I'm going to say it. So the Cuppy way is being unapologetic and that's exactly what I am.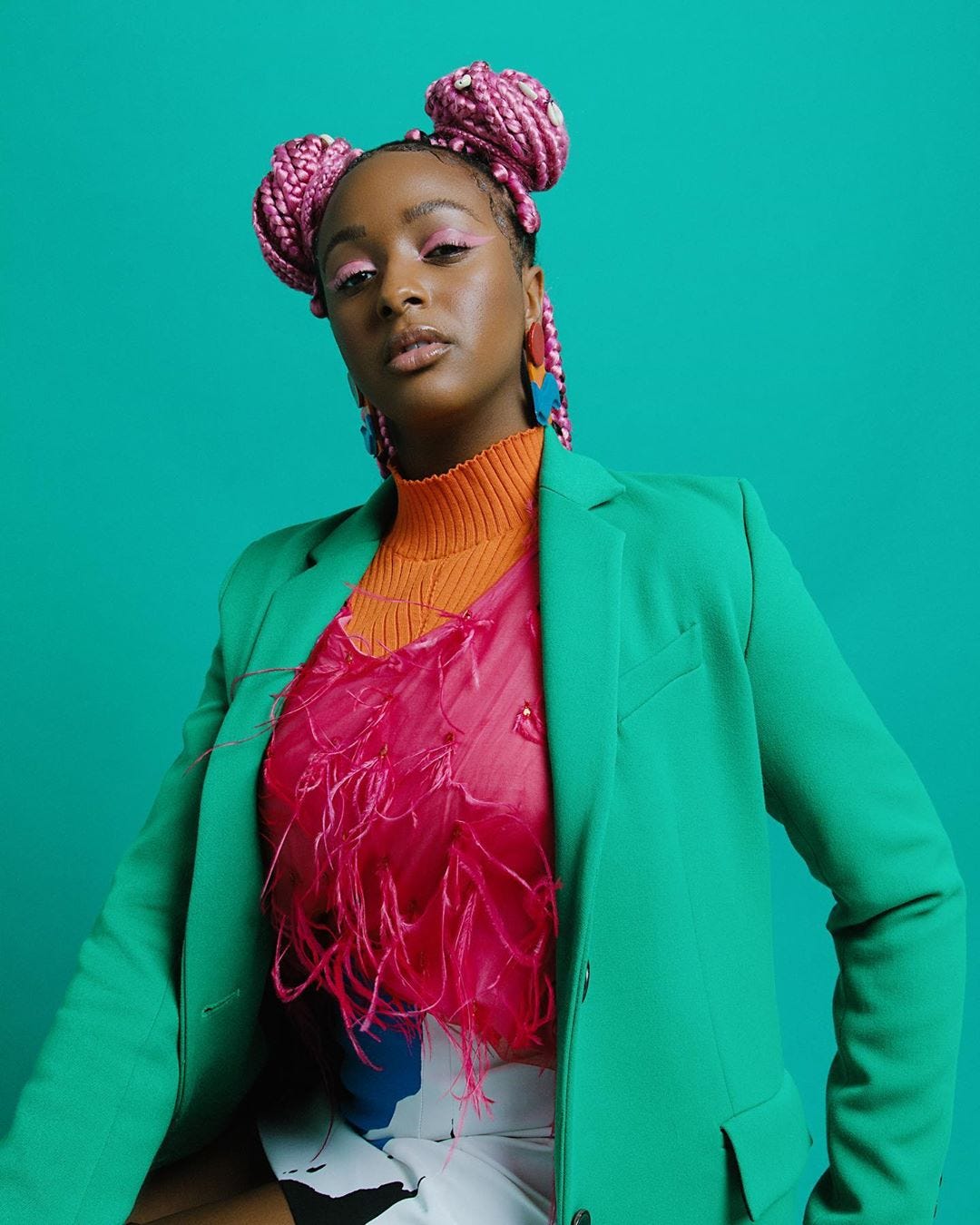 Do you ever think that maybe there might have been another way? Maybe there might be a banker in you somewhere. A ballerina, maybe?
A hundred per cent. There are so many versions of me. I'm sure there could have been a professor me, there could have been an astronaut me, there could have been a lawyer me. And obviously this year is so important to me because I'm dropping my debut album but at 27, I don't think that I've found exactly who I 100% am. You know, 10 years from now at 37, I could be a ballerina. And that's what I love. I don't limit myself. Ever. I don't think anyone ever should. 
You appear to be having fun with it all.
And Joey, that's the most important thing. The moment it's not fun, change it. Because if you love what you do, it doesn't feel like work. And I see a lot of people struggling and it's like everyone struggles in different ways. On my bad days when I'm highly criticized and I have to hashtag 'Free Cuppy,' what makes the struggle worth it is the fact that I love what I do. If you don't love what you do, those hard days are impossible. Whether you're a banker, whether you're a blogger, whether you're a dancer, whether you're a manager. If you don't love what you do, it's hard to do it well. So the joys of the job come with its disadvantages. So I can't be Cuppy, and I love what I do, and be complaining if people are criticising me. It comes with the job. You can't just take the good and leave the bad.  Joey, I say I'm leaving Arsenal and someone says 'well, we've been your fans. Trust me it's worse being a Cuppy fan than an Arsenal fan.'
When people question your ability, sense of judgment and your creativity. How does affect you?
It makes me second guess myself. So it's never made me sad, but it makes me think, 'whew Cuppy, could I have done better?' I'm not that fragile, so when I make a decision, I make a decision. I have an amazing team who know that they have to ask me 100 times. 'Are you sure?' But when I say I'm sure and I do something, it happens. My fanbase is bigger Joey, so now I have to think about so many things. If I'm making a song about licking ice-cream, I have to be ready that some people don't want to lick ice cream, some people don't want gelato. But do I regret anything? No. Have they criticised me enough to make me stop? No. But I'm honestly open to feedback. I'm super open to feedback. And that's why I'm having conversations with people like you, because I value certain people that know what they are doing. If you're hating on me because of it, that's fine. But if you actually think I could do better because you genuinely want me to do well, then I accept it. I think that someone that is not open to advice is not open to success. I mean look at me, I be dropping these gems bruh.
You've displayed grace, growth and above all, you've shown resilience...
I think I've shown growth as a brand but the music growth is on another level. Like I couldn't be any prouder of my new album. And at some point, I would like to play you some music.
]Sure. What are you drinking? Gelato?
Vegan oat milk. So I recently became a vegan, Joey.
Why?
Why? I realised a few things. Animal welfare is important, so I didn't realise. When we go and we're eating all this chicken…What's the most amount of chicken wings you've had before?
Ten.
There you go. So that's five chickens that died for you. Right? You have to think about it. So I realise the welfare of animals is important and then a lot of us especially black people we're lactose intolerant. So with cheese and milk, our stomach gets funny. I just wanted to be a vegan. And I don't judge other people. I haven't had chicken in four months. I haven't had meat in four months, I haven't had fish in four months. But I feel healthier. But Joey, let's see what happens when I get back to Nigeria because hmmm (laughs). That one might be different. 
How did you navigate the pandemic?
Well, first of all, it allowed me to spend a lot of time with my Dad. I spent the majority of coronavirus living with my Dad, which hasn't happened in a long time. So he and I were in London actually living in my apartment, which was really nice. Also, it allowed me to slow down. Joey, if you know my journey, me and Elizabeth (my manager) are always on aeroplanes. We're always moving. So it allowed us to just sit our asses down and...I was able to hire some staff, I was able to fire some staff. I was able to basically do all the things I wanted to do. Have conversations with people, fall in love, fall out of love. It's just been a wholesome experience. I was able to also obviously become vegan. More importantly, I was able to start my radio show with Apple Music. 
First, what was the entire gelato thing?
Gelato for me was actually just a bit of fun. I think a lot of people took it too seriously. It was expression. The same way Patoranking's 'See Brother'. That's probably a bunch of guys going to the club, they take a girl out and she doesn't agree at the end, abi? They made music through that. So I went to Italy with my Dad, we had gelato and I made a song out of it. That's literally it. And I did it with Zlatan. It was how I was feeling at the time. It was an experience that happened in real life and that's what artists do. Telling stories through music. That's literally it. 
When they got it wrong, it almost seems like you never bother to correct them.
I don't think it's getting me wrong, because everyone is entitled to their opinion. It's like how I'm the biggest Nicki Minaj fan, but I don't think that all her music is spot on. So I have no right to tell her that it's wrong or right and she can't be upset with my opinion. Music is subjective. It's the same way I think one of the most amazing musicians is Tekno. He's so talented. There are some Tekno songs I love, there are some Tekno songs I don't love and that's okay. There's nothing wrong with that. 
This internet trolling. Does it never get to you?
No, not at all. This is what you asked me in the beginning. Joey, I am a rock. 
People try to discredit you with your privilege. You're the daughter of a very successful man. And that's somehow supposed to be an Achilles heel?
Yes, they do. This is really interesting because I think it comes down to the Nigerian mentality, money means happiness. Money means easiness. Money means success. So people think that because you have access to resources, everything is simplified. I don't know about you, but I think history proves a lot of wealthy people are some of the most unhappy people in the world. And so it is frustrating, but I also can't blame them because Nigeria is a very very tough place to survive. And as much as it used to upset me, I also can't be upset anymore. Because I understand. I haven't experienced it, but I understand the everyday struggle just to survive in that country. I get it. And so I think all I can do is respect people's feelings, but hope that my hard work would speak for itself. And I think that it's starting to.
Would you say your privilege has helped you?
I think that my Dad being who he is has helped me in so many ways. I think that I would be lying if I said that my Dad didn't help. He's instilled this confidence in me that look, 'if I can build an empire, so can you.' He's shown me what hard work is. He's shown me how you have nothing into something and he's shown how hard it is to continue to have something. My Dad still wakes up early in the morning, still goes to work. He still has to make things happen in order to maintain his empire. So yes, my Dad has really helped. That I guess is on the moral side. 
And I'm sure you're going to ask me, 'what about the money?' No doubt, my Dad has also invested in me. Not necessarily my music, he has invested in me as a person. I went to some of the best schools. I was able to basically have access to all the necessities. There was nothing I needed growing up. I always had food in my mouth, I always had a roof over my head. I always had clothes to wear. So those other things helped me build my craft and help me focus on other things I wanted to do. I had so many friends that they are so talented, they have ambitions but they also have to work two jobs a week. And so they can't build on their craft. So I'm just so grateful that I have a Dad that provided for me.  
---
3 Weeks Later
The project is out. How do you feel?
I feel great. I feel really excited. I'm in a happy place but I feel like the work starts now.
Why? How?
I have to promote the record. It's one thing making it but it's another thing actually getting people to listen to it. 
The last time we spoke you had a lot of confidence in the quality of the product that you have and what it's going to do to the market. And now that it's out and a lot of those things are in play, does it give you more confidence or what does it teach you about yourself and your work?
It makes me feel really good and it shows me that at the end of the day hard work and quality trumps all criticism. Obviously it hasn't all been perfect. Some people are still saying they don't like the record. But I think that the most important thing is people have overwhelmed me with I guess acknowledgement of my hard work. People feel the passion that I put into the music. And I said to you before, this is more than a statistical thing or a number thing. I just wanted to know I could do this and I think I've done it. I've put an album. And the rest, we'd just have to see what happens. 
What's the heartwarming reaction you've gotten to the project?
I really appreciate what Wizkid said to me. You know, Wizkid and I bumped into last week. And he literally just said he's so proud of me because he remembers when I started. And he said he listened to it and he loves it. And I think someone like Wiz has absolutely no reason to lie to me. Him even posting about it felt really good. He's one of the people I really really wanted on the album. It didn't happen, but nonetheless it feels really good to just have the fact that this amazing creative, one of the artists I actually look up to, really likes what I did. It feels good.
People were shocked that you handled much of the singing. 
Yes.
Why did you choose to handle most of the singing? 
I felt the need to express myself. It was so important for me to be able to.  That's what I said to you before. I said, 'this is Cuppy extending and pushing an envelope and taking things to the next level. This is me being original me, and I would have felt that I was hiding behind something if I wasn't able to express these things myself. 
True. Do you think people would conflate both of them? What you do on the deck and what you do with your vocals now in the studio?
Errrm, I think that makes me a stronger DJ. Being an artist makes me a stronger DJ and being a DJ makes me a stronger artist. I think they go hand in hand together and it's going to feel so good being able to DJ my own songs. I'm excited about that.
'Karma' is of top quality. What went into that record?
The record was really about trying to match up to Stonebwoy's confidence. He has a very very artistic soul. Stonebwoy is the kind of person you go into the studio with and you have to have that confidence and be ready. And he really really pushed me and I was super excited to work with him. And when that record came out, a lot of people don't realise how playful I am. I love Dancehall and Bashment, and I think that record really showed it. I think people were really surprised at how hard I pushed myself vocally as well. 
People are starting to catch on to your playful side?
A hundred per cent. And I think it's important to show that. You know, it's never really that serious. And anyone that follows me on Twitter knows how I feel. You've seen my tweets, I've seen your tweets.
What you've done with getting into the football community, that's beautiful honestly.
Wait, Joey, who do you support?
Arsenal!
You guys have used juju to give Pogba COVID. 
But we also used juju to win a trophy, unlike you guys.
Who's playing Champions League? Enjoy your Europa Cup. Wait, did you even make it to the Europa Cup?
We made it to Europe (laughs).
What I'm trying to say is that at the end of the day, we are at the Champions League yunno. 
What you did with your album interlude, taking negativity and churning it into something beautiful. 
I think that was bullying if I'm being honest. 
There's criticism and bullying. I critique stuff so I understand the thing line.
'Cause your critique is constructive. You would say 'listen, Cuppy, I don't like this record for this record for this reason... you're not like don't make music'. There's critique, very different from complete like bullying or negativity. So I put that in my song and made a banger. And on top of that, whilst doing that, I told my Dad that I don't need him anymore (laughs). I mean, all I missed was calling out my ex for taking my care back. But I think that there's a part of Cuppy that people are getting scared of.
What part is that?
The outspoken me.
But you've always been outspoken to a certain degree.
Not in this way. I don't know whether you've heard me like this. Even with Oyemmyke and Ushbebe, both of them obviously publicly spoke about me. People ask me so many times about these guys especially Oyemmyke and you're saying I'm outspoken? I never said anything about it ever, publicly. So what did I do? I got in the studio and I owned it. So I don't think I've ever been this vocal about how people are and everyone's saying 'oh Cuppy is just a rich girl, she doesn't do anything for herself'. I literally on a song, told my Daddy 'you know what? I'm making my money now. You're good. You take care of yourself'. You like that Joey yeah?
I'm always for autonomy and ownership.
My Dad would tell you himself. He's now Cuppy's Dad, he's not Femi Otedola anymore. 
You've grown. So much since the first time returned with 'House Of Cuppy 1' EP. 
Yeah, a hundred per cent. And I feel like part of me was hiding. Not to say that I felt scared—I tweeted this a while ago—I've made music even I don't want to listen to. No one can be a bigger fan than yourself. I've finally started making music that I believe in. 
And then automatically everything else followed.
Absolutely. And I think my approach to my album is, 'you know what? I said what I said. No regrets'.
It's good to see you get your flowers. You can't be called 'wack' anymore.
But you don't think...I mean wack is relative but yeah. I don't think I'm wack but some people would still say I'm wack. I don't know what they want me to do. Oh, now I see them talking about my wigs. Because the music is sweet, they moved on to other things. So it's kinda like it just doesn't stop Joey, and I cannot come and kill myself. I don't care if people talk about what I look like, talk about my Dad's money, talk about my personal life, but my music... Because that's how I want to. At least now the music is sweet. If you want to say anything else that's your business. But it did get to me. If I couldn't listen to my music, who else could have? And I'm proud I've reached this moment where I can. 
I watched your press conference. I was on it, it was really nice. You held it down. 
And then you mentioned your ex. Asa Asika. You called his name for the first time in appreciation. 
Yeah. I spoke about him. Joey, what do you think about that? I just think all credit where it's due.
I liked that you mentioned him in relation to a contribution that is important to your professional life.
Yes. It's not even a private thing. It's like there's no doubt. It's like me not talking about Liz or not talking about people that have been part of my story. Like Asa Asika has been a huge part of my story. He gave me my first gig. So how am I now not going to put out an album and not acknowledge that he exists? If Asa doesn't want to tweet about me, that's fine. But to be fair, I called him out. I was like 'you haven't congratulated me on my album' and he said he really likes it. I think he and OBO are busy cooking something in the studio. But I just really wanted to acknowledge the fact that this is someone that is my ex-partner, but someone that has had immense influence and input on my career and I would never forget him and what he's done for my brand. 
You appear to have a culture of gratitude. You always shoutout people. Always.
You know what's crazy? Adekunle Gold could not believe that on the eve of my album, I told my Cupcakes to clear their data for myself and his album.
I saw it. Class act.
I mean what else am I doing? I don't understand this industry. They want to kill themselves and roast themselves and put small pepper on the side. I don't understand. Adekunle is a world-class artist. Why would you not listen to his album? 
Convention says you shouldn't cross-promote.
His album is great. And I'm so proud. Not only did I post his album, but I also had him on my show, Africa Now, the day it came out. And it was just so important, I wanted to share that day with him. And I'm really proud. And I think now to be fair, Adekunle better give me a banger at least. Oh God Did I just tell Joey I'm thinking of another album? oh shit.
Well, you have to think of another album. It's important.
I'm tired, Joey. If I can do an album and it's just me, you and Liz that would sit down and listen and that's all the interview. Do you know why? I love making an album but it's so hard begging people to listen to it and I'm not even a week in.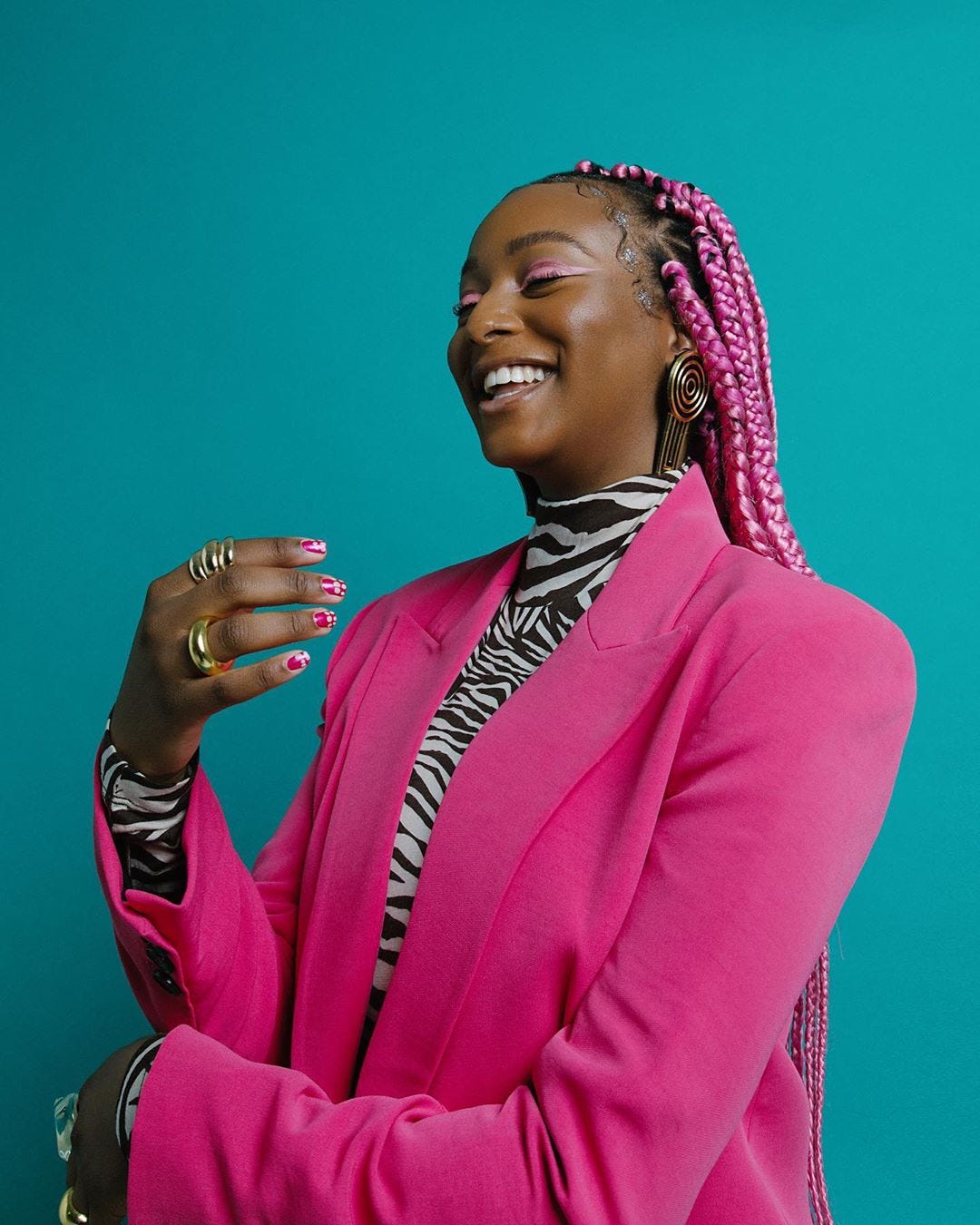 What was most challenging about the project?
My vocals. I had vocals lessons but I had to do a lot of takes I can't even lie. There are some songs; 'Guilty Pleasure' I had to do a lot of takes. The one with Nonso Amadi, and 'Wale' with Wyclef. Because Wyclef came on some crazy shit and I wanted to sound really good. So I recorded, sent it to Wyclef he did his thing, I no had to record my part again. 
But then, working with Wyclef...
It's phenomenal. I had the best conversation with him and I can't wait to share it with the world. Like Wyclef is telling me stories of him and Micheal Jackson and Quincy Jones. And he goes 'Cuppy, your energy reminds of when I was in the studio with Shakira' I'm looking at him like ... And he's telling me that he loves my song. I'm like, 'Can I just die now?' Again, I'm just going to talk too much because we love you Joey. I'm definitely doing a video for 'Wale'. I can't do a song with Wyclef and not do a video.
One thing people don't give you credit for, your marketing skills.
I don't know what you're talking about.
Why would you not know? You know what I'm talking about. You market well. See you in football now. 
What I would tell you is I actually just signed a big betting deal, but you know, that wasn't the plan.
See you also eating rice on 'Jollof On The Jet'. 
I mean, do you think I'm authentic with it or it's all packaging? But you know what's funny, you say I'm good at marketing, but I cannot market myself. 
Look around you, Cuppy
I can't market myself for a husband. 
That's not your problem now. You have an album. Your album is your husband. Is your marketing contrived?
It's literally just me. I'm just an extra person. Ask anyone around me; if it's A to B, I'm going to do A, AA, BB, CC.  I think it's a beautiful lesson about how my mind works. I have certain mentalities that are unique. I think outside the box but everything is always authentic. 'Jollof On The Jet' came from just eating jollof rice. That idea allowed me to develop it and take it to another level. 
Has there been any other piece of art that you've created…
Everything I've created. I have this beautiful brand Cactus on the roof, that's art. I have my company Red Velvet Music, that's art. I have Cuppy DM tracklist. I thought, 'I'm getting so many DM from upcoming artists, I'm going to make a playlist out of it.' I've done really cool things. I've done gelato merchandise. Gelato became a brand of itself.
You have a show, that's art.
I have Cuppy On a Mission, that's art. I have Africa Now, that's art. Africa Now radio. Cuppy on a Mission is something I'm really proud of. It's my vlog, it's literally me. It's like me not giving a shit. I'm just being myself. And I think it's important for me to just be myself. I have Cuppy Foundation too!