Discover more from Afrobeats Intelligence
Afrobeats Intelligence is a weekly newsletter on African music curated by multi-award winning journalist, Joey Akan. It is published every Monday.
Over 25,000 subscribers
D'banj: The Making Of Africa's Michael Jackson (Part 1)
In the final days of his 30s, I spend 2 days with legendary Nigerian superstar, Dapo Oyebanjo. In the first part of this special interview, we return to the beginning of Africa's greatest entertainer.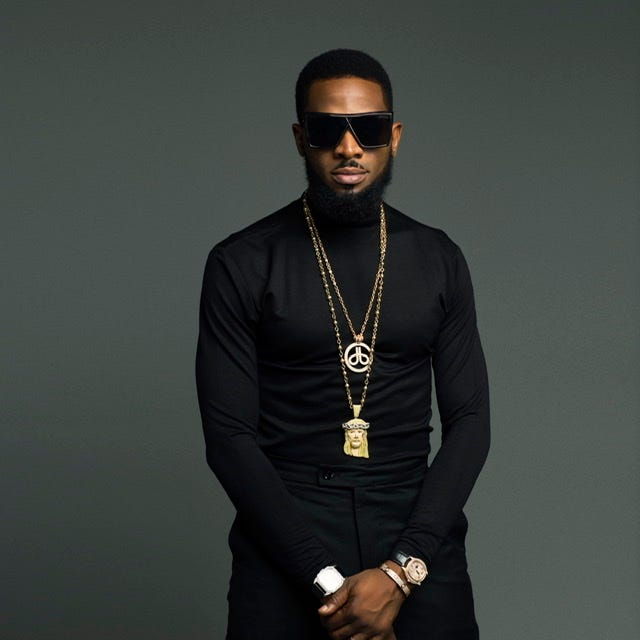 "I'm D'banj! Skibanjlakmajamaicanfriendscallme!," Dapo Oyebanjo announces himself. Ever the performer, he swaggers into the living room, instantly elevating the energy of the space. Camera lights flicker, two reporters from Forbes waiting in line to interview him fumble through equipment, as they struggle to capture the 40-year-old's dramatic entrance. Smiling from ear to ear, he begins his ritual of greeting everyone in the room. He's shaking hands and looking into eyes. He's dropping witty cracks and punctuating his jokes by fiddling with his trademark sunglasses. His spirit uplifts the room in this rainy Lagos afternoon in June. "Where are my people?" he inquires of Seyifunmi Akinrinmade, his manager. Seyi leads him towards a corner of the posh 2-bedroom penthouse in Ikoyi, where I have sat for the past 30 minutes. Two Chow Chow dogs roam the compound, his chairs are finished in gold, and Versace saucers are available on request. In his studio—which opens out onto a balcony facing the calm Lagos lagoon—60 award trophies and plaques sit on a shelf. They carry the story of his musical excellence.
"Joey Akan!" he yells, swivels and makes a mock retreat. "Joey you are in trouble. I'm the one going to do the interview today. I have so many questions for you!" He laughs. I laugh. He reaches in for a handshake.
Of course, D'banj will have questions for me. Just as I have for him. For many years, well before I tasted puberty, D'banj was a star. He was legendary by the time I had joined the music industry in 2014. During my stint at Pulse Nigeria, I have reported on his life, work and dealings. Most of those stories deservedly venerate the man, his art, and his entrepreneurial journey. While others cast him and his dealings in an unsavoury light.
It's a few days to D'banj's 40th birthday celebrations, and preparations are in full swing. "I'm a vampire," he jokes about the secret of his ageless looks, stroking his full beard, before disappearing into a laugh. He's planning a big party, he tells me. Approaching his 40-year milestone has him in great spirits, and he wants to mark it with a list of activities. First, a feel-good song with Afrobeat singer and Fela Kuti's offspring Seun Kuti would extend his discography. Next, a unique party—obeying social distancing rules, of course—will have him play host to Lagos' elite. To help ensure a smooth event, executives from luxury cognac brand, Martell, were waiting downstairs for a meeting about sponsorship. Here, upstairs, Forbes interviewers prep him for a special feature. A call comes in, and a bank boss demands his attention for a few minutes. As he drops a call, he whispers to me, "I just signed one of the biggest deals any artist has ever signed with a bank. We are announcing it soon," he nodded his head, his eyes alive with mischief and deep pride. Executives from the bank were on their way. He asks his steward Rotimi via a phone call, to prep another flat for the crucial money meeting.
Depending on who you talk to in the African music industry, D'banj is both hero and villain. Master performer, hit-maker, multi-award winner, and one-time playboy, he stands tall in African music lore, like a god. His discography--from his early days at the beginning of modern Nigerian music, until this point--is near-unchallenged. There are few artists who can match the musician, hit-for-hit. His first two albums, No Long Thing, and RunDown Funk U Up spawned evergreen hits including 'Tongolo' and 'Why me.' But the release of his third studio album, The Entertainer, moved him to legendary status. Released in 2008, The Entertainer' album elevated African music and cemented D'banj's legacy in history. The LP was supported by seven singles—'Fall in Love,' 'Gbono Feli Feli,' 'Suddenly,' 'Kimon,' 'Igwe', 'Olorun Maje,' and 'Entertainer.' For such an important project, it's currently not available on streaming platforms. "I took everything down," D'banj says. "That was right after Mohits because a lot of people were just putting it up and then I made sure that I got the rights. 100% rights for everything that was done in Mo'hits for me. This is about a hundred songs or thereabout. But I never wanted to put it back until I gathered a right home for it. Now it is something they are re-releasing as part of this 40th birthday."
D'banj's greatest run happened with the support and partnership of his friend and legendary producer, Don Jazzy. In 2006, the duo returned to Nigeria after working in Stratford part of London, securing construction sites for minimum wage. With D'banj as a co-owner and Don Jazzy as the CEO/President, they founded the music company Mo'Hits Records. By the time both parties fell out in 2012 and split, they were walking away from the most successful record label in Nigerian music history. But they had also redefined African music and nurtured stars including Wande Coal, Dr Sid, D'Prince, and Kayswitch. 
Regardless of how many times he has told his account of the split, Nigerian fans still believe D'banj was responsible for ruining a good run. His flamboyance and artistic success indicts him, his ex-signee Dr Sid once blamed his success for overshadowing others, and staff members from the time have accused him of selfishness. He also isn't helped by his decision to chase international success by signing a pioneering crossover deal with Kanye West's G.O.O.D Music. These stories, according to D'banj festered because he stayed away from sharing his tale. "I no be internet person," he explains. And the few times he ever did, they were shot down by counter-tales from his former collaborators.
---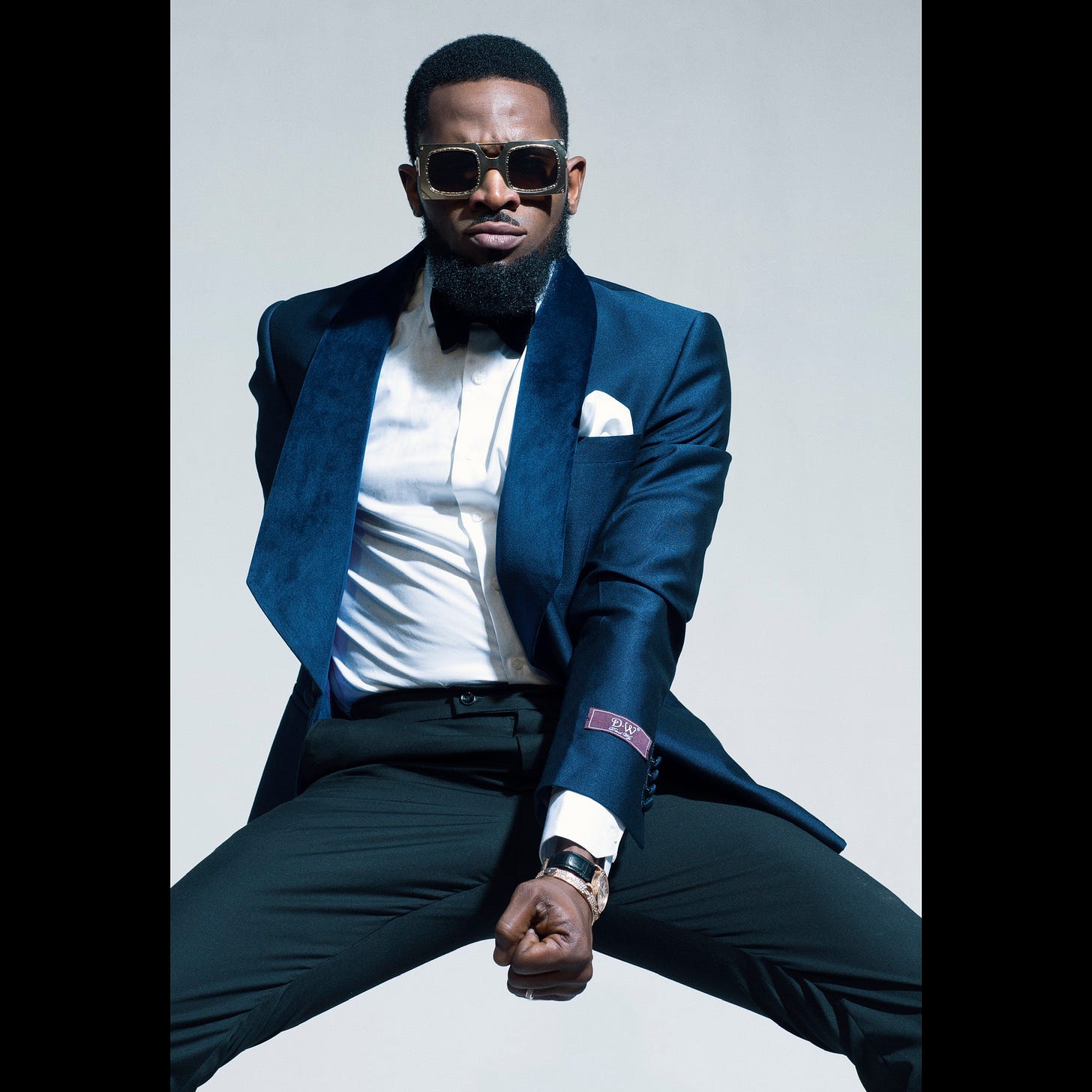 "Excuse me let me talk to Joey," D'banj walks on to the balcony. He's taking a break from the Forbes interview, and interrupting my conversation with PR execs trying to brief me for the interview. He leans against the white railings, as we stare into the Lagos lagoon in silence. A gentle breeze adds to the moment. On the other side of the lagoon, Oriental Hotel stood majestic, as the evening traffic pulses through Lagos Island. So far, it's been a busy day for the superstar. D'banj leans in and invites me to watch a clip on his iPhone. It's a video of a goodwill message for a global Facebook Covid-19 campaign. "I had to do this for them because they are the biggest company in the world," he says. A call from a Facebook executive comes in. On the other end of the line, an impatient voice scolded him. D'banj's video was taking too long to submit, and it was past time. I watch D'banj switch instantly to his sweetest note. "Please please," he half-pleads, half-charms--cooing into the phone. She stood no chance against his silver tongue. Her impatience gives way to a reluctant extension of grace, as he says "give me 10 minutes." He turns to his manager. "Go and send them now. It's Facebook o, they are the biggest company in the world."
"Do you ever wonder why you are D'banj? Why of all the people, God chose you to be D'banj?" I ask him. 
"Hmmm…" he responds, deep in thought, searching for the right response. A moment goes by. "It's God," he confesses. "I don't know why. People have their calling that God gave to them. He gave you yours, he gave me mine. That's why I was chosen to lead the vision and give people what to aspire to," he says.
Suddenly, five executives from Martell cognac emerge and are ushered onto the balcony. They form a half-circle in a corner. D'banj assumes the centre position, and signals to me to join in the meeting. They were going to sponsor his birthday party, and he was sounding out ideas on how the set and roll-out will be. "The bar will be here," D'banj points to the far left. Instantly, an executive moves there for a closer inspection. "We will announce it via a live call, with all my partners. I will put you on the spot, and you will give bottles or some other important and significant giveaway. Something that reflects my 40th birthday," he pitched. More ideas were raised, debated and a rough deal was struck. Right before he sees them off, D'banj hurriedly returns to the studio with a black pen and some documents. I lean over his shoulder as he calmly signs a number of pages.  "I just signed with Heritage Bank," he says. "It's a great deal, and we are announcing in a special way," he explains.
"This deal is important to me," D'banj says. Being a scandal-free celebrity had always been a top priority for the musician, though it had yet to translate into financial gains. With this deal, it seemed like things were finally turning around. To him, this deal would be a reward for years of being a 'clean' celebrity. In June 2019, D'banj had linked up with bosses from another major bank who were shopping for a campaign ambassador. The criteria stated that the ideal should be 'premium' artists, who have shown entrepreneurial skill, and can be marketable with a clean image. Being an ideal candidate, D'banj was excited. He shook hands with the bank heads and was passed along to the brand departmental team in charge of the project. But after a conversation, they became lukewarm and delayed the contract.  He later returned to their bosses with questions about the hesitation. Assurances were given, and he was told to be patient.
The bank announced Burna Boy in December, who was far from the ideal pristine image. "I was not angry, but I was like 'so all this 'no child out of wedlock, I no dey smoke Igbo, e no go pay? That December, every photo of turn up, nasoso…" he trailed off, miming party moves. "But it is paying," he tells me. "The deals I am signing with my brand, it's partly for the clean image."
---
Renowned filmmaker Clarence Peters walks in during the meeting with Martell, and D'banj announces him immediately. "Ladies and gentlemen, meet the legendary filmmaker, Clarence Peters" he points to his latest guest, who waves him off with a shy smile, and moves to the corner of the room. An old friend, Peters has the responsibility of creating visual content for D'banj's upcoming birthday. Peters walks off to a corner of the balcony, away from everyone, and collapses on a sofa.  He shot the artsy video for the new single 'No stress,' and D'banj is in the mood for everyone to hear his new music.
"Joey, you might want to come hear this," he beckons me into the studio, along with the Martell men, and Clarence Peters. We take positions as a large screen is turned on. D'banj appears shirtless and covered in oil on screen, with Seun Kuti playing sonic sidekick with a saxophone. It's a noir affair, as dancers clad in edgy African costumes, synchronize gyrating hips. This is D'banj in his playboy element, only this time, he's taking inspiration from Fela Kuti's Afrobeat, and telling us all to live lives with 'No Stress.' D'banj stands in a corner of the room, singing aloud and giving us a boisterous mini-performance.
"This your abs still dey o at 40," someone teases.
"Yes o, the thing still dey," D'banj responds. 
Compliments fly around as D'banj leads us further through the rest of his new album. There's a collaboration with Burna Boy, as well as a song about Lagos. Everyone agrees the Lagos anthem will do better with collaboration. We circle through the music, arguing and presenting recommendations on what songs can work. D'banj stands in a corner, taking notes, thanking everyone, and for once, staying quiet. Later that evening, Nigerian disc jockey, DJ Obi, stops by to touch base with D'banj. "Obi will host the birthday, and we also have a new product we are introducing soon, just wait," D'banj explains. He's been animated all day, maintaining this high-octane energy throughout the day.
We manage to catch a few moments for short conversations, talking about everything. What were his motivations for trying to crossover African music? Why has he generally avoided interviews? Is his legacy intact? And why is entrepreneurship so attractive to him?  Did he date Genevieve? How did he and his family face the tragedy of losing his first child? Does he feel responsible for keeping his family together?
When were you aware that you were privileged? At what point in your life?
I think my whole coming into music. The way I came in, I knew I was privileged. Because I didn't come in with talent. 
You don't think you were talented?
I knew I was talented. But I was in the midst of people I felt were more talented than me. What I thought then was I was going to be like Usher. But when I saw my true aura was maybe after we released the first album, which was March 2, 2005. The "No Long Thing" album. I think it was between 2006 and 2007, that whole time. The Hip-Hop Awards with the towel, there was something just different that I felt then. I now went to the first MTV Road to the MAMAs in Kenya and I was in the Tribe hotel, I remember. Sound Sultan was there, quite a lot of people were there, and Wyclef Jean was there. And I looked up to Wyclef a lot because of what he's done with the Fugees. And so we were all in the same hotel, but one way or another, everybody always ended up in my room. People wanted to be in my own room.
You are a magnet.
Yes, I swear. And I didn't have to try to do anything different from what I did. I just found that that day, everybody just came into the room. And Wyclef looked at me before he left and said 'I've met Micheal Jackson, I worked with him on this project. I can't remember the project. He held me and said, 'you are African Micheal Jackson.' That was where the name came from. I was going to perform at MTV the next day, so I quickly had them give me this white head bandana and I told them to write "AMJ'' on it. And if you check the pictures, Road to Mamas was where it started. After that, when I was looking back, I was like 'for this guy wey don dey with Micheal Jackson to tell me say me I be like Micheal Jackson, wetin I do? I'm fucking priviledged.' And that's when the superhero thing fully came in that 'wow, you're a superhero. Like you're superman in this world, so you got to make things work.' And because before then sef like I told you, I thought it was the singing that was going to get me my fame. But growing and meeting Don Jazzy, everything just changed. I noticed from there what it was, and it was beyond just me singing. It was like when you're a beacon of hope. A vessel of hope. That's how it was. 
Every time I've met you, your energy is constant. Where is it from? This is the first time we've actually talked.
Normal normal. If I tell you how many times I don meet Kenny Ogungbe. I chase Kennis. Before I first go London. I chase Kenny Ogungbe. I chase them for that LASU road, one time. He just bought that Lincoln that he later gave 2face. I chased them, and I had my CD. When I reach him side, I wind down, I dey beg am, those men. Him just wind up just drive. He turn right. That time I dey for LASU. I follow am turn right. E be like say na my cousin and my male best friend,  Dr Gboyega Adeboye na him dey drive. I say 'Gboyega park!' I climb okada. My name on the CD no be D'banj o, na Stingg that time. Yeah, Stingg with the double-G. If you ask Emmanuel Ogholi, all those people get the video. The original video. I do the video for the song that time featuring Rugged Man. I chase am. 
That time I never even do with Rugged Man, I chase am. As I see am, the guy con dey for traffic. I enter okada so I go move closer. So I came down and knocked on his window then he looked at me. I held my CD and said 'please.' I've written my number inside, then GSM just came newly. He just moved and I stood there. Then I think he just looked at his side mirror and honked. Baba, heaven! I run. I give am my CD, he said write your number and I said, I've done it. Then I watched him throw it to the other side. You know it's a jeep so you could see. I said 'God please let him listen to it. Imagine way back, I wasn't even D'banj and that energy of "I no go gree" dey.
But where did it come from?
I think it's God, man. I don't have to think actually, I know it's God. We're all gifted with different gifts. And for me, mine is that energy. It comes from a higher place. So when it comes from a higher place and it has been given to you, you can only express what you have. So if I was faking it or if I was using anything else, it will cast, especially in your downest time. In the top times it can be okay. But the downest time was even when I now overknew that I was privileged. So the energy is from God, and I think that I never knew it was a gift. 
But this happiness you share as a person, have you ever knowingly used it for yourself, to advance yourself?
Yes and no. I think I'd be lying if I said 'never'. That's why I said yes. Because when something is natural to you, you don't even calculate it. But because as an entrepreneur you got to engage. Sometimes you have that butterflies, even on stage. You have that thing that 'lie lie, I no go gree.' If them no gree with this one, I go enter with this one. Sometimes in the early stage, I catch myself doing it like a bit too much. But I don't notice until I've finished. And someone has told me before that you know what? When you came into the room, nobody expected you to actually greet everybody around and you did that. There are about fifty-something people and you shook everybody. How did you get the energy? And I didn't feel it then. It was just my normal. Let me make them happy. I don't ever want to leave a place having them dulled. So maybe because the goal is not even for me to use it to get what I want. It's because what I want is to leave the place with everybody happy. So I eventually get what I want by providing that thing. 
Happiness and positivity attracts a lot more.
Thank you. I think that is it for me. Especially when I started growing as an entrepreneur and I did some business management course. I was speaking to my mentors and they said: never walk into a meeting—even if you want something—with a mindset of what you want. You walk in with what they want. When you walk in with what they want, it's easier for you to get what you want. But most people go in saying 'hey, I brought you a proposal, I want you to sponsor me, I want you to partner with me'. But then you are not asking them what they want. So if you enter with that, you won't satisfy, and then you'd fizzle out. 
When was the first time you ever noticed that you're a person? What was your earliest memory?
My earliest childhood memory would be me playing in a house.
Where was this?
It's funny I don't know if it was in...when did I go to India? I went to India when I was 10. When we came back from India, we went to the North. So before India. That was Mile 2 actually. Lagos, Mile 2. I can remember the address in a weird way. It was Festac Block 408, Flat 2. Yes, that's what I remember. And I was downstairs. So usually we'd be playing with our fellow tenants. Yoruba film used to reign that time, so I used to learn Fadeyi, Abija. I think I was 8 or 9 and I was saying all that. I can remember my mum's sister now coming, till they called mumsi and called everybody. And they stood behind me, watching the whole action. The way mumsi now gave me that [slap on the back]. That's the memory I remember because my mum is spiritual. She's a deaconess. But then I just remember how so young I was, as you asked now. 
You have a strong relationship with your mum?
 Yes I do. 
You reference her sometimes. What's the bond between you and her? How is it?
Oh the bond is great. She's the best mother. The best manager you can ask for. And even when it comes to my confidence generally, as a human being, she's very responsible for that. I could remember way back, before anything I had a car. Not because we had so much money, but because I told her that 'Mummy na, I need car. Everybody is using car...' She was like 'okay, which kind of car do you want? And I remember getting my 1990 Golf, black on black.
What year was this?
1999 or 2000. The car sef no come with factory fitted AC. I had to fix AC. Mumsi said that would be at your own cost. I say no wahala. That's when I also, thinking back now, I knew that I'm an entrepreneur. Because mummy used to bring stuff from China then. Specifically the water dispenser. And I can remember selling so much to all her friends that I made money to fix that AC. Although she added money when she saw the activity and effort. Since then, she's always guided us. I remember coming back to Nigeria when I advised Don Jazzy in 2003-2004 that we should come back home. She welcomed us 100%. We stayed in her house which is her house in Maryland, the boys quarters. She paid for our first car, Toyota Previa. 
She was your seed investor then.
Yes now. She's a seed investor. She even paid for the video 'Tongolo'. Ask anybody now. Don Jazzy, everybody knows. She didn't pay alone. The guy that did the video that time, his name was DJ Tee. DJ Tee was so big then, if e dey waste time sef and you're shouting on him that 'why did you blah blah'. He'd just put your mini DV on the floor and break it and he'd give you your money back. That means your video is done. He's done it for - was it Faze? I can't remember. I had to tell my mum and dad that they should come and beg DJ Tee for us for this video 'Tongolo'. So one day, after we finished church service on Sunday in Sango Ota, Winners Chapel. All of us together like that, drive to Allen, DJ Tee's place. My mother and father go meet DJ Tee. And my father is ex-military, DJ Tee is ex-military, so he had to respect ex-boys. So e give am my video. I like the way you said it, because if it was in the Western world officially that's what it is. So she was our seed investor. 
Yes, if she needed a percentage of your business, she'd have gotten it then.
She has a percentage right now in DKM. She has a percentage in CREAM. She has a percentage in my life because that's what she's done. And till tomorrow, she's been so supportive. There's no advice she has given me that hasn't turned out to be right. Even though in the beginning I argued because I felt music, creative business was different. But she has always been right about everything. She's been the backbone. I remember when even Jazzy said we should go our separate ways, contrary to what people believe, I had to drive straight to mummy's house. And she was the one that said 'calm down.' She was the one that asked me 'why?' And she gave me the confidence to say 'if this is what he wants, then you need to pick yourself and you can move.' She actually told me. I thought if I get to her place, then she'd call Jazzy 'cause that had happened a couple of times.  Where she'd call Jazzy and then would be a meeting and then speak about it. But that time I thought the same thing would happen. Omo, mummy just said have you spoken to him? I said yes. She said what, I said I told him to give me six months to see if I can sell my shares. She said 'has he given you?' I said yes. She said 'what did he say?' I said he's still not agreeing. And she said 'okay now.' I said ehn? What?
It was shocking for you.
It was very shocking for me and then on the other side, my father just started singing 'praising da Lord, always'
He was dancing.
He was dancing. And then I looked at my Dad. From his own point of view, what he had seen was the commitment from my side. Being the kind of person that I am, and once I go into something, I give my all. So it was more of a family thing for me now. I didn't see anywhere where I'd be able to break up forever. So that's why it got me that way. But after I brushed up, I had them behind me and see us today.
Do you think she's proud of what you've done with your life?
110%
Why?
Because we speak regularly. And because I haven't done those things behind her. She always wanted me to have a pure brand, get married. Even though you're doing the music, get married and not embarrass her name.
Because at the end of the day, you are still an Oyebanjo.
Thank you. She says do not embarrass her name, get married before any child. She just gave me some things that were- beyond the fame for her. She didn't care about the fame. Till tomorrow, if I want right now, if I need money right now, the only chairman I have that I can call is my mum. Because that's how she's always been from day one. And she's seen the achievements that we've done. I think the most proud that she's been is every time I've been able to—by God's grace—come out of a seemingly fall, to rise. Or for me to be just patient enough for me to handle the three letters 'D-I-S', to be able to get to my appointment. Because you can't spell 'disappointment' without having 'appointment.' I think that's what she's been proud of the most, how I've been able to handle chaos.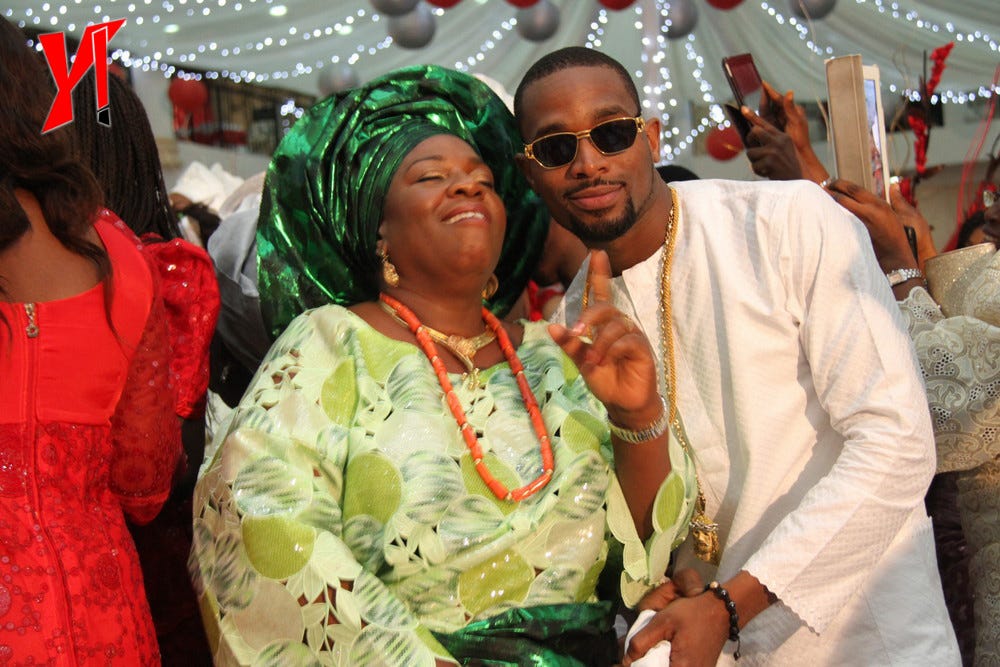 Would you consider yourself a phoenix? 
Of course. People ask me what makes me happy, I said it's from within, it's me. I think I learnt that a while ago. For a long time I didn't want to do social media because I felt awkward about it. Because I always told people that 'I am the social, you are the media and together, we have the social media.' And for you to now tell me that I should come and do my social on media, is a bit weird for me. So I won't say I am the life of the party. I am the party. So yes, I relate with the dark phoenix on that. I would say that, definitely. And that's why I've never been one to live without hope, to look at the cup half empty. 
When was the first time you interacted with music?
The first time I remember other than church. I used to play the harmonica in the church, but performing as an artist, before 'Tongolo'. It would have been Sheraton Hotel that used to be at Ikoyi. And it was one show that they did. I think it was a school event. Maybe this was 2001, I can't remember. But it was Sound Sultan. He was more of a comedian then, he used to rhyme. And I remember him collecting my mouth organ to do something funny with it and gave me back. And then, that same week, there was a show in The Den at Issac John in Maryland. And the biggest artists that came to perform were Olu Maintain and Plantashun Boiz, and I played 'Redemption Song' with my mouth organ. That was what I performed.
That's why I have so much respect for Faze personally as a human being. I was so young then and they were just getting huge. Plantashun Boiz were just getting very big then. 2face came in with this kokolet and just went. I was like wow, this guy, damn! Two or three girls. Blackface was in one corner, with the loud. But Faze was just so calm. And I waited for the three of them to perform and finished the shot. I was like 'wow God, when can I do a show like this?' It was me and my partner and we needed like N800 to get to Egbeda where we were staying before we went back to school. And as I was leaving, Faze saw me and just held me. And he says 'hey, you're the one that played that harmonica right? That's a spiritual instrument. Hold it, it's very good. Let me give you something.' I think he gave me like 500 naira. I wanted to die. See ehn, now that day was pivotal for both of us, myself and my partner then in the music. His name was Benjamin. That day, Benjamin quit because of the stress. His sister was based in London, and then he went to London and continued schooling there. That day, I got the hope I needed in my life, and so I just went on about it. I kept trying. Then a year later, from London, Benjamin told me 'London is not bad. You can come here, you can do school and still do music.' Which is why I now went to London and met Don Jazzy. So me, I wanted music.
So you'd say Faze was a sign?
Perfect, a sign. Yes, I like that. Because he didn't have to stop when he was walking and he had girls with him. Maybe I even greeted him. I would think it was a sign that I needed. Just keep up this path, don't throw it away fully. Because my partner then had this baritone voice and he'd sing like Barry White and R&B used to reign then.
What was your name then?
My name was Stingg with the double G. We were G.O.I.V brothers. That's God's Own Inspired Voices. (laughs)
You keep calling your harmonica mouth organ. Why the mouth organ? And what's your relationship being with the harmonica?
That's a deep question. The harmonica is what brought me into music.
You've not told the story of the harmonica.
I did a long time ago, but people tend to forget those parts. I wasn't the one that used to play the harmonica in my house. It was my late brother Femi. Femi was so spiritual and he was in Nigerian Defence Academy (NDA) after he went to Nigerian Military School (NMS). I went to NMS as well, I was going to go to NDA. And then, we lost Femi to a plane crash in 1993-94 and then he died. I was in school, then they brought us home. I was so young. I was 13, so I didn't really understand what they were saying. They just told me Femi has gone to be with the Lord. Later they told me that they recovered some of his things and it's in his room. When I went into his room, what they brought back from the recovery were on the bed, and there was a harmonica there. And I knew he used to play the harmonica. I grabbed it, I don't know why even I grabbed it. Because we were in boarding school, they brought us for one day or two and they were taking us back. I just took it back with me. Every time, I felt the need to play the harmonica in my leisure time. When I heard any song, when I go back, I'd just try to play. That's how I started playing music. 
Everybody started calling me Lagbaja. Lagabja plays the saxophone and anything he released that time, I would be playing it. When I got into LASU, when there's no light, people would be on the corner and then I'd be playing. Anything I hear, I can play what I practice. So that's how I actually got into music. Before then I saw that 'wow, when I'm playing, all these girls would come around. I didn't even think I could sing then. I had the swag, I had the ginger, I had the energy. So from playing that, I saw that it was so captivating. Then I try to read about the instrument and I realized that it's such a spiritual instrument especially for us as Africans. Before they took our forefathers across the ocean, they were working on the farms. And most of the things that they did at leisure time to relax after farming for so long, was the harmonica and flute. If you look at the western world, all the Africans that they took to the diaspora, working on the plantations. It's mouth organ they were using to serenade themselves. Because they had nothing else. That gave them hope and healing. And that's when I started realising that music was such a spiritual gift to have. You can use it to stop wars, and use it to start a war.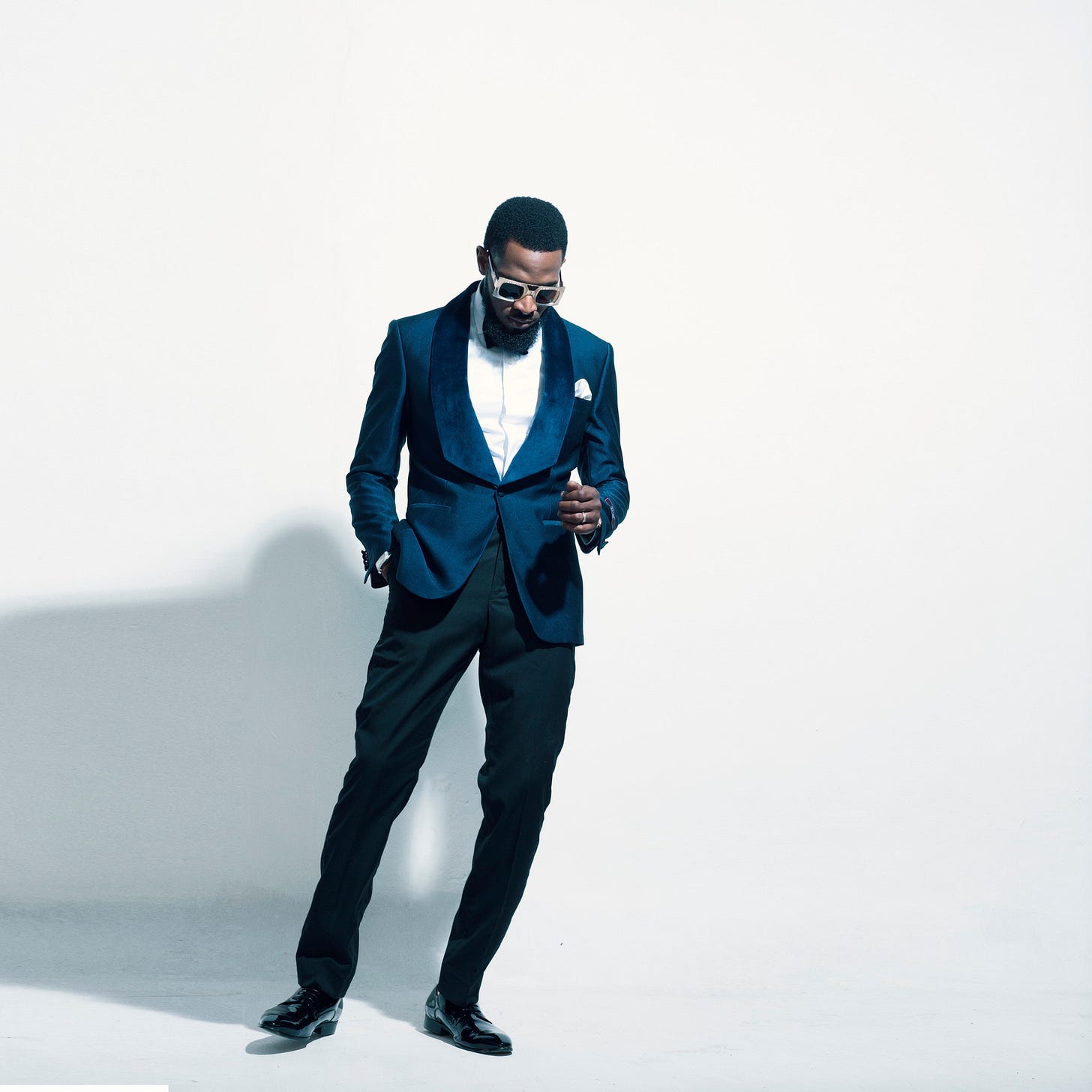 You went to Nigerian Military School?
Yes, I did.
Why did you go there? Was it your decision?
I always wanted to join the military. My father was in the army and I wanted to join the military so badly. The elder brother that I told you about was already in NMS. He wanted to be a pilot, which is ironic because he died in a plane. But I just wanted to ginger. I had so much energy growing up, my father is one of my biggest role models because he's so disciplined. I think I got that from him. He's so disciplined, so accountable , so on point, so spiritual. Watching him at such a young age. And remember, when you're going to NMS Zaira, you've got to do two weeks cadre course. Where you wear white shirts, before they now give you a uniform. I carry uniform go from house. I get boot, I get everything. I know say I no fit wait for their own, I dey the system. And for me, I thought I was going to end up just like my father. But after we lost my brother, my father didn't want anybody to continue in that line, so he just moved us from NMS to Navy secondary school in Abeokuta. When I now got there, I saw that it was like a civilian school. Nothing dey, I just vex. I con become terror for that Navy school. They used to call me NMS in that Navy secondary school because I was...ginger. So I brought in the discipline, the one I knew and then I brought in the mouth organ. That's when I started changing my mind gradually. It's actually the same thing. With the military, you're enforcing peace, you're enforcing security with your hand and with your gun. But with music, your mouth is also a weapon. The microphone is like a bomb. So that's it.
Lagos State University. What did you go into LASU for?
Mechanical Engineering. I got my transcript before I went to London, after Benjamin told me about London. And when I got to London, instead of doing Mechanical Engineering, I did Music Engineering.
How was school for you?
Great. I was doing music on the side, I was playing my harmonica on the side. It was nice. The LASU Epe campus, that was where the mechanical engineering faculty was. I think I was in 300 level when I got my transcript, then I got out of Nigeria and went to London. It was fun because I met a lot of people that I bonded with. I think that's one thing that made me strong and street smart. I went through all those processes and I didn't just jump into it. That helped me channel my mind. And I was very good in Maths. I got an A3 in Maths and A1 in Further Maths. 
So London. As you got to London, where did you go to?
As I got to London, I went to Old Kent Road, Elephant and Castle, that roundabout. My uncle picked me. When I got to his place, he was living in Tower Bridge, which is very close to Old Kent Road. He had an apartment there, he put me in and told me he was going to work. He's an investment banker. As he left, I don't know, I heard noise, drilling. That early o. And I just went outside to check in the balcony and the door just slammed. My first day in London, first hour. Phone is inside, everything is inside. What am I going to do? So I con say make I look window, say make I follow the window enter. Now, the good neighbour con call police. First day in London. 
Baba, as they called police for me, luckily the neighbour wey call police was across the road. The next-door neighbour to my uncle na Jamaican. So by the time police come and that one saw my uncle when we come back. So when the police people came and I was explaining, only God know wetin dem for do. Na him the Jamaican guy came and testified that he actually saw my uncle dropping me off. And he said he knows my uncle very well, that I can stay at his place till my uncle gets back from work. You see that him chair wey I sleep there, na there I dey till my uncle come back. My first experience in London. 
Then I was there with my uncle for maybe like three or four months. Then I wanted to get a job. I got a job as a security guard working in Stratford. Then Stratford was just a bunch of sites, it wasn't as developed as it is now. It was a construction site, and you can always work there. It was while I was working there as a security guard. And in a funny way, the people that got us the job, the company had an affiliation with one Port Harcourt music company, Grafton. So when I became D'banj, I started seeing Grafton Records and I was like oh my God, I know that name. And it was like a Grafton Agency in London.
Yeah, it's owned by Tonye Ibiama. We call him Big T.
Yeah, I think those were the people that got us the job because we just got into London. And it's in this place wey I dey do security, na him person introduce me to JJC and then Don Jazzy.   He was one of the brothers of JJC and 419 Squad.
How was it with them?
It was great. Jazzy was in partnership with JJC, so two of them were partners and artists. And they already had everything. They had rappers, they had singers. For me, I just thought the only thing I could do was just be me, having the right energy anywhere they were going. If you watch some shows you'd see them performing. All of them were having microphones but me. I'm clapping behind because I just needed to give them that vibe. And sometimes, I'd be playing my mouth organ, and then they liked it. And then they put me on one song 'See Me See Wahala,' and from there I started playing the mouth organ. And then, myself and Don Jazzy became close just as Gs. And then gradually we became really close. That was when I started telling him about Nigeria. Because since I went to LASU, Ruggedman went to LASU, I knew people and had affiliates. And I was hearing how much they were being paid. Ruggedman said N500,000 for shows, which was like over £2000. I was like what? 
When JJC and Don Jazzy went their separate ways, it was the right time to just propose to him that why are we in London? Make we go back Nigeria now. My mama dey there, get house. Let's just check how it is. And luckily for us, before we left ways with JJC, we came to Nigeria once as JJC and 419 Squad. So we had already seen a bit, so it wasn't as if I was selling that dream to Jazzy. My mama dey house, everybody dey house. Make we see how we go do am. And then we finished the album, I remember in two weeks. That's my album "No Long Thing," and then we came to Nigeria.
You finished that album in two weeks
Yes. And we came to Nigeria straight. And that was after the October Independence show in 2004. We came back after they did the Independence show in London that Eedris Abdulkareem was the headliner. After I performed on that show and I trended. That's why I'd always thank JJC, I thank DJ Abass and I thank Don Jazzy. Because myself and Don Jazzy were no more with JJC, so JJC had the right to push us away. JJC was the one that they booked, JJC and 419 Squad. Because we were not a member, JJC didn't push us away. JJC now burnt our CD for us separately. He said: 'if you want, take. Go and meet DJ Abass on your own. But you're not a member of JJC and 419 Squad.' They were all dressed in green-white-green because it was Independence Day. I was dressed in T.M Lewin. Jazzy went to meet DJ Abass because he had known DJ Abass from the day he used to play in Solek. 
DJ Abass said no, that he doesn't know me and he cannot risk me. That he knows JJC, and if JJC was going to bring me it's a different thing. But that he cannot risk me to perform. That he can allow Don Jazzy do one song. So Don Jazzy was like, 'instead of me doing that my new song, let me give it to D'banj. Let him do that one song.' And then when I finished doing that one song, I turned back and I saw DJ Abass on stage doing like this, continue. And then we now did 'Mobolowowon' and 'All The Way'. The first song I did was 'Don't Ask Me,' featuring Kween. Kween had just finished performing and she was leaving. As I walked in, I said 'Kween don't leave. Let me ask you one question, I'm D'banj.'  And then one guy in the crowd say 'who you be? We no know you.' And I said, 'no worry, if you no know me, you go know me.' And by the time I finished performing the third song, I said 'where that guy wey ask say him no know me? Now you know me.'
So the day you guys were leaving Nigeria for London, how was it?
You know, we didn't leave like we're not going to come back o. There was a show, Bennie Man came to Nigeria, October 1, 2004. And they had booked us to perform. That was what we came for. December! Not October. We had done the Independence show in October. I think Punch wrote about eight paragraphs about this boy dah dah dah.From there, we knew that we had to come back. We had a guy that we contacted, and we got on that show, They were not paying us. We were just just supposed to come and perform. And that was when we left to come for that show, December 2004. I can remember what happened because it's such a long time. And then January was when we now shot 'Tongolo'. Then we went back to London in January and I came in February. 
They couldn't even book me and Don Jazzy. They wanted to book us but they could not afford us. And ironically it was Abuja. It was a Valentine's Day show. They were paying us N150,000 and they booked my ticket because they couldn't book Don Jazzy. But by then, 'Tongolo' was already popping. So me and Jazzy agreed that I was going to represent us. I remember coming to Nigeria. I remember we already met this guy—this was even before we signed them Wande Coal—Durella. Durella was the first talent we found. He flew with me, we went there. Ruggedman was in Abuja for Star Trek. I connected with him at that time. He put me on Star Trek for the first time, that show. He actually did "D'banj tell them the koko, I say make you yarn them the koko" instead of Don Jazzy. And that was Abuja. I did the show that I came for. Which was Valentine show by Yakitek, one promoter in Abuja. He's actually big now, still doing shows in Abuja. He actually did the Abuja show, and he's also the one that booked us that couldn't pay. I did his show today and the next day, I did Star Trek. And I think it was from that 150k that we got tickets for Jazzy. He came in and we booked a place called White House, off Toyin street, and that's where we did the album launch. March 25th, 2005. 
How was the dynamic between you and your partner then? How was the energy? 
I think because we met each other in London, and we were friends first before we became close, before we started doing business. I watched him and knew his strength, he watched me and knew my strength so the synergy was God-given.
When the album came out what happened?
White House, oh my God! March 25th, 2005. After the album came out, it was lit because the album had 'Mobolowowon,' which was already huge in the UK within the Nigerian community. It had 'Tongolo' which was already getting waves here. It had 'Soco', it had 'All The Way'. So it gave us a different feel. I remember it was Abuja we landed first and we weren't even sure because the sound was different then. We met some people, some girls, and played them the album. And they were like 'any other thing apart from this album?' And Jazzy and I looked at each other. This was at the University of Abuja. They said 'no o, the sound was now, dancehall or whatever the sound was then. And we just said that 'no o, we're here to change the sound.' But we knew that the sound was different and we were taking a risk. But we went in bold, we went in big. We managed that through till 2006. It was 2006 we now dropped 'Do You Like The Koko.' That's the remix of the "No Long Thing" album where we put 'Why Me'. In 2006, when we did the 'Why Me?' everything picked off. 
What changed for you guys?
The truth is that it already changed before then. That was why we did 'Why Me'. Because then, we already realised it was new people rushing us, girls. So most of our songs were real life stuff that happened to us. From there, we just went into "she said she wanted to be mine..." I remember us talking about it, something that really happened. So we watched it just explode. But we didn't even know it had exploded because we just kept working.  And because we didn't have any yardstick. Then, the biggest artist was 2face, and then Psquare were coming, just as we were bubbling under. So we just had to keep grinding. 
So 'Why Me'?
'Why Me' blew beyond what I even thought it would. It got us our first nomination into the European MTV Awards (EMA) in 2007. We ended up doing that, and that was in Munich, Germany hosted by Snoop.  And before then, 2face had won EMA for Best African Artist. And he was the only one that had won from Africa. The only one. I remember meeting him, and he told me that 'this place wey you dey go, if they call you as all of una dey—because they nominated myself, they nominated HHP from South Africa, may his soul rest in peace. They nominated Nameless from Kenya and some other artists. And 2face said: 'if all of una dey and they call you say make you bring your cloth wey you wan wear for the award. Make you come like a day before the award dressed like that for a pre-recorded something. Possibility dey say na you don win. If them no tell any of your other people.'
When I got to Germany, and that's why I never ate sushi in my life because of an experience I had in Germany. Not for me, but for HHP. They brought sushi, me I say I no dey chop. Him say him wan chop. He ate and he had food poisoning. We all experienced it. That was when I was talking to him that 'are you going to be able to do this thing if they call you to record?' I found out that they didn't call any of them, say na only me. And that yesterday when I went to record, them don already record, 'if you don't how would you greet your fans?' I did all that. I knew that I had won. The  next day that I won, it just gave that external validation which is necessary internal credibility. That was in 2007. It gave us that extra confidence, that extra boost and I then I think we dropped some records that year. The next year was "Entertainer" album, straight up, 2008.
It still happens. Once you're certified outside, inside people would try to catch up. Why?
I think the same thing has been happening from time. A prophet is not well appreciated in his home or how does the Bible say it? It's like when you're doing something and you're big, because you're from the same skin or maybe because you're all in the same hustle.
Maybe because they know your story.
But if they know your story, why do they now come back and jump on you after external validation. 
After you came back, 'Why Me' had happened. What changed in your human experience?
From that 'Why Me', e be like say na then we con move go Maryland. We were living with my mum from 'Tongolo' until after we did the album. My mum got us a place, first in Otedola estate on the Mainland, near Magodo. Then later in Maryland Estate. It was after "Do You Like The Koko" album that we met Wande Coal in UNILAG, and then we brought him on board. We already knew that this is what we were going to do. That we were going to sign artists. Like I always tell people that especially us, the black ones. That the hardest thing for us, is for you to show us how to do it. Once you show us, we're flying. When they accepted the whole "The Koko" and dropped 'Why Me,' I said 'ah ah, the rest is just following suit. And we were covered for every year. We made sure we had a project for every year. '05 was "No Long Thing", '06 was "The Remix of the koko," where 'Why Me' was housed. '07 was our EP, "Curriculum Vitae." That's because we had signed everybody we wanted to sign. We knew that we were strong, the attention was on us. After we introduced everybody then, we went back to me.  "The Entertainer " album was the first. In '09 we went to Wande "From Mushin To Mo'hits." Then in '10 we went to Dr Sid. 2011, we were going to do D'Prince and Kayswitch. 2012 was 'Oliver Twist'.  Like I said, I just made sure that I tried to keep creating that content while I built the brand yearly. 2013 was 'Top of The World' for African Cup of Nations. In 2014, I did 'feeling The Nigga,' and that whole DKM project. When I was trying to sign Olamide, when I was trying to sign Davido.  That's when we did 'Won Da Mo' with Burna Boy. Then 2015 was 'Emergency'.
Let's go to "The Entertainer". Is it a classic album?
Yes.
Why?
Because of everything that was put into it. The way it all came together. The way the whole project aligned. The kind of energy. I think we were all one, we all wanted one thing. And I think we went in knowing. And Jazzy was good at that. He was very good at calculating what would work for a club, or what would work for a church, or what would work for a wedding. It's not as if we were just doing a bunch of records. The "Entertainer" album was positioned to be able to show that this is Africa's biggest entertainer. And the way everything was arranged, we had the one that would attend to love:'Fall in Love.' We had the one that'd attend to the church 'Olorun Maje.' We had the one that attended to the Igbo people, Igwe.' And then you had 'Mo Gbono Feli Feli' that attended to the youths. And we kept pushing. The "Entertainer" album is probably one of the biggest albums that set the trend for Africa generally to have a body of work. That can cut across the whole country, and the whole continent. And the whole world. Because songs from there are still songs I can perform anywhere I go.  
How does it feel to have that project as part of your catalogue?
Oh my God! Humbling, evergreen. It's like you having a Beatles catalogue or a Micheal Jackson's "Thriller" album. That's how I feel. 
Why is it not on some DSPs?
I took everything down. That was right after Mo'hits because a lot of people were just putting it up and then I made sure that I got the rights. 100% rights for everything that was done in Mo'hits for me. This is about a hundred songs or thereabout.  But I never wanted to put it back until I gathered a right home for it. Now it is something they are re-releasing as part of this 40th birthday. I think that would be Sony Music, something that they call Certified. We're going to be re-releasing it. I think it's for legends with a catalogue of over 15-20 years.  We'd re-release it, we'd remaster it. And when we're looking at it, we have about 11 or more songs from the catalogues that had no video then but were such great classics. So we just said maybe we'd shoot the video now. 'Olorun Maje' doesn't have a video. 'Igwe' doesn't have a video. 'Scape Goat' doesn't have a video, and so on. I remember talking about it that whenever we're putting it back out, it'd be good to reshoot all these videos even if it's simple. So we'd just let people know and put it back.
Do you think you did right by everybody during that time, "The Entertainer" period?
Who's everybody?
The people you signed.
It depends on what you mean by doing right. I did more than everything that was on the contract. It was even more like a family. If it was based on contract, most of the things we did wouldn't have happened. Like you saw some people. We never even released them, but things had already moved on. So it was more than a family and that's how I took it. 
So when you hear complaints from people that you maltreated then, you attacked them, you diminished their career, how does that make you feel?
Before, I was a bit worried. I said 'ahan where's all this coming from?' But I know that there's no way you can be at the top and have everybody have good things to say about you. People would have different opinions. And even when you think you're doing the right thing to some people, it's either not enough. To some people, they want more. I actually come from a place of peace when I do anything and I have inner peace. I was surprised to be seeing things that were written years after. I'm that kind of person whereby if I have an agreement with you and things are not going right, I'd call us together to talk about it. The fact that it's the aftermath, when you hear something, it's only normal because there's bad blood. I don't feel any type of way. Like in a funny way, that 'oh I did not allow them shine, or I dimmed their light.' No, if you check the way the story was and the way I told you about the album, you'd see that it's so strategic that we wanted everybody to move. And that's why till today, it's still the biggest body of music organisation that has individual stars. 
And I won't lie, in their own defence too, I didn't get any singular thing from anybody. As if we were working independently. Everybody worked like a family. We lived together.
How was the dynamic then, in the house?
Like a family. Same way I am then, I am now. I wake up very early. Go about the business like the father of the house. Jazzy wakes up in the afternoon because he works in the  night as a producer to cook the food as the mother of the house (laughs). And our children just do what they do to make the family proud.
At the peak then, did it occur to you that there was a higher level than that, at that point?
Of course. And if you notice, it was after "Entertainer" album that we started doing international collabos. It was 'learn to crawl and walk. We've done Nigeria. We had stayed, we had made sure that we solidified the brand. Our name was a household name. So the next thing was to transcend and crossover. We started asking ourselves 'how can we do collabo?' 2008 was "Entertainer" album. In 2009, I did 'Endowed'. We did 'Endowed' remix in 2009 with Snoop. So it was immediate. What's the next sound ? We don catch them with 'Fall in Love'. We don catch them with all these ones? How can we get Europe? 
We had done 'Endowed' which also had caught home. I remember I had an endorsement deal with Chris Aire, the jeweller. And I saw his clientele. I saw that he had Angelina Jolie, Snoop. I said Snoop, the same Snoop Doggy Dog. I need him. How much? What can we do? Do we have to pay?  So you can see that the "Entertainer" album solidified for us. It made us know that yes, it's time to move to the next. And for me, always putting my head out there, watching. Like I said, starting from learning that I could like Usher, Craig David. Watching and just hoping that one day, we would be bigger.   
I think that's what pushed me, even up until 'Oliver Twist.' Even up until Kanye, even when we wanted to go our ways. I kept telling Jazzy that this opportunity that we have, let's grab. And Don Jazzy was of the opinion that we can't leave our crown at home. And make we con dey do omo houseboy job for there, or not be on the same level. Which was understandable especially now. But I saw something that if we can keep going at the rate in which we were going, we'd probably be the ones that would be choosing who would be the head of one label in Nigeria here. Instead of it being people that have worked for us at one time or the other. 
Where did you think you guys got it wrong?
 You mean in Mo'hits?
Yes. 
I don't know. I think relationships grow apart. Now that I've grown, relationships grow apart, people change. I won't be the one who'd be able to answer the question because I'd only be able to answer it from my own perspective. And my perspective is that when you're in something, or in a partnership or in an agreement. No matter the tides, try and look at the light at the end of the tunnel. And most people can see that that's the kind of person I am now. If you can attain that. I wouldn't in a million years have thought about saying let's go our separate ways. Patapata, we'd have worked something out. But I realise that people handle things differently. I'm not perfect, I never said I was. I'm still not perfect. But I think that the synergy that we have made so much sense, and no man is an island. You can't say that because this one is this, you just have to keep adapting, managing, changing. 
From my own point of view, if we had managed it well, today it'd have been a different level . Only a marriage is forever, so we might have still separated at one time. But it'd have been where we had escorted everybody to a safe haven. Just to make sure that everybody was okay. Even before the public knew about it. Okay you, this is what you're getting, this is your settlement. And with social media, everyone has their right to talk. Everyone has their right to choose, everyone has their right to say. And it just clouds people's judgment sometimes. So next time when people are doing things, sometimes it's good to do it privately before you now go public.  
You have shared how you met Kanye West, all those things. Throughout the entire story, is there still anything that people get wrong?
No one would really know what happened unless we do a documentary. I'm planning on doing a movie about it. Because so much happened, and you can't tell the whole story on this. Either you write a book. And for you to do that, you have to write a book of what it was. I would say that there's a lot people don't know, and it's not something that I'd be able to say while sitting down. But I hope that one day we're going to share it through one platform.