Discover more from Afrobeats Intelligence
Afrobeats Intelligence is a weekly newsletter on African music curated by multi-award winning journalist, Joey Akan. It is published every Monday.
Over 25,000 subscribers
Niniola: Staying inside the House
The first time Niniola met Sarz, he gave her a House beat and a hit song. That magic has taken her art to the Grammys, Beyonce, Drake and all over South Africa. How?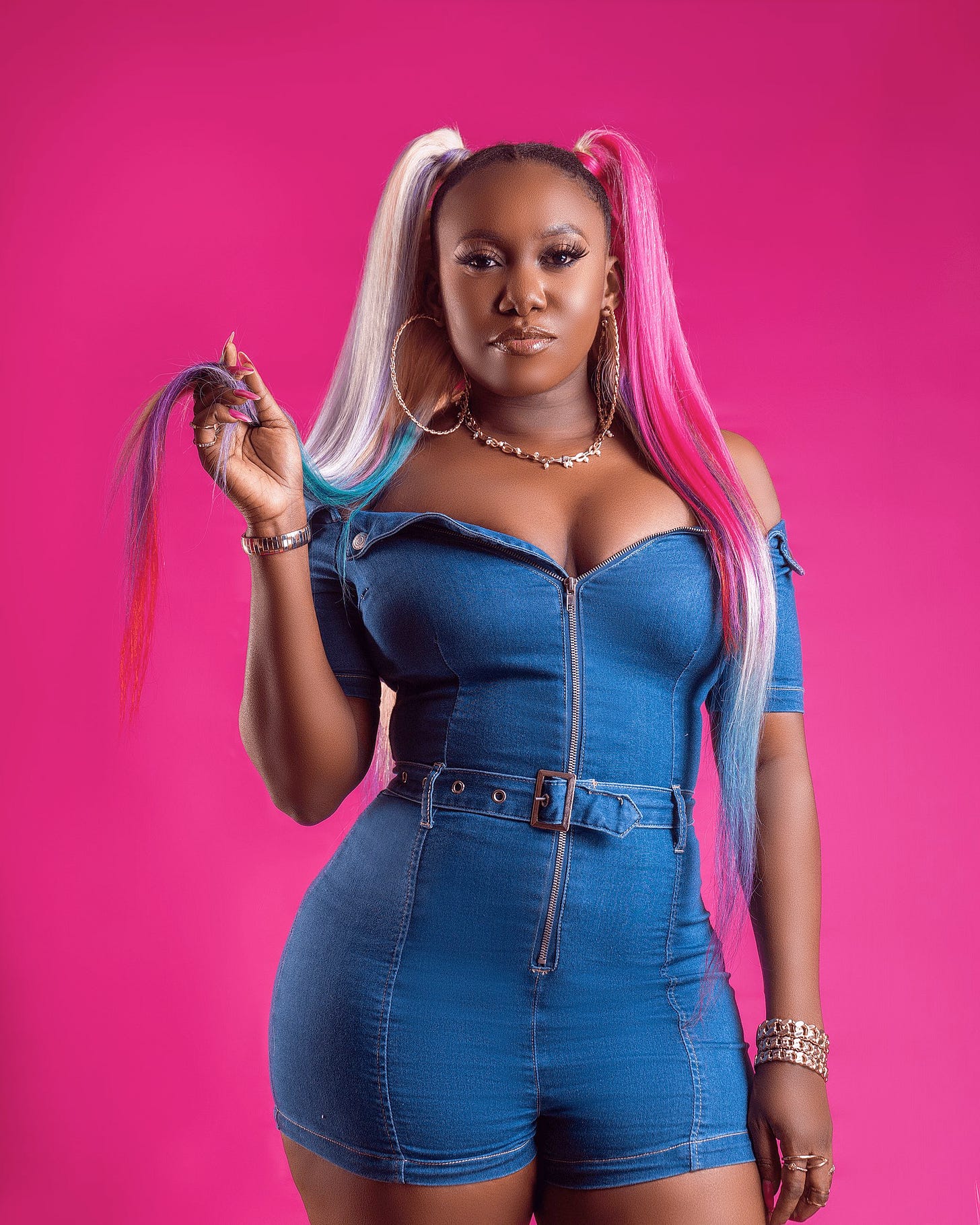 "It's good to see you…" Niniola says, reaching for a hug. Her hair looks different now. The last time I had seen her a year ago, she wore it short. Today, it's coloured in different shades, and propped up by her smile that almost never leaves her face. "It's the branding," she laughs when I offer a compliment. On the wall, a Grammy nomination certificate hangs, telling stories of her artistic prowess. She's been hard at work, she tells me. Crafting her sophomore album has pulled a lot out of her, but it was finally ready for release.
Here in this Lagos mainland apartment, her manager, Michael, is crouched on a sofa. For weeks now, he's been in "album mode," marshalling resources to ensure a smooth release of the LP. Today, he's peering into his computer, as he rubs his forehead, occasionally passing comments about the quality of the new project. The new album is the culmination of another cycle in her stellar career, that has seen her embrace House music, ran with it, and built a life around the genre. Outside, the sun is high in this quiet neighbourhood, burning up the city as it always does. "My music is vibrant," she says. "It's full of colour, I love colours. A lot of people say it lifts up their spirits. That's the colour. And then the sound, of course, you listen to different genres of music, but you still experience the Niniola."
Niniola Apata is regarded as Nigeria's queen of Afrohouse. That title was bestowed on her by fans of her music, who have listened to the high-quality iterations of her House-influenced sound. Her music comprises of high-octane stuff, crafted for dance floors and big party moments. In between dropping and amplifying party singles, she excels as a ballad singer, armed with powerful vocals that she wields sparingly.
Her story publicly opens up in March 2014, when she released the Sarz-produced hit song, 'Ibadi.' But that's just the tip. Niniola's grind has taken her to many spaces where rejection has been a constant companion. She's storied a veteran of reality TV shows, running around Lagos and Abuja, singing at auditions, looking for a way in. When Nigerian singer Timi Dakolo emerged winner of the inaugural season of Idols West Africa in 2007, Niniola auditioned for it. And when they didn't pick her, she travelled to another audition center in Abuja, cried and threw a tantrum to get another chance. She still recieved a no.
Another talent hunt show, X-Factor, came around in 2013 and Niniola threw her hat in the ring, facing more rejection from a panel that included renowned singer, Onyeka Onwenu and rapper M.I Abaga. "I got a standing ovation from them and in my mind, I was like yes! At last! And after that, they dropped me again. I'm like, 'O God, are my village people following me?' she says.
Her break came a few months later at the MTN Project Fame West Africa, where she got a nod, eventually finishing the third runner up, and walking home with N2 million as her prize. It was that money she hounded Sarz with, and got her breakthrough hit single, 'Ibadi.' "For me o, I went to Google," she explains. "That's where I went. Because I wanted the best. I didn't want it to be based on someone's referral, or because the person is that person's friend. Uhm, facts. Let me see. What work has this person done? This money that I want to pump in like this now, has to be worth it. And then that's what I did and Sarz's name kept coming up and I'm like this guy must be great. And I listened to his work, and I'm like okay let me call. And I put a call through," she says.
On the day she walked into the studio with Sarz, she gave him the specific instructions: "I need a hit song." Sarz delivered that, helped her craft her House sound, and put her on a successful run that culminated in her 'Maradona' song being utilised by Beyonce.
For her latest project, "Colours And Sounds," Niniola delivers more party records, inspired by her love for incandescence, and the brightness that her sound provides to listeners. Packed with sounds designed to brighten dance floors once again, the 15-track LP pushes her message of dancing and celebration of life.
Sitting in her studio, we spend hours talking about her journey, and how she's built a brand from a genre that isn't native to Nigeria. How has she leveraged her sexuality to create hits? What is the nature of the support she receives from South Africa? And how did Timabaland, Drake, Beyonce and DJ Snake come to connect with her art?
Joey Akan - For you at this point, what's in it for you?
Niniola - Okay, let me start by saying singing actually. "Nini dey oo eee" (laughs). One thing is for sure, I love myself, I love my family, I love my country, I love being African. And for me, even my language, Yoruba language, is very artsy. It's very melodic so for me, it's always been about the music, about the art and it would always be about the art. And of course, to make money definitely. But the major thing is the arts for me. It makes me happy.
Has there been any point where you've not derived happiness from the art?
Of course, so many times. In life, you'll face challenges, but it's how you move on or live with the challenges that matter. When I started out, of course, after jumping from one reality TV show to another and I had my own fair share of 'nos,' of 'you are not good enough', I still kept going. All I did was better myself.
Were you depressed?
Depressed? No way.
Because you had something that was functional.
Okay, so growing up, my parents never really used to take me out. And I had to keep myself busy and I found solace in their records. I listened to Dolly Parton, Don Moen, and all of that African music. And then unknowing to me, I was singing what I was hearing. I was mimicking the voices and then training my voice unknowingly, and then that's how I discovered that I could sing. I started singing in the house, even in secondary school I had my own sort of mini request show where my friends would come to me like "ah Nini come and sing this song for me."
You scored all of them?
Most of them. And if someone came to me and said 'Nini sing this song.' If at the time I didn't know the song, I'd go back home and score the song and then deliver. I had that confidence boost from my family and my friends, and I told myself that 'ah, girl you're great.' And when it was time to go into the world, the first singing show I went for...
What convinced you that you were ready to go into the world?
Erm, my friends. Compliments. In secondary school, I was very active in social activities. When it was time for prom or to dance. Lip-syncing, all of that, mime and all. I was ready to do all that. I was even a member of the cultural club because I wanted to learn how to shake. Because when I got into JSS1 I saw my seniors shaking, I said I'll learn how to shake like that, you know (laughs). I just love to sing and dance. And then my very first competition was a church competition, and I had to recite bible verses because of the competition. I said, 'let me crack my head,' and I didn't even come top five or top six. I was so angry, I stormed out of the church. And I was like 'ahn ahn, can't they see the greatness in me?'. And then fast forward to West African Idols, the one Timi Dakolo won, I was there.
You were there?
Ahn ahn I was there. The one them Omawumi won. I was there.
For real?
Yes I was. Ha, me? I was there. Then I went in. I was ready, made my own chuchuruchu makeup and hair. I got in, the judges were Dan Foster, God bless his soul, Dede and a Ghanian lady. I was ready, I sang a song. I can't even remember the song because I was so angry afterwards. Dede gave a yes, Dan Foster and the lady thought I was passionate about the music, but I didn't quite have what they were looking for. It was painful. Because if you've ever been to an audition, you'd know that there's a queue outside. And once you walk through those doors and walk back out, people are expecting to read you and know if you got a yes or a no. And I had to walk out of there with that 'no,' with my head up high. I was crying like no way! What I did was, the following month, I got on a plane and I went to Abuja for the same competition. When it was time to face the judges, I walked into the audition room and they were like are you not the girl from Lagos? I said 'ehen? I'm the girl.' They are like, 'sorry you can't audition. And I'm said, 'how? I bought ticket with my money and came to Abuja. They were like 'cut, cut, camera cut'. And I said, 'just let me audition. Even if you won't take me to the next level, let me just audition and I know I'd be on TV.' And they were like 'no, no.' And I was crying and I was throwing tantrums and they were like 'security!'
Wow.
And I'm like, 'tell me where it says on your website that one can't audition at two venues. And Dede, God bless his soul. He's still alive sha o, but God bless him for me—that's what I mean. He backed me up on that and he was like 'let's give her a chance. This girl is talented, I told you.' They stopped recording because of me and they had to deliberate and they said 'you know what? You'd be the last person to audition.' I was like 'small thing. I will wait.' So I auditioned and I got to the next level, they dropped me. I was tired. I said you know what? I'm not doing this thing again. And someone advised me to join a live band and I did. And that's where I learned how to entertain a crowd firsthand. I used to be just a ballad singer.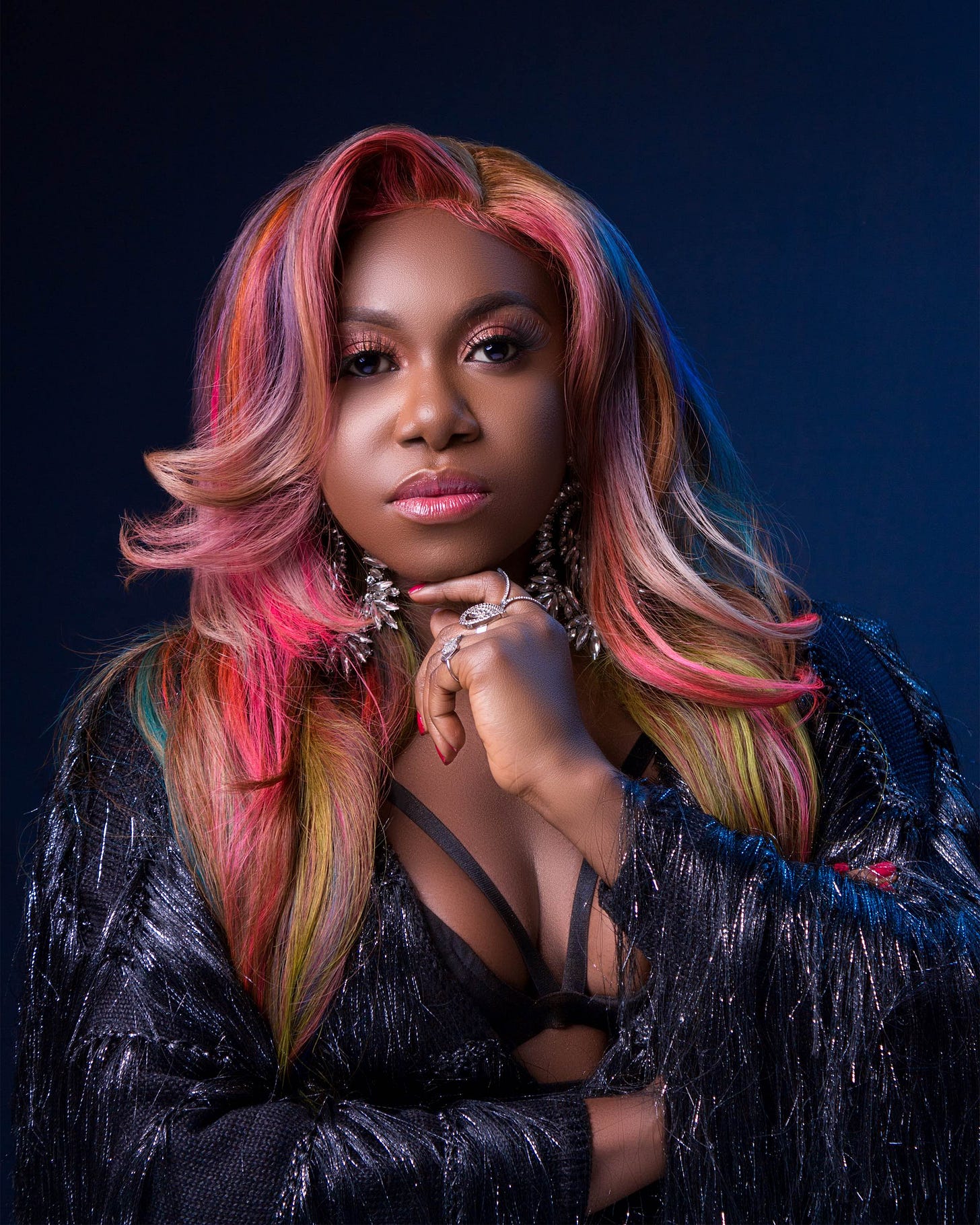 And you had the vocals for it.
I used to be a ballad singer. Singing Celine Dion, Whitney Houston and all of that, Dolly Parton. But doing a live band, you don't want people to sleep off. You would start with that, and then move to mid-tempo, and then the energy songs. Then I had to learn how to sing all them D'banj and Mo'hits, all of that. And of course, I've always loved dancing, so it just gave me that all-round thing. And I got tired of live band because of it. I had my own, and I had to look for jobs for the boys. I'm like you know what? I started working...
Work came after your first attempt to fly?
I'm telling you.
Work was a segue from the music.
Yes. And I forgot all about the music. I mean I buried it. I didn't even want to watch music videos, I didn't want to hear anything about music. So in 2013, my younger brother came up to me, he said, 'X-factor is here o, go and bring this money.' I'm like, 'I don't even remember how to sing.' He said, 'you'd sing' Just practice.' I went there, the judges were Onyeka Owenu, M.I and another Ghananian judge, I can't remember his name. And I got a standing ovation from them and in my mind, I was like yes! At last! And after that, they dropped me again. I'm like, 'O God, are my village people following me?'
Why did you never think it was your fault? You thought it was their inability to spot greatness, not your talent level.
For me, yes. And also it helped me because I told myself, I said 'I would work so hard on myself that no one would be able to say no to me.' Inasmuch as they were saying no to me, I was like 'okay, maybe they are not seeing it, I need to do more.' And all I did was not accept the defeat but work on myself. And then the following month was Project Fame. And I was like this would be the last one. If they don't pick me, it means that music is definitely not for me. What kind of rubbish is this? Then I went for Project Fame. From the very first audition, they were like 'you're what we've been looking for.' And I was surprised, I looked at myself from head to toe like 'ehn? Me? Are you people serious? After all these years.'
But you grew.
Exactly. I was ready.
You were a veteran of the system.
I'm telling you. And they told me then, they said 'You're so mature and you know what to do, you're holding your notes, you know how to perform, you know how to act and everything'. So it was just the preparation that really helped me. Not giving up and working hard on myself. And of course, I wanted to come first. It didn't happen but me, being a finalist on the show and even coming third runner up was a big deal for me. And after that, they gave me my two million naira. Before they gave it to me, I didn't believe they were going to give it to me. I've heard stories about some reality show organisers not giving the money. But they gave me my own money o. And when I got the money, I was like 'okay, two million naira, what am I going to do? Put it in this music thing or not?' And at the time I didn't know anybody in the industry, not one soul. How was I even going to go about it?
You've not even been in the industry, you've been trying to get into it.
And you know all this reality show thingy. You think that is the industry? That's not the industry. That is not it. That is just TV, one konkolo show.
It never even teaches you about the industry.
At all. It does not.
It just simulates a situation for you.
It does. And if you're not careful, you get carried away by 'oh I have some fans'. No way.
You got fans that love you on TV, not fans of your music.
And most of them were fans of the show.
Yes, so they aren't that loyal to you. And then you put the money into the music.
Since I didn't know anybody in the industry, I said 'okay, let me go for the best producer.' And then what I did was I went on Google. I typed in the search words 'best Nigerian producers.'
Just like that.
I'm telling you. I didn't know anybody.
You didn't have a friend or anybody that you could ask? People don't go to Google. They just ask a friend of a friend for a referral.
For me o, I went to Google. That's where I went. Because I wanted the best. I didn't want it to be based off of someone's referral, or because the person is that person's friend. Uhm, facts. Let me see. What work has this person done? This money that I want to pump in like this now, has to be worth it. And then that's what I did and Sarz's name kept coming up and I'm like this guy must be great. And I listened to his work, and I'm like okay let me call. And I put a call through.
When you called him, how did the conversation go?
It was Micheal (my current manager) that picked it up.
Your current manager? Wow!
Yes, it was Micheal that picked it up and he was very rude.
Okay, what did he say?
I was trying to negotiate and he was like, 'you have to pay.' And I was like, 'let me see Sarz. He was saying, 'you pay before…' I was like, 'for what? Why won't I see him? I need to see who I'm paying to? You people cannot do dagbodagbo (laughs) for me, you know.' It was crazy. And then because I insisted, he set up a meeting and then I met Sarz. Even when Micheal and I met before—of course, I met his manager before seeing him—when he realised that I was on the show, he was like 'ahn ahn I'd have billed you times two. So you can sing like this'. And then I met Sarz, and I was told him 'I want a hit song.'
That was your sole request?
He laughed, 'like who is this one?'
You just said 'I want a hit song'?
Yes.
Not, 'I want to develop?'
D-what? Yes, that's what I told him. How I was going to go about it, I did not know. I just told him I wanted to sing and dance at the same time. Because for me, I just felt if I sing my heart out and dance, the world would be ready to take it. And he said, 'okay. And he watched some of the clips from the show, and he was like 'okay I know what to give you.' And I heard the beat for 'Ibadi' and I loved it. And recording in that studio really helped me. Sarz and the sound engineer really helped me relax.
So he just gave you the beat to 'Ibadi' first? He didn't play you any other thing for you?
No. 'Ibadi' and I liked it.
Ah.
Yeah, 'cause I could dance and I could sing. I could sing to it and dance to the beat. And the sound engineer was like, 'just sing anything that comes to mind, be free.' His name is Akins, I still work with him today. And then I was just humming, he was like go and drop it and I dropped it. And when Sarz came in, he heard the chorus and he was like 'not strong enough.' I attempted like three or four choruses and he was like 'yeah, that's it.' And we were very happy, joyous, and Micheal spoke to me. He was like ' erm, do you have a manager?' (laughs)
The sly!
(laughs) And I'm like, 'you this rude boy.' And then he watched the clip of my performance with Kcee, both of us performing 'Limpopo' on the show. And he was like, 'I can sell you. You can sing, you can dance, you have the body, everything.' H ran through his CV, that he worked with Waje, Eldee, Sojay and all of that. For me, in my head, I'm just like, I didn't know anybody in the industry. Of course, I need a manager but the fact that he didn't bulge while I negotiated, that was a very strong trait for me. I'm like, 'omo Igbo, o ma get owo mi.' Meaning, 'Igbo boy would get my money for me.' That was the reason I decided to work with him. And in my mind I'm like he can't run away, he's Sarz's manager. (laughs)
You can always trace him back to Sarz.
Exactly. And that's how we started working and we've been working together since then.
That's a very unusual way to get in. I can't imagine going to a producer like Sarz and you're not thinking of developing you're just 'give me a hit'.
Yes, there's no time.
Your decision to make House music your thing. Was that after 'Ibadi'?
'Ibadi' dropped. When people heard it, they said, 'you know you should go to South Africa.' In my mind I'm like, 'I've not even started in this industry, you people are telling me to go to South Africa, that it has SA vibes. Wo, let me just sing sha. And before I knew it, 'Ibadi' turned out to be a hit. And people are like 'where's the video?' I didn't have money for a video. At the end of the day, it was my mum that I still went to beg. I told her 'Please.' My mum was just wondering how will you spend so much? To just hold mic and just do 'ooohh.' It's a career, people make money from this. And the following year, it was 'Soke'. 'Soke' also went on to become a hit and people started calling me the queen of Afrohouse. I was like, 'Me I like this name o. I'm going to adopt it.' And that's how it came to be. Because it allows me to sing and dance, and be free. And it was just by my own rules. I wasn't copying anybody or trying to sound like anybody. If I did 'hehehe,' you will take it because it's only Nini that's doing it. So yeah, that's how it came to be.
How did you chart your growth path in this unique sound?
My list of influences is endless. I told you Dolly Parton in Rock, African music, the Beatles, Toni Braxton, Anita Baker, Brandy and everything. I took a bit from everyone. That made me and formed me. And also my language. My language is my greatest tool. I remember taking that from Mrs Joke Silva from the show. She said that Africanism is the way, and if you embrace your Africanism, you're just going to be an original basically. I held on to that end. For me, singing in my language, the melodies. At the end of the day, I learnt early in secondary school from the definition that it's a universal language. Not so much of the language you're singing in, but how you connect with people. So all I wanted to do was get better. What I did was immediately after recording a song for me, that's it. I'm on to the next. So when the song drops and you're listening to it and vibe into it, I'm gone from that. For me, it was still maintaining the element. For instance, there are different tempos from my songs. 'Bana' is faster than 'Maradona', 'Soke is faster than 'Ibadi' and all of that. But at the same time, I try not to listen to a lot of artists when music drops. I try not to because when I listen to very interesting melodies, it kind of sticks and I don't want to sound like anybody else.
I can see the logic there.
So when it comes to foreign artists or other African artists, sure. But I still filter it. I make sure I filter it because I don't want to sound like anybody. Because I started out mimicking people's voices. And also a lot of study on how to write songs. I go back and make sure I brush up. How to make people interested. How to keep people dancing and all of that.
You do have a lot of X-rated lyrics
(Laughs)
People are shocked when they realize it.
It's because of the liberation that I have. First of all, I am from a polygamous family and I'm Yoruba and there's nothing like one person is more superior to the other. Everyone is equal. So that freedom to be who you want to be started from my family, my immediate family. And also, the fact that women talk a lot about so many things. And laugh about so many things, and I'm like you know what? I'm going to put it in my music. And then you want that shock value, that when people hear it, they're like 'ehn?' Like I said earlier, it's about the lyrics but not really. It's about the melodies, how it hits you. So when I'm singing, you don't get the lyrics first. You don't. It's the melody. So you can sing something, use the same lyrics or similar lyrics and it won't hit home like mine, because I'm dropping it musically. Let me just say, the shine is more on the music than the lyrics. But then the lyrics come, and then you get that shock wave. So yeah, that's the formula.
Have you ever been in any situation where that has been like an issue?
What has been an issue?
Your choice of lyrics?
How will it be an issue? It cannot be an issue. It cannot be an issue because it's life. Why should I leave it to men to talk about women's bodies and interactions? Let me tell it from another angle. Because you have people talking about these things. Why is it not acceptable for women to talk this way when in reality, we talk this way? So it's a way of 'that guy is singing 'my body, your body'. And I'm telling you 'it's my body, I'd do however I want to.' And because it's dance music, dance music has a formula. It has to be catchy and interesting. There has to be something catchy about it so, yeah. If you want to listen to gospel music, you go to church (laughs).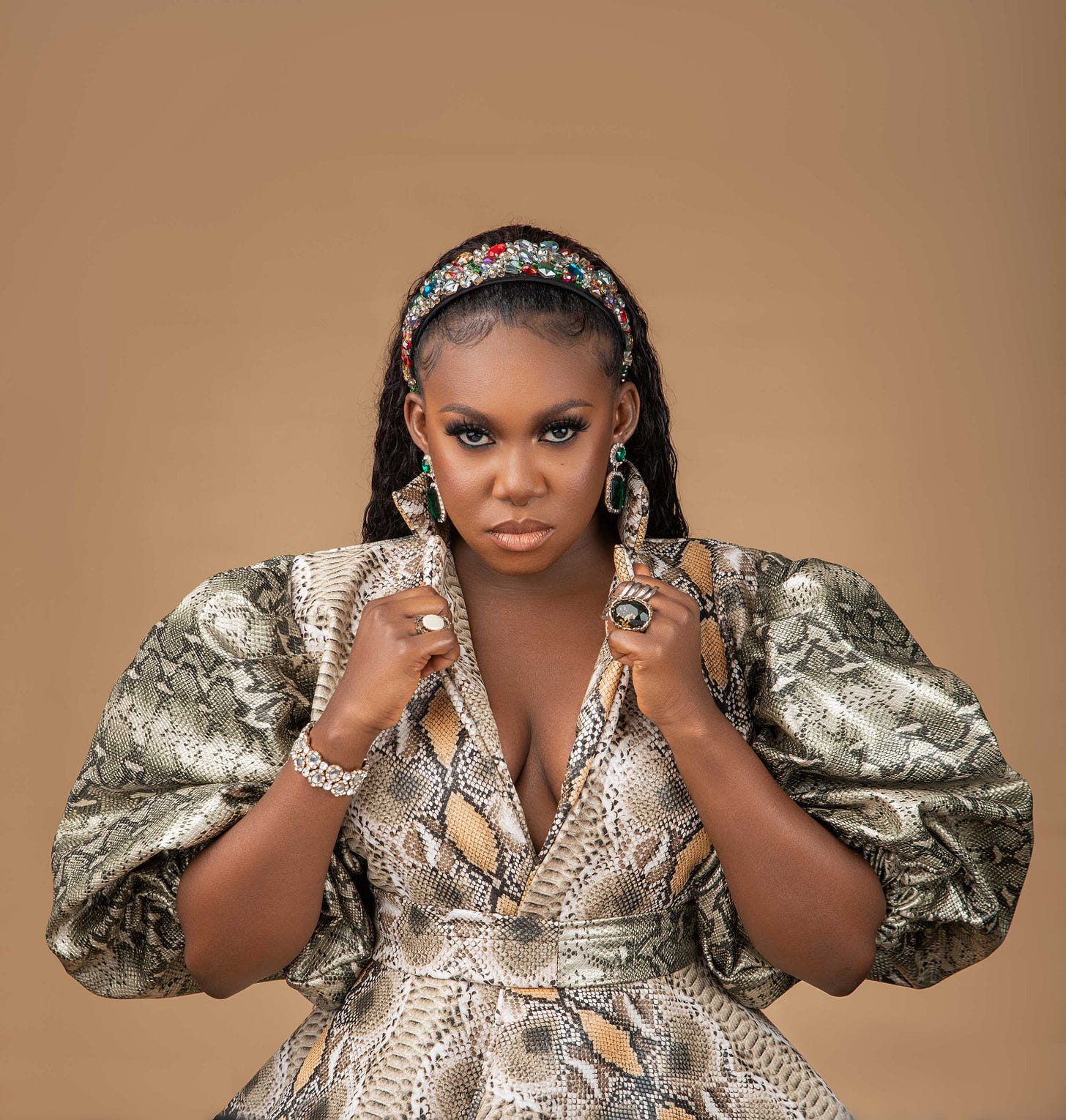 People make references to your hips, your sexiness. Was that part of what you sold at the start?
So when I started, I wanted to wear shorts and Micheal advised 'no no no, we are selling the music. Let people hear the music since that's what you want people to really hear, and that would be your greatest weapon.' And I agreed. If you look back, most of my pictures, I was wearing mostly leggings because I had to take the distraction away from my body to the music. I wanted to be known for the music and nothing more and it worked. I remember last month—or was it two months ago—a young singer, female singer, came up to me and she asked, ''do you have any advice for me? What can I do to get into the industry? All these guys just want to sleep with me or touch me.' And I told her, even me that I'm a girl and I'm straight, I'm touching your bumbum. Look at the way you are dressed. You're a sexy girl. You're a beautiful girl. But if you want to be taken seriously, nobody is saying you shouldn't dress sexy, but see, a sexy woman comes with distraction. A beautiful woman comes with distraction. So you have to do it in such a way that you look sexy, you look beautiful, but you would be heard, basically. The first thing should be the music. Make sure you pay for things. Don't go and look for freebies. Yes, you seek favours but make sure your manager is doing the bulk of the work, not you. Because I would say in this industry, I never ever faced sexual harassment. That's my story.'
Isn't it also due to a layer of insulation around you?
That's what I just outlined. If you have the manager, make sure the manager is doing the marketing and all the work. And then you're like sort of incubating. So your job as a singer is to deliver songs and let your manager run the business. Basically.
Some deals or situations would require your active involvement.
Yes, yes. From day one, I've always been actively involved. When you asked me: Was it intentional to have my body as one of my strong points? Definitely, I'm an African woman. And to dance, they say ibadi nijo wa. Dance is in the bumbum, at the back (laughs). Do you get what I mean? It's part of it. But it's to dance in a way that is not offensive, it's still viewed as art, basically. And I've always been involved. Like I told you before, I didn't know anything about the industry. I learnt along the way. Anything I had to be involved with, anything that was necessary for me to be present, I'd be present then. If not, my manager would handle everything. All I did was trust him because I told myself, I'd give you all the trust till you prove otherwise.'
In this game, it's always very hard to find people with good intentions.
Until the person proves that he or she is dishonest, you can't judge that person based on speculation. Because the person in truth might be, but has the person shown you that side of him or that character? At the end of the day, everything is a risk. So, instead of starting with distrust, just be open-minded and see how it goes.
When did you start allowing yourself express your sexiness in the form that you express it now?
It's not like I haven't expressed it from day one, because even in the leggings I was shaking bumbum (laughs). But wearing my shorts as time passed, I'm like, I can do it now that people know me for my music. In my music videos yeah, I was wearing shorts but to perform and all of that, I was fully clothed. But now, I can do anything I want because if you hear Niniola, you know Niniola is for the music and dance.
I think it's unfair that women would have to go through this.
Go through what?
Have to do this balancing act.
If you're beautiful, you have the pros and the cons. Every woman is beautiful. So that means you have the pros and the cons. So that means you want to be charming so when you walk into a room, people would notice you. But you have to be careful. You have to balance it out to make sure that you're heard and that what you're saying is being heard. It's like someone brings in a plate of food and it looks very palatable, you're not even asking questions about how it was prepared. You just want to eat it. So at the end of the day you don't want people to look at you and eat you all up without getting your essence and understanding the message you are trying to pass across. And yeah, but it is what it is.
It is reality.
It is reality and it depends on you. Because if you look at me, I like wearing shorts and opening body. Sometimes I'd pump the two babies up (laughs). So I'm not against it. But there's time for everything. If you're going for a meeting, you have to make sure you're not distracting anyone. If you're going to church. But at the end of the day, it's just your style. What works for A might not work for B. But for me o, that's how I've been operating.
Your first album, "This Is Me," how did that happen?
Okay so, before the project, after 'Ibadi,' there was 'Soke.' I dropped some not major singles, but I dropped some side singles. R&B songs like 'Akara Oyinbo', the one with Johnny Drille, 'Start All Over' and that's where I realised that I had an audience for R&B. But at the same time, I had to satisfy the turnup people. And then there was 'Shabba' and 'Maradona' dropped. And 'Maradona' just took me to a whole new level. It was a life changing song. A phoenix of a song. If it is done in this region, it's moving like 'I'm not done with you'. And then the follow-up song was 'Sicker' and dropped the album.
What happened on 'Maradona'?
So 'Maradona' hmm... We recorded 'Maradona' in the studio. Sarz's studio of course, and we knew it was a jam. You know when you know a song is a jam that 'thank God o, we hit this year again.' It's not like I have one label. I'm my own label, because I remember after 'Ibadi,' I had some label approach me. But I didn't want anyone taking away my creative freedom. I'd rather rough it than sign to a label. They give you a budget, and after one song, they won't give you money again. And then you start hustling. So let me just rough it out.
Isn't there a level of privilege in being able to rough it out? A lot of artists can't afford to rough it out.
That's why I said different things work for different people, and what I did was very risky. Because what I'd do is, I'm dropping this piece of music and the thing is, it has to work. It has to work because there's no money for any backup second single, or third single to carry it. This one just has to work. And I think it also helped me to work hard and depend on me, rather than anybody else. Even when it came to features. People'd be like feature this person. I reached out to a lot of people but a lot of people were putting me on 'is coming.' But is now that I realise that most of them were busy, and also you can't satisfy everybody. They were helping this person out and helping that person out.
That made me sit down and be like, 'you know, enable my team. Nobody is going to do this for you. Nobody is going to help you, so you have to sit your ass down and do the work yourself. So when 'Maradona' came, we were happy, but we didn't know that it was going to be a monster jam.
When it dropped in Nigeria, people were like 'congratulations.' I'm like, 'did I? Why are they congratulating me? What just happened? Did I win the lottery or something?' They said congratulations. Before I knew it, it became a hit, blah blah blah. I'm like 'ope o, more shows.' And then I'm like let me drop the follow-up single 'Sicker' and then Eve made a video vibing. I thanked God. I don't even know this woman from anywhere, sha thank you. At least you help me promote this single.
And K started receiving videos from South Africa. Videos of them vibing in their cars, on the streets, their bathrooms. In my mind I've moved from 'Maradona', I'm pushing 'Sicker'. When I'm pushing 'Sicker' I can't really be posting 'Maradona' so that it won't kill 'Sicker'. But it became so much, and it's still my song at the end of the day. I started reposting, I started talking to them, and Prince Kaybee reached out, and he was said 'O my God, your song is so massive here, I love your song, I want to do a challenge.' And he did a challenge and that took it to another level as well. And so many people were reaching out.
People ask me all the time; who was your connect in South Africa? Who did you know? I did not know anybody in South Africa. I did not know a soul. If I did not know anybody in Nigeria when I was just starting, how would I know somebody in South Africa? The love I've received from there was enormous.
From there, I did the remix with DJ Snake, the remix of 'Maradona' and that was how I got my first one million listeners on Spotify. Because prior to that, ko ti shele sismi. It had not happened. And it took me to a whole new audience in America, Europe, different parts of the world. And before I knew it, it was Drake and how did that happen? Someone commented 'if Drake can follow you, who am I not to follow you?' I was in the toilet that day. I was sitting down on the bowl. I was like 'oya oya let me check. I now went to Drake's page. I saw 'follow back'. Ei, a whole Drake is following me that I've not followed. I just quickly washed up, 'eeeyyyyy he's following me o.' And trust me, I entered his DM 'ha legend'. And he responded. Yeee. I died and I came back. And he's like 'oh, I love your music so much, I listen to your music before I get on stage and offstage.' Me? This Yoruba tinkonkolo girl.
Your songs are exhalant. That's the thing about you. It lifts the mind.
Thank you. And I was so happy, I went on my pages, 'Heeey Drake is following me o.' Some people abused me. Some people were happy. Some people were like ehn, na mistake. And in my mind I'm like, if na mistake, I like that kind mistake. And then he went ahead to request my song on a radio show that he went for, and I was elated again and I posted that one. Before I knew it, Timbaland commented on my page saying 'I love your new song'. I entered DM again, 'Legend sire, which of the songs?' And he was said '"Designer' I love that song so much. I love 'Bale' from your album, I'm listening to all your songs.'
In my mind, I'm was thinking, 'please I want to work o blah blah blah and baba was like 'I'm open to working with you.' For me, having legends co-sign me is a big deal. It means you can be as Yorubatic or Igbotic or Hausaic, doing your thing. To be as African as you are. It just means that you would be different and you would have an identity. And fast forward to the Beyonce thing. When the Lion King album dropped, a lot of people reached out, were tweeting, some made videos. 'How can Beyonce do this, this is Niniola's style?' Some were like drag her!
Prior to that, was there any conversation?
There was. If there was no conversation, ei Joey o, na moon we go dey do this interview. And then I was just laughing that that's not even my way. Even if there was no conversation prior to that, my lawyers will handle it. Or my publishing company. I'm signed to Kobalt Publishing. What happened was that, prior to the release, they reached out and I got my credit and I got paid and everything was sorted out. It means a lot to know that someone like Beyonce was inspired by me to do that song. Yeaaah, exactly, Nini Nini. Nini de oo ee. And Beyonce is such a queen that she won't get all messy like that. So yeah, I'm happy.
Well done.
Thank you.
You even have a Grammy certificate that you framed behind you.
My brother, I did not even think of Grammy before and then, because of the work on the Lion King. 'She sampled some elements from Maradona,' and so I got a bulk of credits on the song and everything. So when the album was nominated, I became a Grammy nominee automatically. And then I got my certificate and I'm like 'eeeh!'
You printed two copies. Because there's one outside.
There's one here and there one there.
I saw that one first and then the last time I was here, I saw this one.
(Singing) money can't buy this love, I'm in loveeee.' For me, it's not bragging rights, it's just... I've been through a lot, jumping from one singing competition to another. Being told that I wasn't good enough to this. So it's always going to be about the music for me. And also, a win for me and a win for other women as well. Other musicians. Because I know how a lot of female musicians come up to me, and like 'we look up to you, we like what you're doing and all of that'. So it just makes people see that anything is possible. And if I can achieve this, it means you can achieve more.
And then you dropped the album.
"This Is Me"
Yeah, this is you.
Yeah, "This Is Me". So when I realised I had a mix of audiences, I'm like I'm going to feed you. And so different genres of music was represented on the album. There was inspiration, there was R&B, of course. Afro-house, also the reggaeton. I featured Patoranking on that one and also gospel and inspirational music. So Niniola is not just all about shake your bumbum. There was 'Moyo,' and then the one with Terry Apala. So the song 'Bale' with Terry Apala, one of Timbaland's favourites. That one is inspirational/gospel. So the album spoke to a lot of people both in and outside the country. But you know how it is with albums, it dropped and because most of the songs on the album were new, so I just dropped what I had to drop and I quickly moved. And then after the album it was 'Bana'. And the album got nominated at the SAMAs.
Nice. I'm just considering it like a Nigerian project, you got to the SAMAs because you made House, and that's regarded as a South African.
They didn't know I was Nigerian at first. 'Cause when I realised, I'm like really? They thought I was speaking their language. The first line, the opening line, 'shey footballer ni e', they thought it was 'shey foot polo ni e'. And poloni is a delicacy there. A mixture of different types of meat. And then there was an outbreak from eating that meat there. So it was like Niniola predicted it. And sometimes I'd just be there and I'd be trending on South Africa Twitter. I'd be what what have I done? 'Ha Niniola poloni!' and all of that. So the song blew on the street. Radio, tTV, everybody had to pick it. So it's their song. I don't know if you understand me. When I went there, they were trying to explain to me that you don't understand. The song is for them, both young, old, white, black.
That project told everyone what Niniola was about. That versatility is easy to miss, due to the glamour, razzmatazz and amplification of your dance records.
Exactly. Because some people would be like, can she even sing? And I'm like come here, let me school you. I started from this. I suffered singing (hits high note).
"Colours & Sounds" is your next project. Why?
After the album "This Is Me," the first single I dropped was - oh before the single I did a remix of 'Magu' with Busiswa. We dropped that on Metro FM in SA. They set it up. And she didn't know I was in the country and all that. Interesting conversation and all that. It happened and I brought her down to Nigeria, shot the video, it was fun. Everybody loved it. Then after that, it was 'Bana'. And with 'Bana'', I wanted to just do something different and that's when I introduced colour. 'Cause I love colour, I didn't know how I was going to go about it. I had one hairstylist at the time and he was like 'you know I can colour hair sha'. He knew that I loved hair çause I told you. When I came with my two million naira, I couldn't afford a hairstylist or a makeup artist. So this was what I did. YouTube was my friend again. And I learnt how to make my wigs and I learnt how to do my makeup. So most of my wigs, 99% of my wigs are sewn by me. When I started, I'm sure I looked like a witch. But I didn't care.
That's a crazy level of DIY.
I'm telling you, do it yourself.
Down to like technical parts of sewing your wig.
I had to prioritize. Scale of preference. And the music always came first. Everything else would come. You know. And then he helped me bleach and dye some of my hair' And then I started doing colours and people loved it. I loved it first and I realised that in photos, it just made me look better, vibrant like my music. Then I started representing it. So for this album I'm like you know what? My music is vibrant, it's full of colour, I love colours. A lot of people say it lifts up their spirits. That's the colour. And then the sound, of course you listen to different genres of music, but you still experience the Niniola. So it's a very exciting album.
What's the one thing that would make it all make sense for you?
At the end of the day, I always hammer that it's all about the music. I always tell myself this so that I don't lose focus. I'm not one for fake hype. If fake hype works for you, do it, fine. Whatever works for you, works for you. But for me, this is what works for me, and this is what has been selling for me. And I tell myself that, so that regardless of what happens or wherever I find myself, I'm still thinking about good music. Because it is very easy to forget about doing good music. You just want to rush and put it out there and think that people will just feel it. Ehn? Oyo lo wa.
For me, it's about cementing my name. In cementing my name, I'm teaching people that you can be different. You can stand alone and shine. Because really, how will you shine if you're like everybody else? You have to be different. So that's what Niniola stands for and represents. And it's applicable in every walk of life. And also, philanthropy. I want to be able to get more, to do more.
I have a foundation, it's called Adopt A Child's Education. About four or five years ago, I went back to where I grew up. Isolo, Ireakari Estate here in Lagos, Nigeria. And I went to a few government primary schools and asked for their best students. They sat for an exam that I invigilated myself 'cause I didn't want any ojoro. And then I picked the top two with the highest scores. Thankfully, it was a boy and a girl. And I gave them a 6-year high school scholarship that including tuition, books and uniforms. And I'm happy to say they are there in fifth year. That's SS2. By next year, very soon they'd be done with their secondary school education. And by God's grace, I would not abandon them.
I want to do more for more children. And also, I give out writing materials, books and all of that. Helped to renovate schools. And during this pandemic, I've also been giving out tablets to help with their e-learning because they can't go to school because of Corona. I also had someone donate. I started it, he saw it, he donated. I wanted to thank him in public and he was like no, no, no, and he also gave me like three tablets to give out and I'm like thank you.
For me, I feel like little drops of water makes a mighty ocean. If you can give somebody 50 Naira and another person helps to give another person, it would go round. And that's just filling my father's shoes because my late father, God bless his soul, he was a philanthropist and an educationist. He believed in teaching people how to fish rather than just hand them fish. So he used to give out a lot of scholarships. And of course, he was a disciplinarian and I was his favourite while he was alive and I still miss him so much.