Discover more from Afrobeats Intelligence
Afrobeats Intelligence is a weekly newsletter on African music curated by multi-award winning journalist, Joey Akan. It is published every Monday.
Over 25,000 subscribers
Teni: Humanity Over "The Industry"
Teniola Apata doesn't take herself too seriously, because life is to be lived. But the music industry says otherwise. Here's how she's ignoring the noise.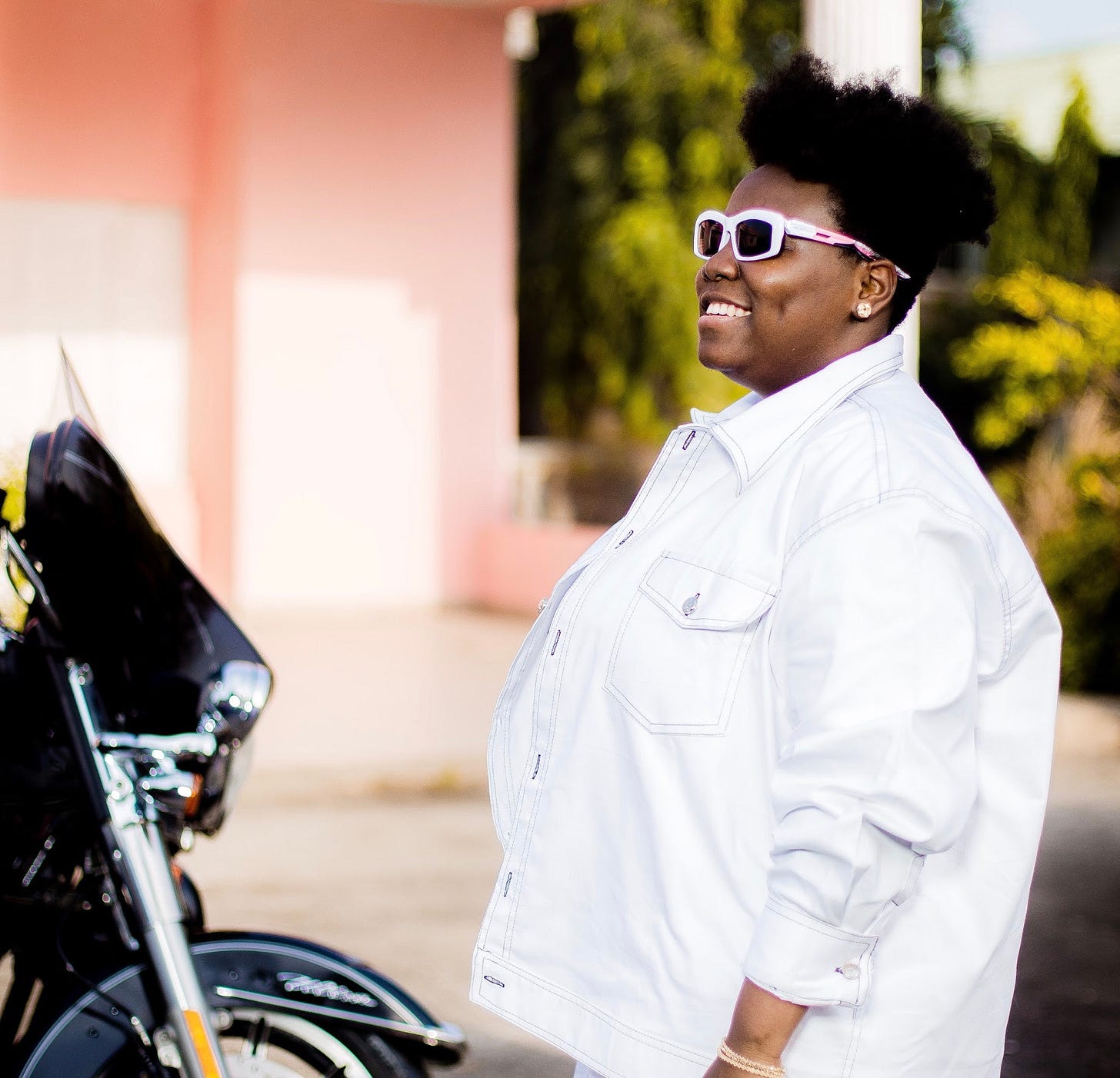 "Joey, I am high o," Teni confesses, collapsing into a sofa.  She's just woken up from a deep sleep. Here in this plush serviced apartment in Ikoyi—which has been converted into a creative camp for her next album—there are very few moments for rest. It's a cold June afternoon in Lagos, heavy rain scattered the skies all day.  The Nigerian pop singer—dressed in a black Britney Spears t-shirt, bright colours in her braids, and gold wrist chains—is gearing up for another intense recording session. The previous night, she recorded 12 full freestyles using one highlife beat, which she is convinced, are all 'fire.' "I took edibles last night for the first time," she says. "It's a good day to catch me because I will be truthful to you. Normally, I don't lie. But today, I go just dey talk."
In her private life, Teni embraces many truths. The truth of her existence as an outlier in Nigeria's male-dominated music industry. The truth of her familial upbringing demanding that she maintains the highest levels of personal conduct, discipline and fairness in all her dealings. The truth, that she's a deeply happy lady succeeding in a space where many before and after her have failed. The 27-year-old Nigerian singer is regarded by music industry professionals as one of the purest spirits in the space. She's often the happiest in every room, engaging without airs, taking pride in enjoying the moment. She extends this further, doing good through a high volume of charity work which she prefers to keep away from public spaces because of her upbringing.  "I care about real shit," she says. "I don't care about this fake whole nonsense." 
In one corner of the room, renowned Nigerian producer Pheelz seats, a Macbook balances on his thigh, as he reviews new beats and sounds for her project. He laughs as Teni asks him "when did you wake up?" She gauges him since he also partook in the edible consumption from the previous night. She continues, "Me, I never too get myself."
The truth is Teni does get herself. Perhaps too well. Her level of self-awareness is remarkable. She's philosophical in casual conversation and fiercely individualistic in how she approaches the world. "I will do me, always!" she repeatedly makes a point to tell me. It's a mantra that underscores her defiance since she entered Nigerian pop music upper echelons wielding a potent combination of humorous videos, incessant freestyle releases across social media, and a string of syrupy hits. She won't conform to mainstream expectations of a leading lady in pop music, a feat that incites endless trolls. Every day, Teni is derided for just existing and living on her terms. "They are mad at me for being unaffected," she says. "They will talk and talk, and I will not respond, and then they'll get mad at me for ignoring them and existing," she says of her detractors. "I go to do a full-body check-up 4 times a year, my trusted doctor checks me out proper, and gives me a clean bill of health. That's the only person I'm listening to," she explains, standing up.
Teniola Apata first discovered her passion for music as a student in the United States, driving the many hours between Atlanta and New York to get to a recording studio. Her 2018 breakthrough song, "Askamaya," came months before her graduation from college, and it swiftly joined the playlists at Nigerian clubs and bars. Born in Lagos to a Nigerian civil war-hero father and a high school principal- mother, Teni is an unlikely pop star. Her art comes from a place of empathy and is anchored by the challenges faced by Nigerians. "Do you know why the world respects African music?" she once asked me in 2018. "It's because our melodies are great and come from the soul. We are singing from pain. It's in the blood."
But Teni doesn't take herself too seriously, as evidenced by the endless stream of comedic clips she posts online — which have earned her a devoted following. On the mic, she moves crowds with high-energy sets that meld a spectrum of sounds from highlife to house, set against moving lyrics. For inspiration, Teni primarily looks to the vibrant melodies of '70s and '80s Juju and Fuji legends like King Sunny Ade, Ebenezer Obey and King Wasiu Ayinde — who have influenced her work, and powered her to success.
In this room, she's making new material to further her progress. Just as we begin to settle in, Teni's cloudy reverie is abruptly ended by news of a tragedy. A contractor named Tunji, who helps her process purchases through the Muritala Mohammed Airport in Lagos, passed in his sleep the previous night. She's just sent him a large payment for a huge delivery via DHL during the lockdown. She's now listless. With her face drained of colour and her jovial spirit crushed, she picks up her phone and dials his number.  Looking to her road manager, Funsho, Teni seeks further confirmation. "I just spoke to Tunji yesterday," she laments. "They said he died. I spoke to this guy yesterday. I'm going mad. Am I dreaming? Fuck the money, fuck the clothes, no amount of money is worth human life."
Someone in the room adds that the late Tunji's wife is pregnant. Teni is insisting that they go pay a condolence visit. "You sure say we no go go there after this interview?" She asks, and begins to gather herself for the trip. She's held back by her road manager who says "tomorrow will be a better day." Sitting, she picks up her phone again and instantly drops it. "I can't talk to my mother in this state," she says. Her mom is her best friend and confidant. "Tunji was a good guy. Moving forward, nobody can tell me shit about the way I'm living my life. I'm a happy person. This life wey person they carry for head..." she breaks off, spreading her arms out in despair.
She makes a number of calls to her close friends, who join in her grief, consoling her. "My body dey scratch me to go there. The thing about death, people will follow you and cry for two or three weeks. After that, they'll forget your family," she laments.
In a corner, Funsho her road manager makes more calls, asking for the guy's address. "I'm sad o," Teni continues, "but I'm not also that sad. Every single encounter I had with that guy, I was fucking nice to him. That's why I say do things for people while you can see them."
She's right. Teni is an unflinching do-gooder. The first time I ever met her I was writing a magazine cover story. She convinced me to ride with her from a photoshoot set in Ikoyi, and we connected during the drive. At the end of the road trip, she sent her entire team inside. Out in the parking lot, she prophesied into my life. She predicts positivity into my future, how I'm going to "launch things", and be as big as anything else. As the night ended, she held my hands and prayed for me. 
On another occasion, I complained of a bad laptop charger on Twitter, and Teni slid into my DM, offering to buy me an original one from the US. "One wey no go spoil like these ones for here," she joked. She's also shared a number of her unreleased records and project, asking for honest feedback. "Tell me the honest truth o, I know you will not kiss my ass," she often demands. One of such records became 'Billionaire', and another batch had her sleeper hit, 'Isolate,' ' released in April to soundtrack the pandemic restrictions.
This time, there are no prayers. Her prior prophecy is already coming to pass. I confirm what she earlier said. "I told you last time, abi?" she asks. "Don't worry Joey, you are just starting." I nodded. "Thanks, Sis."
In the way we always do, we returned to the music. Pheelz gets on his production console and plays her latest records, at her request. She sings along, dances to the beat, and holds my gaze as I tell her my thoughts. "This one is a sure hit," I inform her, after listening to a celebratory song about money and progress. "Are you sure?" she asks. I confirm. "Joey was the person that told me 'Case' was a hit," she announces to the room. "Immediately he tweeted it, I told my people that 'Joey says it's a hit. Let's shoot the video."
We talk for an hour, where she repeatedly offers me pounded yam and Oha soup. "It's not poundo, it's real pounded yam, and it's sweet o. You should eat," she insists. With everyone still reeling from the loss of Tunji, we sit on the sofa, talking about existence, art and why the focus of living should be on individualistic happiness and fulfilment of purpose.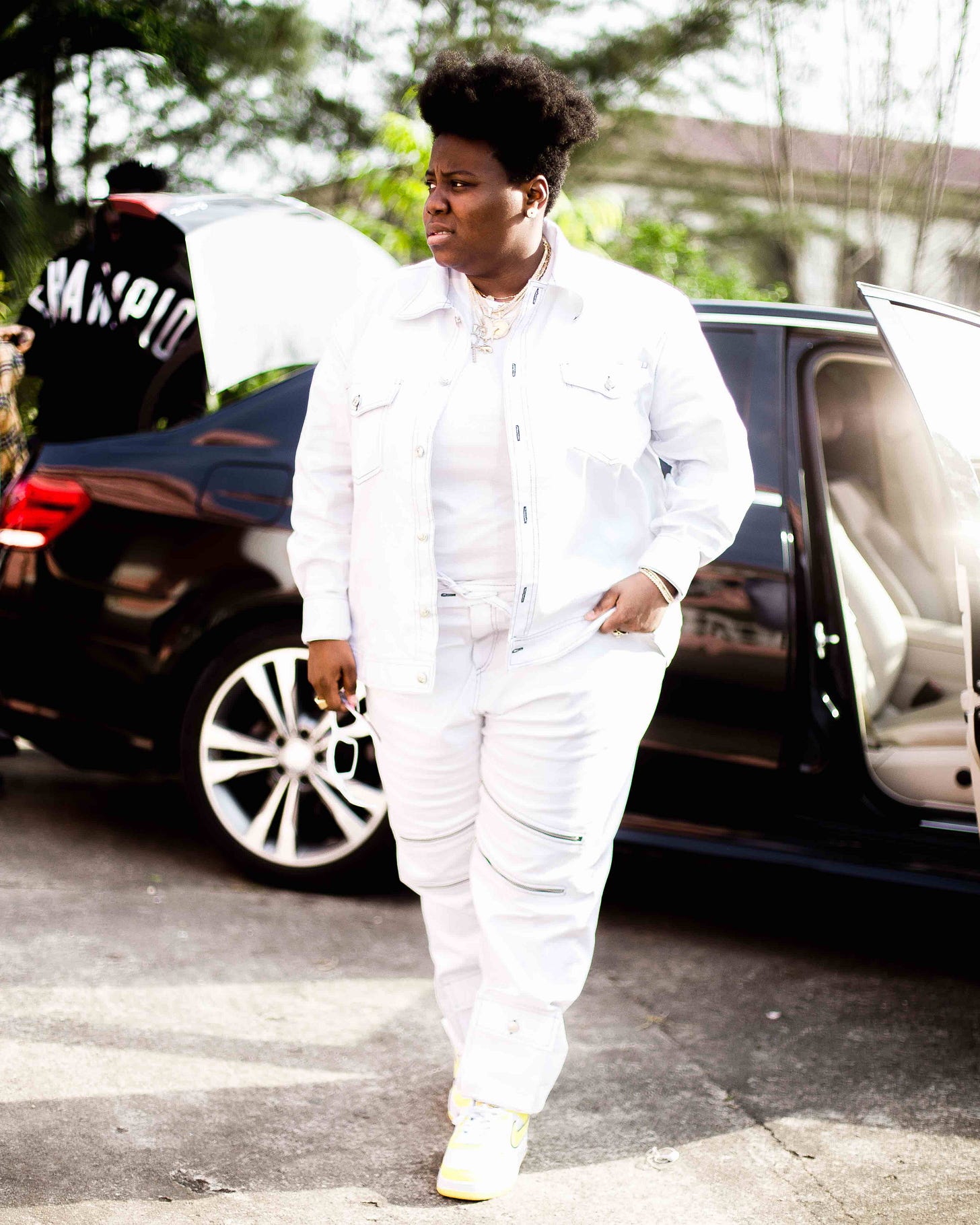 What kind of year are you having?
I think this year has been a little silent. First of all, Corona. Corona shut everywhere down. I'm happy I did my London show in February, because if I didn't do my show then, I wouldn't have been able to do it. So I'm glad I got that out of the way. But I'm just having a year of rediscovering myself. Falling back in love with music again. We tour so much, we don't have so much time to record. We are always on the road. So you are not constantly in the studio. But now you're free, so you're back to when it wasn't business. And I feel like that's when you make the best music. Because you're back in that mind frame when you had nothing. 
And so far you like what you've been producing?
Ha! Me I don't lie to myself o. If it does not sound well. I tell you, all my guys around me tell me the truth. And if they don't God will punish them. It's true now. I tell them, 'I'd rather you tell me the truth, than gas me up with lies. Because if you tell me the truth then I can get better at it.' But I've been recording some fire shit. I'm happy.
Has the weight of all that's happening with the world prevented you from being creative? 
I've been very creative at this time o. For me, I do well when I just relax. Minus the madness, I've gotten a lot of work done in this time and I'm so excited. Now I'm actually happy. I think this happened for me, because I needed a break.
You think you were going too fast?
O God. C'mon, I was doing 15 shows in a month. I wish my manager was here, he would tell you. I went from London to Dubai. Dubai back to London, London back to Dubai. Shows everywhere. 
And in all these places, how were you resting?
I don't rest. That's the thing people don't know. Just because I'm not loud about a lot of things, like I'm not one to bring my success to the public. I like to enjoy it. Even my house I bought, some people knew because I struck a deal with the people and they gave me a 5% discount. It wasn't anything. The deal was to give me a 5% discount and I'd post on my Instagram. And that's how some people knew I bought a house.
Congratulations. 
Thank you.
How does it make you feel, knowing that you've done this?
Should I tell you? I'm a thief. That's what I would say. I'm a thief. I never settle. So even when I win, I enjoy it and I'm on to the next.
So you're looking at 50 houses?
Should I tell you what achievement is for me?
What is it?
Achievement is how many people have I lifted up? See this guy just died. I'm sad, but I'm happy. I did him good. So I'm sad but I don't have any guilt in my heart. When you do people bad, you have guilt. But when you do people good, even when they die, you know while they were alive I did everything I could. Now back to the question. To me, investment is very important I tell you. From the family I come from, if my father didn't invest I won't be able to go to school in America. So you should be putting things in place. I'm grateful for my house, but I always want more. I get one hit, I want ten hits. I get two hits, I want 20. This is how I'm weird.
You mentioned something about falling out of love with the music. What does that mean?
So I never fell out of love. It's just the recording process of it. I've just been flying, so I hadn't had time to sit down to record. For example, I called Pheelz. I told Pheelz, Pheelz had been so busy. And he was like 'okay we're going to makeout time.' I told him, 'I'm going to pull up in your house and sleep at your gate.' I have time, it's something I would do. Now you just have time to really record, minus the shows. Now you have time to experiment like before. Before you blew, you were jobless. You were all about making the music. Then you blew, and then you started flying around. So there's not enough time. 
I feel this time is an amazing time for songwriters. Musicians that are songwriters, trust me, they are having the best time right now. They're making beautiful music. Their mind can settle down to think, that's what I mean. Come on, music is my life. Thank God I blew. Eh, what would I have done? I would be unhappy. I'd be unhappy because nothing else makes me happy. Nothing else makes me come alive like music. Let me tell you; I told my friend one time, my younger sister is very smart, and medicine is her calling. And I said you know how my sister is so smart and she's a god at that?  Me I'm also book smart. But nigga, when it comes to music, put me in a room with any artist in the world. Trust me, I'd stand. I will have input. They would know that somebody is in this room. Do you understand? So I can never fall out of the music. It's just now, when you have time to do something and just make love to it and just do the right thing. Because you can't rush the process. I keep telling people, I make better music when I'm not rushing. Like when I take my time. 
And that's why I said for the album, it's important to talk, say my shit. You know how your friends are talking. Talk your talk, talk your shit. It's very important for me to talk my shit. Say my mind.   
I consider you a good person. Do you think you're a good person?
A lot of my friends are so lucky to have me in their life. I don't know if they are better than me. If they are better than me, I want to make them better than mum. My mum is a very good person. You know what my mum told me when I signed that contract, she said if you sign this contract, you have to honour it. Make sure you finish it.
Which of them? The Dr Dolor one?
Yes, Dolor. Oh, I never signed any other contract with anybody. And I know some mothers will tell their kids 'you've blown now, leave the label'. Did the label put a gun to my head? Has the label been good? Yes. It's a partnership You sign the contract, you honour it. If with terms on the contract, nobody can hold you down, as long as you do what you have to do, and they do what they say they'll do. But even you, look at it. Somebody put money on your head, you blow. Now you want to leave them.
But we've seen that happen a lot.
Yeah. I can't speak for anybody else, but here's what I would say. Some labels can be sometimes, not understanding. But I would always just tell the artist: play your part, finish your contract. As long as it's not killing you. But there's ego. You realise that before you blew, you wanted this shit so bad. Take yourself back to that time. Don't forget that period. It's what you signed then, you were fine with. Now things have changed. Ask them, can we renegotiate? If they say no, this is the sacrifice you have to pay.
What was it like before you blew? There was nobody that you could use as proof of concept of what you were trying to do. Entering an industry the way you did.
I always tell people that I never gave a fuck. Let's get that straight. I didn't give a fuck about nobody, I didn't give a fuck about nobody's opinions. I just gave a fuck about me and what I was trying to do. You like it, you don't like it? Your poison, pick it. I'm not going to do what you want me to do. I'm going to do what Teni wants to do. So I didn't come in caring that I want to come and please these people. I came in to say you either need to hear or not hear. You're either going to listen or not listen. You're either going to love it or not love it. If they love it, thank you. If they don't, alright. I'm just going to keep doing me. When I first came, they told me to dress a certain way. I say 'baba I no fit.' I'm very comfortable in my sneakers. I can't start wearing high heels. My ankle for don break by now. So the best thing for me was just being myself. If you can't accept me that way, sorry. I can't bend for you. I just gotta pick me. 
And why do you think your decision bet on yourself become successful? 
This is the conversation I usually have with one of my friends. One of my friends think God doesn't have anything to do with it. I think God has a lot of things to do with it. I don't take credit for anything, I always give God all the glory. Because I can't say I work the hardest. There are people that work more than I do. Do you understand? I know people that work harder than me and they have nothing to show for it. For the fact that God even answered, I give God all the glory. I feel it's God. I'm definitely not where I want to be yet. See, I want to shut down stadiums. That's my goal. Now to take Africa and say this is who we are, and this is what we are. Music started here. So that's what I want to do, but I'm not there yet.
My Igbo is improving everyday
You're very focused on how you treat people or how you go through life. You just lost someone that's close to you. The fragility of life or the shortness of it, how does that inform how you live yours?
I keep saying it. Death is something we can't run away from. So I know that this time I have, I have to be good. I have to treat people good. How do I want to be treated? You treat people how you want to be treated. You don't expect good and give bad. You give good, you get good. Even though it's not always like that. No matter how good you treat some people, they'd still treat you bad. But it makes me happy. I like putting a smile on people's faces. Not at the expense of my own happiness of course. Me, I put myself first. My sanity is first. My happiness is first. I enjoy making people happy.
What does happiness mean for you?
Happiness is relative. For me, happiness is my loved ones being happy. And me myself, first of all being in a good space in my head, in my mind. I would say I'm always happy because I don't take life too serious. I understand the basic rules of life. I will fail. The only way to win is to bounce back, right? So even when you fail, don't let it get too much to your head. You're human. God didn't build you to be perfect. You make mistakes, you come back, you get better. Don't beat yourself up. The only problem I would have is when I stop. But if I keep working and I know that I'm making efforts, I'd get it right. That's why I'm always happy because I never really take anything seriously, and some people have a problem with it. 
I always see that problem. These opinions, do they get to you when people say these things?
It depends on who. I know Pheelz. Pheelz is my guy, we've chilled in America. I've had some of my best moments with Pheelz and my friends in America. We've been to Orlando together, we've been to Disney. Pheelz is my guy. I can say he's my guy. I can say he's my friend. We've travelled together, we've had fun. We've been to London. We've had a good time. That's my friend, that's my guy. Now, if Pheelz tweets on Twitter against me. Bro, you have my number. If you call me first and then go and tweet, I don't mind. At least you've spoken to me. But guys you have my number. You can call me. 'Hey what's going on?' You'd just go straight to Twitter and start yarning. 
I can have a problem with that because you're supposed to be my guy right? But if you're just somebody I don't even know. I don't know you. Brother, what you say cannot get to me because I don't even know about you.  I don't even know your name. Like if I even want to address you, I'd address you by your Twitter handle. I can't address you by your real name. I don't know you. So why would what you say have weight over me? How can that even have weight over somebody? I don't understand.
But that's the way conventional behaviour is now in the world.
I care about real shit. I don't care about this fake whole nonsense. You get me? Real. If I needed 20 million today, I know who to call. Do you understand? That's real. If I needed to talk about something bothering me, I'd call my guy. That's real. That's what I care about. These things are not real. This is the internet. You don't even know this person. You haven't even built memories with this person. Why does your word have weight? Like bro, why does your word have weight? Your word doesn't have any weight or value. I don't know you. I can't see you outside and call your name that that's my guy. 
Do you think people have a right to make demands for you to use your platform and celebrity to a specific end?
Because I have influence. I won't mention my musician friend's name that always tell me 'you have influence, you have to be always careful about what you say'. It doesn't cancel out your opinion, but whatever you say, make sure you have thought it through because you might be misleading people. But before I can speak about something, I have to get my facts right. I'm just not going to come and speak about something I know nothing about. Then I'd now start apologising. No, I will make sure I call you and ask. I get my information, make sure what I'm saying is right, then I can speak on it. I can speak to the generality of it, but I can't speak to the details of something I don't know.
Why did you drop Quarantine EP?
That wasn't an EP, that was a playlist. Because I was just with my friends and said 'Isolate, I can make a song out of that.' That's what I do. I'd just say 'right! I can make a song out of that'. So I just called Neptune: 'Neptune, I can actually make a song out of these names. And Neptune was like 'let's just make a playlist' and I was like what? He was like yeah. Just have fun, sing about it and just put it out there. I just had fun and out it out.
Is that a strong part of how you make your music? Having fun?
Everything I do in my life is fun. At my funeral, my friends will have a lot of fun shit to say. I'm telling you, I've had a lot of fun. Joey, everything about my life, I make fun. I'm having fun. I make music, I'm having fun. Trust me. 
Where does that burst of creativity that you always display come from? It's endless.
Because I'm like this. (Opens her palms as a sign of sincerity) This is how I am. And positivity can play around that kind of space. In positive situations, your creative juices can flow. At least for me. I can sing some sad shit when I'm sad. But if you're a positive person, it's like white. You can paint a picture on a whiteboard and you'd see it better than a blackboard. My energy is untapped. I'm not fake. So my heart is a playground for that outburst. The genuity is real. I'm having fun. I'm not thinking twice about anything. As e dey come, I dey sing am. I'm not filtering anything. 
With all of this, how do you then pick your records?
See now, let me just tell you. I'm not the best A&R, because I can be very selfish with music. I can just like this song because I just like this song. 'Case', I didn't even want to drop 'Case'. I'm telling you, I hated that song.
Why?
*singing* For your case oo, for your case o le le le le. But my papa no be dangote...ah ah, how many case? Do you understand? But I got to realise music is not for a certain people. Do you know how many kids love that song? Do you know how many kids sing that shit from their heart? Old people, people in their 80s. It's music for everybody. So I now got to realise I might just be selfish with what I like. I feel like there are people that God has blessed with ears for hit songs. Leave it for them to do their job. I think if an artist has good ears, they should be involved in the picking of songs. But if you've tried it and all the songs you've told them to drop did not enter, fi le fun won. No do gra gra. Make people wey dey choose am, dey choose am. It doesn't mean you're not...shebi you're still the one that sang the song? It's still your music.
Just last week, I picked songs for an artist's album. The artist had no input, he just kept pouring us Henny.
Should I tell you why someone like me would do that? I'm the maker but they're listeners. You made the music right, let the listeners of the music pick the music. You can have an opinion. What's wrong if they pick the music for the artist? The artist might not be good at A&Ring. The artist might just be good at making the music and doesn't know how to pick the music. And that's where the division of labour comes in. I don't think that's bad. 
You create spontaneously. Is that a blessing?
Of course. How can you take that for granted? How can you take a song and go to a place like Mauritius and they are going crazy? My biggest song in Mauritius is 'Power Rangers'.
For real? It didn't really blow like that here. 
Yeah. In Mauritius I performed that shit three times. In Nigeria, it is usually 'Case' or 'Billionaire'. Bro, 'Power Rangers'. Do you know how far that song went? So you never know. When you make a song and people sing back at you, thank God. It's not your power. It cannot be your power. You cannot have the power over so many people. It's God that makes a hit song. I don't care how powerful you are, you can never be as powerful as God. He has the whole world in his hands. He's the only one that can control that many people. 
I'm very interested in 'Uyo Meyo'.
I recorded it in this guy's house. 'Uyo Meyo' was one-take freestyle. You see that whole song was a freestyle o. From the beginning to end. I never changed anything.
For real?
Yes, he recorded me. This guy. I was at his house. I was in Tunji's house. When I said in the beginning that I fell back in the music, I never left. You see, there are emotions you feel when you do music. I feel those emotions again. See when I do music, it's not igbo o, I don't smoke, But do you know I get high off of the music?
How?
Bro, I don't fucking know. They know. I go just enter one realm, one spiritual realm like this. Then after maybe like ten minutes I go come down. Them know when I don go. Say mama no dey here again. Music is spiritual, people don't know. You can't play with music o. There are melodies that make me cry. I cry like a child, like a baby. That's why I work with Pheelz. Pheelz can channel those emotions. I'm telling you. There are some chords that you hear and it reminds you why you're alive. Tell me how I would not enter that realm. I would go, hit those notes then come back. Some people do this music for different reasons. I was chosen to do music. God chose me. Music is my playground.
And so far, do you think you've honoured that calling well? Or you're worthy of that calling?
I'm never worthy. Nobody is ever worthy. Should I tell you? Everything you have, you're not worthy. You're just privileged. You're just privileged to have opportunities. I don't think I'm worthy, I just think God just blessed me. And I'm thankful I'm very privileged. That's why I'm working hard to make the best music. Because to whom much is given, much is expected. Who remembers when I said here yesterday that 'damn in the next 20 years I'm going to look back at this music, I'm just going to be looking at these songs and be laughing.' I want to remember my young days when I'm old and listen to all the things I was going through. Because by that time, I won't be able to relate. So now is the time to express myself. 
How's the process for this new album? How's it coming
I've made some of the best music during this period. It's coming amazing. I have over 50 songs to select from that I've done in this corona period, not the one before corona o. That's why I'm never satisfied. Because anytime me and Pheelz make something badder, I'm just like 'so what are we going to do now? When an artist gets the first hit, the second hit. What happens then, if you allow the pressure to overwhelm you, you don't make music. Because the music you made before you blew was true music right? It was true to your heart. So don't worry just make music. It would come. If truly you were destined to do this, just make the music that's from your heart. The hits would come. Hits come. Sometimes you find hits, but hits come. So just have fun. The best music is made from having fun sha. My own best music comes from having fun. I know that if I just dedicate myself to making good music, the hits would come. 
It's even a better way to make music that you'd enjoy.
Because when you're like 'I want a hit, I want a hit', just chill. When you got a hit, you weren't looking for a hit. You were making music. So just make music. The hit would come. 
What's the difference between how you moved earlier when you blew and now that you've consolidated?
Not much. Now I'm just learning that you have to advance. So you have to be a little more strategic. It's a learning process. First Teni the artist. Next, Teni the businesswoman. You can't continue to just do things you used to do. Now, this is for real. This is business. So you have to be more intentional. I think that's just the difference. 
You've also built a reputation as a great performer.
Oh yeah?  For real?
That's why people come to your shows.
Thank God. Of which I still think I have way more to grow and be better. 
But it's true. You're always sure that you go to a Teni show and you'd get your money's worth, above everything else.
I actually just do my own. See, that's what people think. I stay away from the public in the sense that I don't listen to all that noise. I'm very particular about my sanity. I don't let the noise disturb me. I don't listen to all the noise. I don't know what people say about me. So that's why I was surprised. I know I feel it in my soul, I enjoy it. 
How do you perform?
I perform way better in a live band. I enjoy a live band.
Why?
Because it's musical. You can have fun. You can enjoy it, you can do freestyles, you can play around. Live band, you're a king, you're a lord. You're a mini-god. You're the one in control of everything. How I want the trumpet to sound. Live band helps me express myself better than DJ. DJ is boring. I'm not saying DJs are boring, I'm just saying DJ sets. When I perform with a DJ set, it's just the same song I made. Like can I switch it up?
Who do you learn from when you perform? 
Davido.
Really?
There's something about that guy, I tell you. He's hardworking. Davido would die on the stage. He doesn't mind. His energy, ha!  We die there. I learnt that from Davido. It's my work. We die there. You won't outwork me. But Wiz, I learnt the charisma. Tiwa Savage, have you ever heard her perform live? The voice is magnificent. When I came to support her for her Eko Hotel show bro, I can remember I was forced to say this shit sounds so good. Because some people, when they perform live, the voice doesn't match. So I'm telling you what I learn from each artist. Nini, that one is a show killer, my sister. If you watch her shows, that one, she doesn't joke. Entertaining, dance. You'd know somebody is there. These are the people I learn from. Wiz controls the crowd. He has everything. He's the man. He's in control. David, the energy.  Burna, the music. The music is undeniable. Tiwa, the voice. So see, me I learn from these people time and time again. So I pick pick pick. Pick what you want and learn. 
You've won so much. How do you celebrate?
Food. I celebrate through food and travel. When I win, I travel. I've been to a lot of places in my life. Thanks to my parents, from a young age. But I travel when I celebrate. But most importantly, I celebrate with my loved ones. My team, my manager, the people that make it happen. You're forgetting that behind this great artist there's a host of people that keeps this person winning. And I feel like they are not appreciated enough. Even down to the producers. The producers make the sound. Voice is just an acapella without a producer. So the producer is just as important as the artists. Just that the artist has fame. But the producer is the reason why you have a sound or you have a full product where you can dance. You can just sing 'I wanna be a billionaire, billionaire yeah yeah'. What's driving 'Billionaire'? It's the beat.  So the producer is also very important. 
We have to always appreciate the people behind the work. It's not just the artist. I don't know an artist that blew just him. Like did he sing acapella? Was there no producer that produced the song? Even down to the radio people. They play your song. So they have a job to play in your success. Now how about the DJs? The DJs slam your music in the club. So if you are an artist, you can't look down on everybody else and say I'm the artist. Even down to the fans. The fans are the people that make you relevant. Whether you like it or not. Am I wrong?  The fans are very important as well. You can't become this superstar and look down on everybody. All these things come together to make an artist.
Does the industry make you conscious of being a woman?
I dont care. I don't even listen to them. I don't even do what they tell me to do. So do you think I'm even going to care what they think? I tell people all the time. There's no man, there's no woman; there's human. There's just humans with different genital areas and different hormones. Asides that we are the same. That's what I think sha. People think I'm wrong. 
The world is opening up again. Commercial planes...
Are you asking me the first place I'm going?
Okay. Where's the first place you are going?
I really was supposed to be in Monaco. I planned with my friends. we were supposed to go to Monaco. As COVID hook us for here, na so we see am o. This year rugged o.
What are you looking forward to the most?
Now, I was watching my performance yesterday. I miss performing. It's such a privilege to just be on the stage and just make people happy. I miss it like 'once upon a time I actually was performing.' And I just miss my friends in America, in London. I miss them. I miss having to just hang with them, laugh. I miss that a lot. I don't have a lot of friends here, most of my friends are there.
How important is community?
My dad lived, common, my dad died for that. It's in the blood. My father died for the people. Do you know? So it's very important to keep that legacy. There are a lot of things I do that people don't know about.
What's down the music road for you?
Let's say in the next 20 years, I look back at my career, how many people did I help? How many people's lives have changed because I was involved?